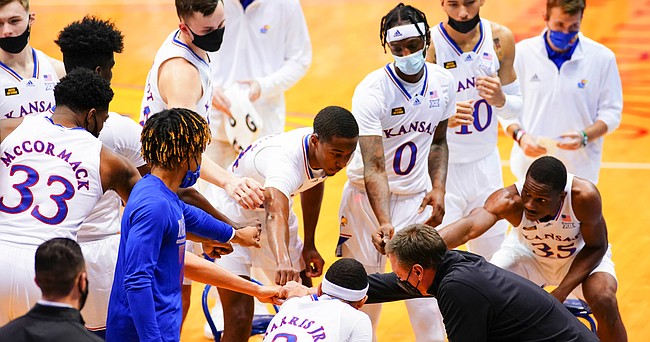 Thursday's 35-point Kansas basketball victory over visiting Washburn provided KU coach Bill Self with an opportunity to give extended minutes to some of his reserves.
And while each had moments where he took advantage of the extra playing time, Self was not exactly wowed by the play of any of them.
"I don't think we probably got as much out of it (as we could've)," the KU coach said after watching his bench play 48% of the minutes on Tuesday, compared to an average of 29% during the season's first three games.
There was some production. Tyon Grant-Foster grabbed six rebounds in 16 minutes, Bryce Thompson scored 11 points on 50% shooting in 22 minutes and Mitch Lightfoot scored four points, grabbed five rebounds and blocked three shots in his 11 minutes.
There also were enough missteps from the KU reserves that Self was inspired to send his starting five back into the game all at once at the 7:05 mark of the second half, despite KU leading 71-43 at the time.
Photo Gallery
Kansas v. Washburn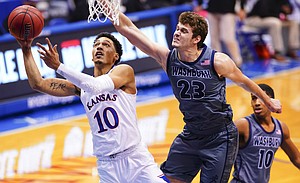 View a gallery from Thursday's game between the Jayhawks and Ichabods at Allen Fieldhouse.
"I thought Mitch played good," Self said of the fifth-year senior who backed up junior forward David McCormack and his game-high 17 points. "Bryce got off to a bad start, but he finished OK and Tyon I thought had his best outing so far.
"Considering that we played on Tuesday night and got back at 4 in the morning and guys probably got to bed at 4:30 or 5, I thought they responded pretty well."
The seventh-ranked Jayhawks (3-1) figure to get a similar opportunity at 3 p.m. Saturday, when North Dakota State comes to Allen Fieldhouse.
The Bison are ranked 198th in the current KenPom.com standings (compared to No. 5 for KU) and enter the season at 0-3, with losses to Nevada, Nebraska and No. 9 Creighton.
Given the fact that Creighton looms as the Jayhawks next game after Saturday (4 p.m. Tuesday at Allen Fieldhouse) and the start of Big 12 play is now just 12 days away, Thompson, who admitted to still playing a little nervous when he gets out there, said it was good for KU's second unit to log some longer playing time and he hopes there's more where that came from against NDSU.
"Definitely," Thompson said. "I mean, it's always good to get out there and play and get a rhythm because it's going to really pick up soon, when Big 12 play starts and you know we got Creighton coming in soon so we're gonna need that rhythm going into those games."
The one KU reserve who consistently has been as good as any of the starters during the past three games is redshirt freshman point guard Dajuan Harris, who again made his impact felt after checking in early in the first half against Washburn.
It's not always Harris' numbers that tell the story, even though, heading into Thursday's game, the KU guard's 10-1 assist-to-turnover ratio ranked second nationally.
More often than not, Harris' presence simply changes the flow and feel for the other four Jayhawks on the floor, which Self continues to both like and be amazed by.
"If you've got five guys out there that think they're all scorers your offense isn't going to look near as good as if you've got four guys out there that think scorers and one guy that doesn't think that and that guy is a ball mover," Self said. "It's just so much better."
That one guy is Harris, who has attempted just four shots all season, and his early impact on this Kansas team has cemented him as one of the Jayhawks' first and most reliable options off the bench.
"I just love his feel and how he how he moves the ball," Self said after Thursday's victory. "I just think we're better when he's in the game."
---
Next up: North Dakota State (0-3)
When: 3 p.m. Saturday, Dec. 5, 2020
Where: Allen Fieldhouse
TV: ESPN+/Big 12 Now
Probable Starters
No. 7 Kansas
G – Marcus Garrett, 6-5, 195, Sr.
G – Ochai Agbaji, 6-5, 210, Jr.
G – Christian Braun, 6-6, 205, Soph.
G – Jalen Wilson, 6-7, 190, RS-Fr.
F – David McCormack, 6-10, 265, Jr.
North Dakota State
G – Jarius Cook, 6-3, 180, Soph.
G – Sam Griesel, 6-6, 215, Jr.
G – Maleek Harden-Hayes, 6-7, 185, Soph.
F – Tyree Eady, 6-5, 210, Jr.
F – Rocky Kreuser, 6-10, 245, Sr.
Head coach: David Richman (121-75 in 6 seasons)