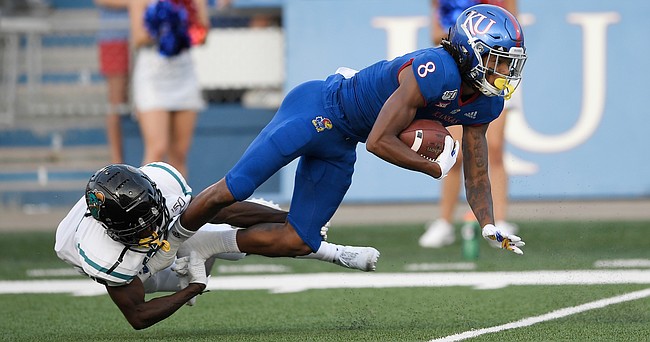 — Kansas (0-8 overall, 0-7 Big 12) at Texas Tech (3-6, 2-6) • 11 a.m. kickoff, Jones AT & T Stadium • Game-time forecast: 49 degrees, partly sunny, 0% chance of rain • TV: FOX Sports 2 • Radio: KLWN, FM 101.7 / AM 1320
— Log on to KUsports.com for our live coverage and follow our team on Twitter: @KUSports, @BentonASmith, @mctait and @SJacksonLJW
Keys for Kansas
1. Find your QB for the day
True freshman Jalon Daniels seems to be the Jayhawks' longterm answer at the quarterback position. But Les Miles and his staff showed last week against TCU that they're willing to adapt in the moment if doing so gives KU a better chance to compete on a Saturday this year.
In the Jayhawks' road finale at Texas Tech, Miles could play two quarterbacks again, and wouldn't say for certain ahead of this week's practices — the last time he spoke publicly — whether Daniels would make his seventh start of the season or junior Miles Kendrick would make his second.
Kendrick came in hot last week with KU already down 32 points, leading a quick touchdown drive late in the first half against TCU, following a slow start for Daniels and the KU offense in general. Miles stuck with Kendrick in the second half, ultimately to no avail.
Of course, KU will need to find a QB who can click much earlier this week, before the Red Raiders have a chance to pull away.
Tech's pass defense hasn't been a strength this year, as the Red Raiders enter their finale ranked 108th nationally in passing yards allowed (275.9 per game) and 106th in sacks (1.44 per game).
Whether it's Daniels or Kendrick (senior Thomas MacVittie continues to deal with a shoulder injury), KU needs a QB to find a rhythm quickly for the Jayhawks to have a shot.
2. Beware of McPhearson
Whomever is passing for KU better know where Tech cornerback Zech McPhearson is before releasing a throw.
Not only does McPhearson enter the weekend tied for the Big 12 lead with four interceptions this year, the 5-foot-11 senior, who used to play at Penn State, has a knack for finding the end zone when he gets the ball in his hands.
McPhearson returned a fumble 56 yards for a score in Tech's home win over West Virginia on Oct. 24. Prior to that, he returned a blocked field goal 90 yards for a touchdown in a loss at Iowa State.
As a team, the Red Raiders are tied for second in the nation with three defensive touchdowns scored in 2020.
Defensive scores have cost the Jayhawks plenty this year, too, as recently as the TCU loss, when the Frogs took both a Kendrick interception and fumble into the end zone in the second half. Earlier this year, K-State's defense put a TD on the board when Justin Gardner returned a Daniels pick.
A savvy veteran defensive back, McPhearson has an interception in each of Tech's previous three games — at TCU, versus Baylor and at Oklahoma State.
McPhearson also blocked an extra point against KU in the last meeting between these two teams, in Lawrence more than a year ago.
3. Prepare for a fight
It so happens the Red Raiders are the last team to lose to Kansas. The Jayhawks have dropped 12 games in a row, dating back to their last-second home win over Tech, 37-34, on Oct. 26, 2019.
So while some teams may overlook a winless KU program late in the year, it doesn't appear that Red Raiders head coach Matt Wells thinks that will be an issue.
The Lubbock Avalanche-Journal reported earlier this week — before Tech announced Wells tested positive for COVID-19 and began isolating (defensive coordinator Keith Patterson was set to fill in) — that Wells told reporters he "put on the tape from last year" ahead of the Jayhawks' trip to Lubbock.
"We remember that game in Lawrence really good. This is all about us, how we prepare, how we practice," Wells said, "getting ready to go, sending these seniors out the right way." 
The Red Raiders led that 2019 game 17-0 in the second quarter and 27-14 in the third quarter before the Jayhawks rallied with long touchdown passes from Carter Stanley to Stephon Robinson Jr. and Andrew Parchment, and a 32-yard Velton Gardner TD run keying the comeback. A 32-yard field goal from Liam Jones capped the victory as time expired, after the wild finish included long snapper Logan Klusman recovering a fumble after Tech blocked Jones' previous field goal try.
"If we finish on the positive side," Miles said this week while recalling KU's last win, "I think those are the fun ones, period. That's something we'll try to get accomplished two more times here in the back end of this season."
Mega Matchup
KU pass defense vs. Tech QB Alan Bowman
Benched earlier this season due to his struggles, Tech quarterback Alan Bowman has experienced both the highs and lows of college football this year.
It will be up to the Jayhawks' defense to bother him enough that he falls back in a rut.
Just last week, in a shootout loss at Oklahoma State, Bowman completed 31 of his 46 passes (67.4%) for 384 yards and three touchdowns, with one interception in his first start since Oct. 10.
The last time Bowman, who ended up redshirting in 2019 due to injury, faced KU, he lit up the Jayhawks in 2018, throwing for 408 yards and three touchdowns, and connecting on 78.3% of his passes.
"I think their team continues to get better," Miles said of the Red Raiders (3-6 overall, 2-6 Big 12). "It'll be a great challenge to us."
Bowman, who has completed 65.5% of his 206 pass attempts this year, with 10 TDs and six interceptions, has only been sacked once, even though he's not known as a run threat at QB.
This year, the Jayhawks are only averaging one sack a game, and they usually find success with a blitzing player rather than a defensive lineman. Linebacker Kyron Johnson has three of KU's eight sacks on the year. Linebacker Nick Channel and safety Kenny Logan Jr. each have one.
The KU defense enters the road finale with just three interceptions on the year, with Logan accounting for two of them. Defensive end Malcolm Lee also picked off a pass at West Virginia.
Jayhawk Pulse
KU's offense, which has struggled all season, scored three touchdowns for the first time in Big 12 play last week in a blowout home loss to TCU.
The Jayhawks on that side of the ball know they have to do better for this team to finally get a win.
"We've just got to move the ball," said freshman receiver Luke Grimm, who caught two TD passes versus TCU. "We had glimpses of it this last game. We've got to put them together, get rid of the mistakes and just keep driving down the field."
The game comes with some added significance for the receivers, whose position coach, Emmett Jones, worked at Tech from 2015-18, before Miles hired him at KU.
"With Coach Jones," Grimm said ahead of the assistant's return to Lubbock, "this is a bowl game for the wide receivers. And we want to go out there and prove it to him."
Tale of the Tape
KU ….. TT
KU run D vs. TT run game √
KU pass D vs. TT pass game √
KU run game vs. TT run D √
KU pass game vs. TT pass D √
Special teams √
Prediction
Tech 41, KU 24