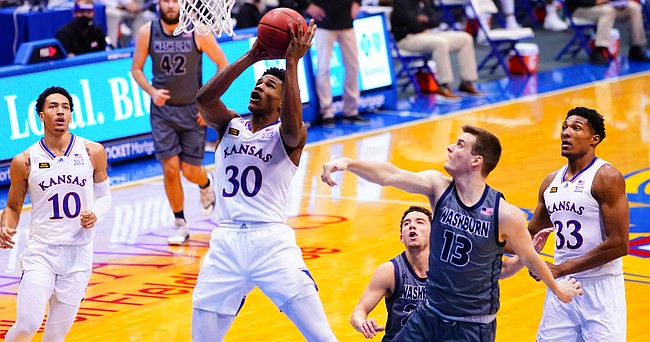 No. 7 Kansas Jayhawks (3-1) vs. North Dakota State Bison (0-3)
Time: 3 p.m., Saturday, Dec. 5, 2020
Location: Allen Fieldhouse, Lawrence, Kan.
TV: ESPN+/Big 12 Now | Radio: IMG Jayhawk Radio Network
Log on to KUsports.com for our live game blog coverage and follow the KUsports.com staff on Twitter: @KUSports @mctait @bentonasmith & @SJacksonLJW
Keys for Kansas
1. Agbaji's turn?
The Jayhawks have had four different leading scorers in their four games so far this season.
And while that's not so strange on a team noted for its depth, balance and versatility, the fact that the team's overall leading scorer hasn't been one of them is.
Junior guard Ochai Agbaji leads the Jayhawks at 17 points per game and has been by far the team's most consistent performer on the offensive end.
Agbaji is shooting 44% from the floor overall so far this season, but a whopping 46% from 3-point range and 81% at the free throw line.
After David McCormack became the Jayhawks' fourth different leading scorer on Thursday night KU coach Bill Self said he expected the rotating-top-point-scorer theme to continue.
"I think it'll be different people, just based on how people guard us and who's got a hot hand," Self said. "But that doesn't bother me at all. I kind of like it."
Could it be Agbaji's turn to make it five leaders in five games on Saturday?
2. Energy from the bench is a must
By now, the Jayhawks are starting to get used to playing in front of small crowds or no crowds during this strange, pandemic-altered season.
And now that they finally have a home game under their belts, they also know what the experience feels like at Allen Fieldhouse.
In a word, it's different. But two of KU's top performers from their home-opening win over Washburn on Thursday night said the key to playing well in those types of environments is not counting on anybody else to bring enthusiasm and intensity to game night.
"I felt that our team needed to create our own energy, and I think that's what we did," McCormack said on Thursday. "Just talking on a bench and making sure that we had, you know, some zest with some pop to keep us going."
KU freshman Bryce Thompson said the juice has to show up well before tipoff.
"We just have to make sure we're having fun, we're smiling and giggling," Thompson said. "Even like before the game, making sure to the vibe is good in the locker room and everybody's upbeat have the laughing joking, you know listen to music or whatever. Just making sure the vibe is good so we can go out and perform and have fun."
Saturday's game is expected to be the last, at least for a week, that's played without many fans. KU officials on Thursday announced that they will host a limited number of fans at all home athletic events from Dec. 7-14. That's expected to bring between 1,500-2,500 people into Allen Fieldhouse, which lists a capacity of 16,300.
3. Defend the 3 (again)
Washburn got some pretty good looks from behind the arc during Thursday's game and, for a while, hit enough of them to hang around.
It leveled off from there, though, and the Ichabods shot just 9-of-26 from distance against the Jayhawks.
It's not necessarily crucial for Kansas to defend the 3 to have success against NDSU, which shot 4-of-16 against Creighton and just 6-of-24 against Nebraska one game earlier.
But it is important that KU emphasize its defense at the 3-point line in this one as a way of fine-tuning things for a serious challenge next Tuesday.
Not only did Washburn have success attacking KU from behind the arc, but Creighton, with shooters all over the floor, will be bringing that exact game plan to Allen Fieldhouse a few nights later, and one more dress rehearsal could help KU get some of the wrinkles ironed out of that portion of its defense.
"I didn't think was great by any stretch," Self said of the 3-point D vs. Washburn. "But I didn't think it was bad either."
Self noted that a large number of Washburn's open looks from behind the 3-point line came after they threw the ball inside and kicked it back out. That was when Self said KU got caught "ball watching" and that's a pretty easy mistake to fix.
Marquee Matchup
KU offensive rebounding vs. NDSU's defense
A quick look at North Dakota State's KenPom numbers reveals a lot of red and not much green.
But one area that is in green, which signals that the Bison are among the country's best teams in that particular department is defensive rebounding.
NDSU ranks 23rd national per KenPom in offensive rebounding percentage allowing, giving up second chance opportunities on just 19.3% of its opponents' missed shots.
Butler leads the country in this category, at a ridiculous 7.4%, but North Dakota State is one of just 28 Division I teams that currently sit below 20%.
For what it's worth, the Jayhawks rank 102nd in that category, with an offensive-rebounds-allowed rate of 25.2%.
KU's own offensive rebounding rate — the percentage of its own available misses it gets back — is 31.3%, which ranks 87th nationally.
This would be a good game to send all five players on the floor to the offensive glass because if the Jayhawks can win this statistic, that alone should win them the game.
The Jayhawks must be mindful of cleaning up the defensive glass, too, though. NDSU enters this one ranked just ahead of KU in offensive rebounding rate, at 32%, good for 76th nationally.
Jayhawk Pulse
This matchup marks the Jayhawks' third game in stretch of four games in eight days, a breakneck pace that has given very little time off and even less time to practice.
After this one, though, KU will actually get two days off before playing again, when No. 9 Creighton comes to Allen Fieldhouse for a top-10 showdown next Tuesday.
Today's game will be just the second ever meeting between the two programs.
In the first meeting, back in 2009, KU defeated NDSU 84-74 in the opening round of the NCAA Tournament in Minneapolis.
NDSU finished 25-8 in 2019-20, winning both the Summit League regular season and tournament titles.
The Bison feature a lineup with six players averaging between 7-10 points per game and a group that is shooting just 32.4% from the floor and 26.2% from 3-point range entering Saturday's contest.
Kansas, meanwhile, is shooting 46% from the floor, 41% from 3-point range and holding its opponents to 41% shooting overall and a 30% clip from behind the arc.
Since giving up 102 points to Gonzaga in a season-opening loss, the Jayhawks have held their next three opponents to an average of 63 points per game.
KU currently ranks fifth in KenPom's adjusted defensive efficiency ratings and 14th on the offensive side.
Probable Starters
No. 7 Kansas
G – Marcus Garrett, 6-5, 195, Sr.
G – Ochai Agbaji, 6-5, 210, Jr.
G – Christian Braun, 6-6, 205, Soph.
G – Jalen Wilson, 6-7, 190, RS-Fr.
F – David McCormack, 6-10, 265, Jr.
North Dakota State
G – Jarius Cook, 6-3, 180, Soph.
G – Sam Griesel, 6-6, 215, Jr.
G – Maleek Harden-Hayes, 6-7, 185, Soph.
F – Tyree Eady, 6-5, 210, Jr.
F – Rocky Kreuser, 6-10, 245, Sr.