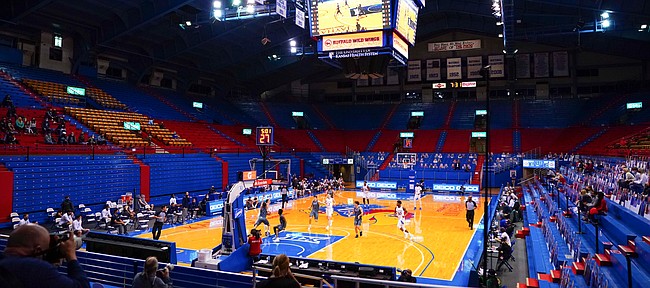 Family members of the players and coaches were the only fans in the Allen Fieldhouse stands during Thursday's 89-54 victory by the seventh-ranked Kansas men's basketball team over Washburn, but that won't be the case for long.
Just before tipoff of Thursday's game, Kansas Athletics announced that it will allow a limited number of fans at all home athletic events from Dec. 7-14.
That includes three men's basketball games, two women's basketball games and the football team's season finale against Texas on Dec. 12.
KU Athletic Director Jeff Long said the decision, which will be made on a weekly basis throughout the month, came after deliberation with KU's Pandemic Medical Advisory Team.
In an email announcing the plan, Long praised campus leadership, led by KU Chancellor Douglas Girod, for its guidance throughout the process and noted that KU has not had any known transmission of COVID-19 at the KU competitions that have had fans in attendance.
Long added, "And we are confident in our plans for games inside Allen Fieldhouse."
KU officials announced earlier this fall that they anticipated a capacity of around 1,500 fans for Kansas basketball games this season due to social distancing requirements.
Garrett on the mend
Two days after nearly not playing against Kentucky in Indianapolis, Kansas senior Marcus Garrett appeared to be in much better health than he was against the Wildcats.
Garrett took his usual spot in the starting lineup and scored five points, dished five assists (with no turnovers) and grabbed four rebounds in 22 minutes against Washburn. More important to his team than any of his numbers, however, was the way he looked and felt throughout the day Thursday.
"Yeah, I thought he looked better," KU coach Bill Self said. "I mean his eyes, actually were open, he was able to smile a little bit and all those things."
Self said Garrett first began feeling better sometime Wednesday.
"Coincidentally, that was our day off," Self joked. "So maybe that was one reason why he kind of turned a corner. But I thought he looked good. I thought he looked much better. He was out of it the last four or five days, guys, and so we were just very fortunate and happy that it wasn't anything he could test positive for. But he did have something going on, a bug or something."
Ballard homecoming
Washburn University basketball coach Brett Ballard stood in familiar surroundings on Thursday night, inside a mostly empty Allen Fieldhouse where he had spent hundreds of hours as a player and coach during the past two decades.
The experience, before, during and after Thursday's game brought back all kinds of memories of his time with the Jayhawks.
But there was one moment, which took place after Ballard's playing days and before he became an official part of Bill Self's staff, that jump-started it all.
Ballard recently talked about his first ever meeting with Self, which came just a couple of months after Self was hired to replace Roy Williams in 2003.
Photo Gallery
Kansas v. Washburn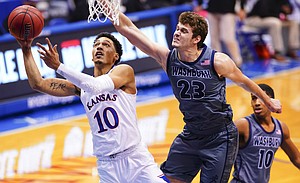 View a gallery from Thursday's game between the Jayhawks and Ichabods at Allen Fieldhouse.
"The meeting was funny," Ballard recalled. "I had rehearsed my perfect spiel that was going to land me the job (and the whole time I'm in there) he's looking at the TV, he's checking his cell phone, he's looking at the computer screen, he just had 10 million things going on."
"I'm like, 'I don't think he's even listening to what I'm saying,' and I'm getting kind of frustrated in my mind," Ballard said.
Instead of the old 'Thanks but no thanks,' reply, Self soon began to pump Ballard up.
"I'm dejected and I'm down and all of a sudden he started spinning it and talking me off the ledge a little bit and he sent me out of there feeling better about myself," Ballard remembered."
Ballard left the meeting with a standing offer from Self to come around whenever he wanted.
The opportunity was appealing, but not quite the outcome that Ballard was hoping to see. Ballard's father, Larry, a basketball coach and teacher himself, believed it was exactly the opportunity Ballard needed to jumpstart his career.
"Why wouldn't you do that," Ballard recalled his father asking him. "Why wouldn't you do that and be around the program and figure things out."
So that's what Ballard did.
Buoyed by a co-hosting talk radio gig with Brian Hanni on Rock Chalk Sports Talk, Ballard began volunteering his time and hanging around the KU basketball offices.
With each passing month he gained more and more responsibility until he was eventually running Self's summer camps, serving as the program's video coordinator and eventually as the director of basketball operations.
Those roles led to assistant coaching spots on Danny Manning's staffs at Tulsa and Wake Forest and his own head coaching opportunities at Baker and Washburn.
All of them can be traced back to that first meeting with Self, which Ballard said he appreciates more today than he did then simply because he has a better understanding and feel for how busy Self must've been at that time.
"I had a lot of meetings just like that first one with coach when I worked for him as the director of ops," Ballard said. "I laugh now because I can clearly remember how distracted I thought he was in that moment. But he is so good at organizing information and processing through stuff in times when it's hectic, it's cluttered, there's a million things to decide as the head basketball coach at Kansas, (and) he's so good about organizing those things and being able to decipher information and that was clearly the case during our first meeting."
This day in history
Thursday's game was played 64 years after KU legend Wilt Chamberlain made his varsity debut for the Jayhawks. The game was also the first for Dick Harp as head coach of the Jayhawks.
As was the case throughout most of his career, Chamberlain dominated his first game, scoring 52 points and grabbing 31 rebounds in an 87-69 over Northwestern. Both marks still stand as school records for a KU player in his first game, and Chamberlain went on to average 29.6 points and 18.9 rebounds per game during the 1956-57 season that ended with a 54-53, triple-overtime loss to North Carolina in the 1957 NCAA championship game.
This and that...
Thursday's victory pushed the Jayhawks to a 3-1 start for the second year in a row and made Kansas 3-1 or better for the 15th consecutive season... The Jayhawks have now won 14 consecutive games over Washburn and lead the overall series 39-3... KU's current winning streak inside Allen Fieldhouse is now up to nine games... The Jayhawks are now 802-114 all-time inside the venue, including a mark of 265-14 in the Self era.