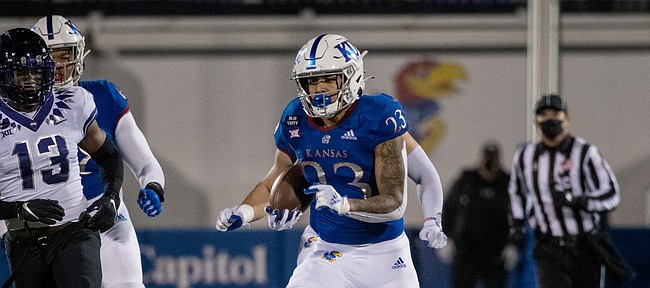 When the season began, it appeared Amauri Pesek-Hickson might have to wait a year or two before becoming more involved with the Kansas football offense. But eight games into the schedule, the Jayhawks needed the freshman to make his first career start.
All the former fourth-string running back did was become the first Jayhawk in 2020 to produce a 100-yard rushing game.
Pesek-Hickson, a 6-foot, 235-pound back who starred in high school for Blue Valley North, didn't even play a snap in KU's first five games. But after junior starter Pooka Williams opted out, all of the running backs that were behind him jumped up a level on the depth chart. And by the time KU (0-8 overall, 0-7 Big 12) faced TCU this past Saturday, an undisclosed injury for sophomore Velton Gardner combined with a virus-related isolation for freshman Daniel Hishaw Jr. meant the running back job was Pesek-Hickson's and his alone.
Suddenly the team's featured rusher, Pesek-Hickson had a KU season-high 22 carries in a loss to the Horned Frogs, finishing with exactly 100 yards.
Pesek-Hickson, a three-star prospect in Les Miles' first KU recruiting class in 2019 (the former Michigan commit grayshirted, and didn't enroll at KU until the spring semester of 2020), had a lot of players in front of him entering the season. However, Miles said he got the sense in preseason practices that Pesek-Hickson could produce in games.
"We run drills and you can see guys that enjoy a comfortable, competitive relationship with contact," Miles said. "And (Pesek-Hickson) has that. And Amauri's going to be a talented guy. He just needs to mature a little bit, and when he does he'll be something very special."
TCU kept Pesek-Hickson, the fourth KU running back to start a game this year, contained early on, stopping him for three yards or fewer on each of his first four carries in the first quarter. But the freshman started to find better opportunities in the second quarter, with chunk gains of 19 and 30 yards.
Prior to that game, no KU running back this year had carried the ball more than 16 times, Gardner's season-high for rushes at Kansas State.
KU senior receiver Kwamie Lassiter II thought Pesek-Hickson handled the load well. While Lassiter lamented a blocking penalty he picked up that lost KU 15 yards on one of Pesek-Hickson's carries, the veteran said the freshman runner did what was asked of him in a new role.
"Just like the rest of us, he could do more," Lassiter said, "but I respect him, and I think he had a good game."
Receiver Luke Grimm, one of six true freshmen to start for the KU offense versus TCU, said he likes Pesek-Hickson's "tough guy" style as a back.
"He gets downhill," Grimm said. "But he can juke and he can shift in the holes, and he knows how to jump cut. I think he's a good all-around back, and he's definitely stepped in and made some big plays whenever his name's called."
Miles earlier this week wouldn't rule out Gardner returning to the lineup for KU's trip to Texas Tech (11 a.m. Saturday, on FOX Sports 2). But with Hishaw out and Gardner recovering from an injury, it appears likely Pesek-Hickson will handle the majority of the workload again, this time versus the Red Raiders (3-6 overall, 2-6 Big 12).
Another KU freshman starter, right tackle Bryce Cabeldue, said he's learned a lot about Pesek-Hickson in recent weeks.
"He's as athletic as anyone on this team," Cabeldue said, "and I think he's going to be really good for us."
Best RB performances for KU in 2020
• Amauri Pesek-Hickson vs. TCU: 22 rushes, 100 yards (4.5 YPC)
• Velton Gardner vs. Coastal Carolina: 11 rushes, 81 yards, TD (7.4 YPC)
• Pooka Williams at Baylor: 14 rushes, 76 yards, two TDs (5.4 YPC)
• Daniel Hishaw Jr. at Oklahoma: 10 rushes, 73 yards (7.3 YPC)
• Gardner at K-State: 16 rushes, 72 yards (4.5 YPC)
• Gardner at Baylor: 14 rushes, 70 yards (5 YPC)
• Williams vs. Coastal Carolina: 12 rushes, 67 yards (5.6 YPC)