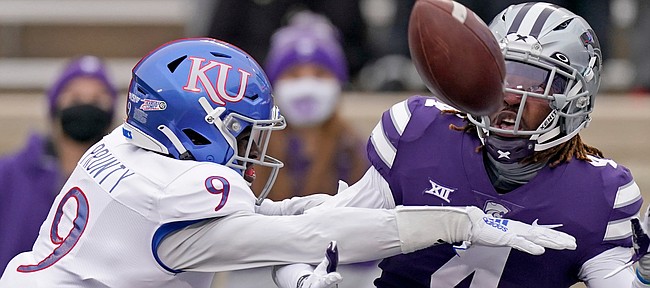 Opposing quarterbacks loved the idea of testing true freshman cornerback Karon Prunty — or at least they did for awhile.
It seems the more Kansas football foes learn about Prunty, the less inclined they are to challenge him.
The 6-foot-1, 189-pound defensive back from Portsmouth, Va., is the only player from KU's 2020 recruiting class to start every game this year. And lately there aren't many throws being completed when Prunty is covering the intended receiver.
"Karon Prunty stepped onto the field unknown," KU head coach Les Miles said of the young corner's emergence, "did a great job just shutting down the guys we put him on, and it continues to happen. I watched a specific (video cut of clips) of Karon and he just is very talented. They're not throwing the ball to him."
TCU didn't call many pass plays versus KU (0-8 overall, 0-7 Big 12) this past week, but among the Horned Frogs' 15 throws, not one of them went in the direction of a receiver being covered by Prunty, according to the premium stats at PFF.com.
Prunty, one of only a select few KU freshmen who have been made available to media members this year, told reporters on Monday during his first interview of the season that he didn't really notice quarterbacks avoiding him until the TCU game.
"They didn't really try me as much on my side," Prunty said.
Whether the scouting report inspired Frogs quarterbacks Max Duggan and Matthew Downing to stay away from Prunty or it was his coverage when they surveyed the field, Prunty said he'll take the zero targets as a sign of respect.
"Even though the ball ain't coming my way," Prunty added, "I've still got to do my job as a cornerback."
As KU heads into its final road game of the year at Texas Tech on Saturday (11 a.m., FOX Sports 2), Prunty's nine pass breakups have him tied for the 10th-best mark among all FBS players and he leads all freshmen in the category.
Even before TCU passers kept their distance from him, as highlighted by PFF's premium stats, Prunty's coverage was trending in the right direction. Kansas State only completed two of six throws at Prunty, Iowa State went 1-for-4 and Oklahoma was 1-for-5. In KU's first four games, QBs went a combined 10-for-19 throwing at Prunty.
With the year he is having, it's possible quarterbacks might want to just begin steering clear of Prunty in the future.
"I hope not," a smiling Prunty replied to that idea.
That's because he would like to do more than just cover his man and break up some passes. One of Prunty's top individual moments of his freshman year to date, he shared, came at Oklahoma on Nov. 7, when he was credited with three pass breakups. As Prunty recalled of one snap in particular, KU was in a cover-3 scheme defensively, and one Sooner receiver ran a post route and another OU target had run a drag route and turned up the field.
"I let my man go and I jumped on that route. I almost picked it off, but it went through my hands," Prunty remembered. "I was mad about that one."
Some of his fellow KU defenders have made sure to not let him forget it either.
"Yeah, they're always clowning me, because I'm always dropping picks," Prunty said.
All such talk is friendly in nature, though, as sophomore safety Kenny Logan Jr. explained, because the Jayhawks trust Prunty's skills.
"We were on him all week about that (dropped pick)," Logan said with a smile, "because that's a play he's supposed to make right there. But he broke it up, so we'll take that, too."
Obviously not every pass coverage situation has gone Prunty's way during his first year as a college cornerback. Through eight games, PFF has his overall season grade at 63.8. But Miles and the Jayhawks love the young corner's approach and potential.
Fellow freshman Luke Grimm, as a KU receiver, goes up against Prunty around four to five times per practice, Grimm estimated. And the receiver noticed a characteristic in Prunty that Grimm thinks helps him make impact plays.
"It's like you can't get into his head. He just has a reset button no matter what," Grimm said. "If he messes up, reset to the next play. Makes a play? Forgets about it and moves on. He's mechanical, he knows what he's doing, and he's confident in himself. That's what you've got to do."
That mentality helped Prunty become a starter in his KU debut when the season began, an opportunity he called "a dream come true."
And between his self confidence and the help he got during preseason sessions from KU veterans Kyle Mayberry and Elijah Jones — "they really fed me knowledge," Prunty said — he put himself in position to become one of the defense's most important players.
"From day one, I'm going to do my job and help my team, contribute to winning," Prunty said of his mentality. "I'm trying to change the program around, and that's what I came here for."
His head coach certainly envisions Prunty being one of the young foundational players in the program's latest attempt at a rebuild.
"I think he's going to be a great one," Miles predicted. "And I think he realizes that he has ability, and he's going to use that ability as best he can."