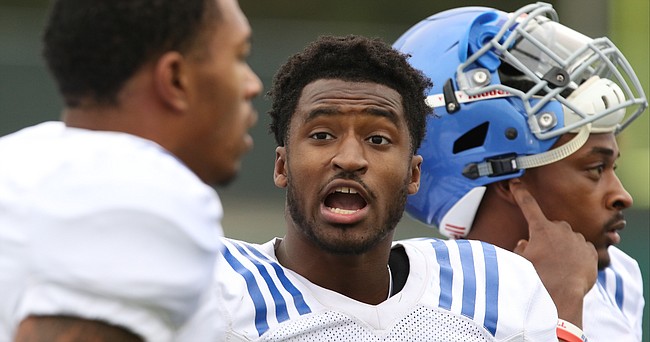 Leaders from the Kansas football team shared late Thursday night their vexation with racism, social injustice and police brutality in this country, releasing a joint statement that said, in part, "enough is enough."
Their message, shared on the program's social media accounts, came at the end of a day when the Jayhawks spent much of their time voicing their frustrations on those matters inside Anderson Family Football Complex.
Sources with knowledge of what was described as an emotional day for many KU players told the Journal-World that the Jayhawks didn't practice on Thursday, but instead met together to discuss their worries about racist acts and inequality in the U.S.
The team's unity council then put together the statement to share the Jayhawks' thoughts with the public, days after police shot a Black man, Jacob Blake, in the back multiple times in Kenosha, Wisconsin.
"The brutal and inhumane shooting of Jacob Blake was yet another example of discrimination by rogue members of the modern day police force," the statement began. "We are sick and tired of the systematic racism and inequality towards minorities that continues in this country."
The players added, "Enough is enough."
They concluded: "The University of Kansas football team stands firm against systematic racism, social injustice and police brutality against people of color. We will continue to do everything in our power to educate and promote meaningful change so that this generation and the generations to come will no longer have to live in fear as we currently do. It is past the point of remaining silent. We believe that all lives cannot matter until we acknowledge that Black Lives Matter."
The statement was attributed to KU football's unity council, comprised of team leaders Miles Kendrick, Kwamie Lassiter II, Api Mane, Kameron McQueen, Takulve Williams, Chris Hughes, Stephon Robinson Jr., Jack Luavasa, Logan Klusman, Kyle Thompson, Kyle Mayberry, Ricky Thomas, Denzel Feaster, Kyron Johnson, Gavin Potter, Thomas MacVittie and Sam Burt.
The unrest among KU athletes wasn't limited to the football team. Women's basketball players, head coach Brandon Schneider revealed on Twitter, met in the locker room Thursday to discuss their worries, too.
Those conversations led to the women's players suggesting a Black Lives Matter march hosted by KU athletes on Friday.
KU Athletic Director Jeff Long shared on Twitter late Thursday night that a peaceful march "for change" involving KU athletes, coaches and staff would take place Friday at 1 p.m., beginning outside of Stouffer Place Apartments on campus.
Long encouraged others to join and wear a mask.
Earlier this week, during his video press conference, KU head coach Les Miles shared his disappointment over the Blake shooting.
"I see our country is still shaken by bad decisions," Miles said, bringing up the fact that Blake was shot in front of his children and saying that police officers who take such measures lack cultural sensitivity.
"We have to look back, we have to change," Miles said. "There are things that must be done."
Miles followed that up on Friday morning by releasing a statement in which he said he "is and always will be" with his players on such matters.
"I stand in support of the leadership of this football team to not conduct practice (Thursday) because of the ongoing social injustice, as well as the recent police shooting of Jacob Blake," Miles stated. "We once again find ourselves at a crossroads, and action must be taken to peacefully protest these reoccurring hate crimes on Black men and women. Football can wait, but continuing to shine our bright light on these inequities and showing that Black Lives Matter cannot."