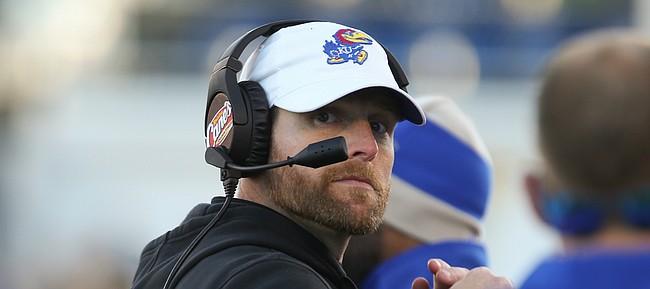 Both this week and last Kansas football coach Les Miles discussed his team's preseason quarterback competition. And on each occasion Miles began the chats by voicing his trust in offensive coordinator Brent Dearmon's leadership and process with the matter.
"Those guys are competing for a spot there and they're getting good coaching," Miles said Wednesday, after naming Thomas MacVittie, Miles Kendrick, Miles Fallin and Jalon Daniels as the Jayhawks vying for the job.
So what is Dearmon, who doubles as the QB coach, looking for out of the Jayhawks' eventual starter?
Dearmon hasn't been made available for interviews with local media since December of last year. KU's offensive coordinator did speak publicly about camp and the QB competition this week, though, with KU's in-house video production outfit.
"Those guys are just competing. That's the biggest thing I stress to them is being a leader, competing and knowing your assignment," Dearmon said. "And if you can do those three things you can lead the football team."
Dearmon replaced fired offensive coordinator Les Koenning during a bye week in the middle of the 2019 season.
The O.C.'s boss, Miles, told reporters during his weekly video conference about what he has seen out of Dearmon during preseason practices the past few weeks, leading up to KU's Sept. 12 season opener versus Coastal Carolina.
"He played the position, so when you played the position there's always intuitive things that you bring with you to your position room," Miles said of Dearmon, who started at QB for four seasons at NAIA Bethel, in Tennessee. "As a quarterback in both college and high school, he brings some wisdom to that room that's not necessarily there all the time."
Dearmon said this week he's hard on the QBs due to his time playing the position, but also because his father was an offensive line coach.
"So they have to know a little bit more than the regular quarterback," the KU assistant explained. "So I throw a lot at them. I try to put them in pressure situations and see who folds under pressure, but loving them up at the same time."
As Dearmon continues evaluating the QB competition, he said after a given day's practice he examines a chart he and quality control assistant Travis Partridge put together. There Dearmon can find any statistics, from roughly 20 different categories, that he needs to reference from the quarterbacks' practice reps.
He knows their passing percentages, efficiency numbers, grades from the practice and much more.
"We look at all of that," Dearmon said, "but at the end of the day, who's moving the football? Which guy gets in and helps that offense move the football?"
Miles reiterated this week that he expects the QB competition will keep going until the days leading up to the Jayhawks' nonconference matchup with Coastal Carolina.
A year ago, KU didn't reveal its opening week starter until the Jayhawks took the field. Miles and the staff decided on Carter Stanley the day before the 2019 season began.
This year, veterans MacVittie, a 6-foot-5, 225-pound senior, and Kendrick, a 5-10, 205-pound junior, are considered the top contenders.
Said Dearmon: "We'll see who comes out on top."