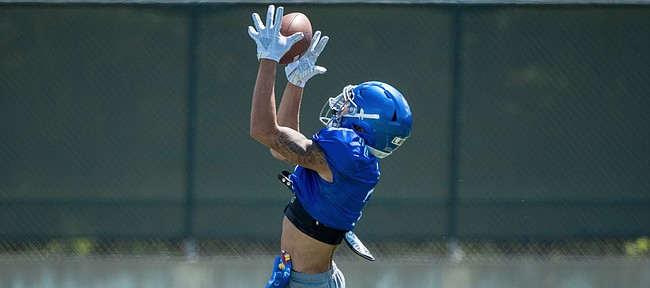 It didn't take long for University of Kansas quarterbacks to discover an important trait in one of the offense's youngest receivers.
After all, this particular talent possessed by freshman Lawrence Arnold helps the QBs look good, too.
Senior Thomas MacVittie said Arnold began proving his worth as a target early on during preseason practices.
"His catch radius," MacVittie said of Arnold, "you can throw it anywhere near him and he's getting it, if it's high, if it's low."
A 6-foot-3, 185-pound wideout from DeSoto, Texas, Arnold (some of his teammates call him LJ) arrived at KU as one of the most highly regarded prospects in the 2020 recruiting class.
The long receiver with the hops that allow him to play even taller actually began to make his mark earlier this summer, when KU players worked out on their own.
Junior KU quarterback Miles Kendrick said he quickly took note of Arnold based on what the QB saw in training, even before camp began on July 31.
"We've seen it since he stepped on campus," Kendrick asserted. "The guy's just smooth, aggressive, doesn't really bat an eye. He just wants to work. He's a dog."
When the Jayhawks had their first scrimmage of camp this past week, MacVittie found Arnold for a touchdown pass.
The QB described the scoring play as a half-rollout for him and a double move by Arnold that made the connection possible.
"We got the defense on it," MacVittie said, "and I just put it over the top."
One of KU's senior playmakers, receiver Stephon Robinson Jr. said "a lot" of the freshmen in his position group have dazzled at times during the preseason, naming Arnold, Tristan Golightly and Steven McBride. Kendrick also praised the work ethic of freshman receiver Luke Grimm.
Robinson said the freshmen are making positive things happen and going full out at practices. Arnold in particular, Robinson shared, has shined in jump ball situations, using his height and explosiveness.
"LJ, he's a monster going up there to get the ball," Robinson said. "He's great at tracking the ball. To see someone that young that is that hungry for the ball is quite amazing to see. And I can't wait until he gets older to see what he's gonna do."
MacVittie is impressed with what the young receiver is doing right now, prior to Arnold even playing his first college game.
The QB recalled another enlightening moment at a recent practice when Arnold went up over a defender to grab a pass out of the air, collided with two other players and was still on his feet when the dust settled.
"LJ's gonna be a star," MacVittie predicted.