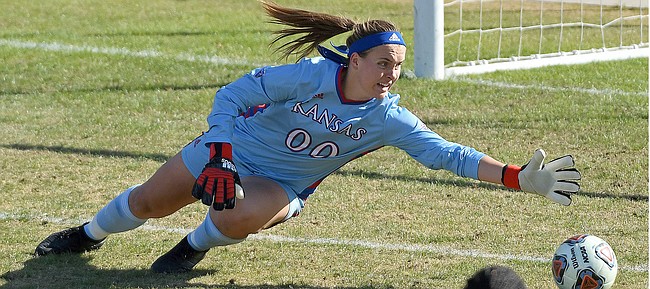 The Kansas women's soccer program will open the pandemic-shortened 2020 season on Sept. 11 at Texas, KU announced Tuesday.
Fresh off of their first ever Big 12 tournament title and a trip to the Sweet 16 in the NCAA Tournament, the Jayhawks will play nine games this fall against Big 12 foes and call it a season.
Despite the elimination of this season's nonconference matches and postseason play, KU coach Mark Francis said his team had shown great energy and intensity during the first few weeks of practice.
"It's been good," Francis recently told the Journal-World. "They just haven't played in so long or trained in so long, they haven't had that opportunity. So the first couple of weeks we just focused on getting back to playing and getting used to it."

After opening on the road at Texas, KU will host Oklahoma for their home opener on Sept. 18 at Rock Chalk Park.
From there, KU will host Texas Tech (Sept. 25), Oklahoma State (Oct. 16), TCU (Oct. 23) and Iowa State (Nov. 6) and will travel to Kansas State (Oct. 2), Baylor (Oct. 9) and West Virginia (Oct. 30).
Kansas will return seven starters and 18 letterwinners from last season's team that finished 17-5-3.
"We are excited to still be able to have the opportunity to compete this fall amidst all the uncertainty," Francis said in a news release announcing the schedule. "To be able to put our student-athletes in an environment as competitive as the Big 12 is a massive bonus and I look forward to testing our players in nine very tough games over the next few months."
2020 Kansas women's soccer schedule
Sept. 11 - at Texas
Sept. 18 - vs. Oklahoma
Sept. 25 - vs. Texas Tech
Oct. 2 - at Kansas State
Oct. 9 - at Baylor
Oct. 16 - vs. Oklahoma State
Oct. 23 - vs. TCU
Oct. 30 - at West Virginia
Nov. 6 - vs. Iowa State