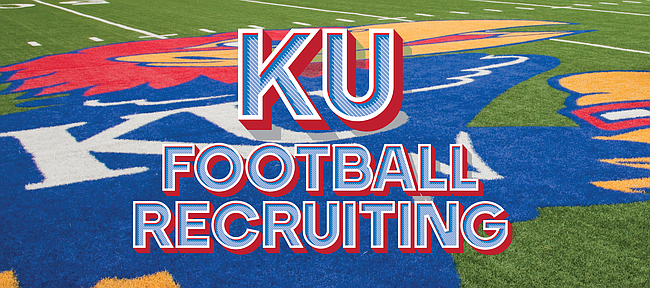 The spots in the Kansas football program's 2021 recruiting class are filling up quickly.
Les Miles and his staff now have 20 commitments in place as of Monday, when Georgia prep defensive back Shad Dabney became the newest member of the class and the fifth in the past three weeks.
Dabney, listed at 5-foot-11 and 172 pounds, is rated a 3-star prospect by Rivals. He announced via Twitter his decision to choose KU. His other finalists were Syracuse and Cincinnati, plus Dabney had a long list of scholarship offers from smaller programs.
The cornerback from Cherokee Bluff High, in Flowery Branch, Ga., told Jon Kirby of Jayhawk Slant that KU defensive backs coach Chevis Jackson played a prominent role in his commitment.
https://kansas.n.rivals.com/news/shad-dabney-talks-about-special-relationship-with-kansas-coaches
"The thing I love about Coach Jackson the most," he said, "(is it's) not all about football. He checks in on me daily and asks me how I'm doing just to make sure I'm straight."
KU now has 18 three-star prospects in its upcoming recruiting class. Dabney is the second prep player from Georgia in the group, joining three-star linebacker Trey Staley.
Even with KU's long list of commitments, the staff still has room to add important players, as NCAA rules allow teams to add 25 new signees each year.
All verbal commitments, of course, are nonbinding. The earliest that Class of 2021 football prospects can sign is Dec. 16.
KU football Class of 2021 commitments
(Rivals rankings)
• Majik Rector — 3-star Texas prep WR
• Ben Easters — 3-star Indiana prep QB
• Jaddai Henry — 3-star Texas prep WR
• Kelan Robinson — 3-star Texas prep WR
• Devin Neal — 3-star Lawrence prep RB
• Mason Brotherton — 3-star Arkansas prep TE
• De'Kedrick Sterns — 3-star Texas prep OL
• Edgar Amaya — 3-star Alabama prep OL
• Andrew Simpson — 3-star California prep LB
• Trey Staley — 3-star Georgia prep LB
• Omar Burroughs — 3-star Florida prep DB
• Keon Coleman — 3-star Louisiana prep WR
• Devonte Wilson — 3-star Florida prep DB
• Kameron Grays — 3-star Alabama prep DB
• Christien Hawks — 3-star Norton prep OT
• D'Marion Alexander — 3-star Texas prep LB
• Tommy Dunn Jr. — 3-star Texas prep DL
• Shad Dabney — 3-star Georgia prep DB
• Deldrick Withers — 2-star Arkansas prep DE
• Larson Workman — 2-star Texas prep OL