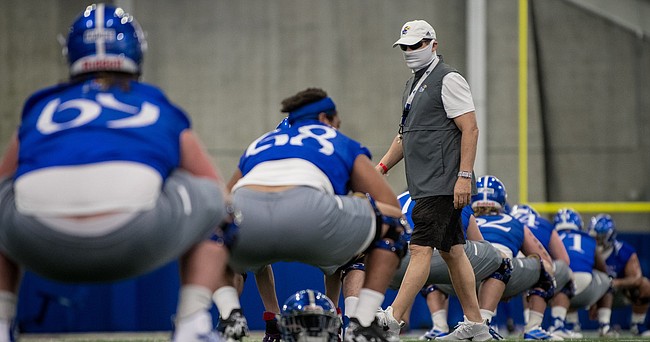 Though Kansas football coach Les Miles reported Thursday during his first virtual press conference of the preseason that nobody in the program is currently suffering from a COVID-19 infection, the Jayhawks spent much of the past couple of months dealing with the virus.
Miles revealed that since testing began on June 8, 117 people with KU football have gone through virus testing and 40 of those tests registered a positive result. Per Dan Beckler, associate athletic director for public relations, that doesn't mean 40 people had positive tests. Rather there were 40 positive results in the 600-plus tests that have been given to KU's 117 players and staff members. Essentially, the 40 includes multiple positive tests from certain individuals.
As of Thursday afternoon, Miles said there are no players in quarantine or isolation due to the virus.
"Everybody is up for practice and everybody is up for what would be a game if we were to play soon," Miles added.
Miles' update during a video conference with reporters was the first provided by KU's athletics department since July 28, when it reported zero positives out of 156 tests across various programs.
In early July, KU football suspended voluntary summer workouts when it reported 12 players tested positive for COVID-19.
According to Miles, KU football is now testing for the virus three times a week. And unlike earlier this summer, the process doesn't involve a stick that "goes down your nose." He said now the tests are taken through saliva samples.
"We're making progress there," Miles said. "People don't look negatively toward that testing routine."
KU senior offensive lineman Chris Hughes attested the old procedure wasn't popular.
"That's the longest 10 seconds of your life," Hughes joked.
The O-lineman from Harker Heights, Texas said the saliva test is relatively new for KU football and a welcome change.
KU's head coach didn't provide the exact details of what types of team rules and policies players have to follow to prevent more virus cases. Miles said the increased number of tests each week helps coaches know "how and what they're doing."
"And we need them to stay clear of what are parties, what are the new young people that are coming onto our campus to go to school," Miles said. "We need to make sure that interaction is nonexistent. If we can do that we will save ourselves a number of positive tests."
Junior KU quarterback Miles Kendrick said he thinks players are taking the pandemic protocols seriously, down to wearing masks, washing their hands and maintaining social distance.
"That's a challenge in a team environment," Kendrick admitted of keeping everyone their proper space, "especially when you have guys that are close friends and been playing with each other for a couple years. I think it's been a learning experience for everybody."
Along those lines, junior running back Pooka Williams said players need to hold each other accountable.
"Everything with the COVID is very challenging," Williams said.
As an example, Williams shared that during practices when players are feeling tired and they're standing near each other on the sidelines, their instinct is to not have their masks up. He said players have to make sure they follow the rules, though, and check to verify their nearby teammates are doing the same.