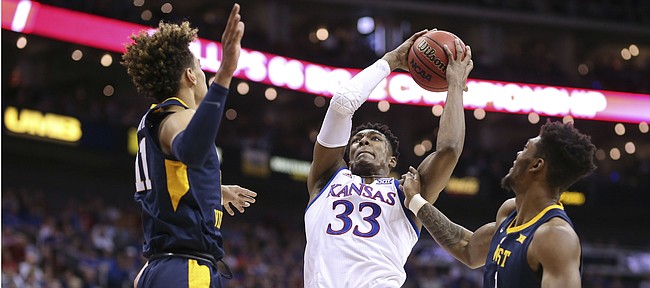 University of Kansas junior David McCormack has been named to KU's Task Force on Community-Responsive Public Safety, joining more than 20 other students, faculty and staff members from across KU's campus.
The newly formed task force will be chaired by professor Charles Epp and its mission will be to review KU Public Safety policies, practices and procedures, examine national best practices and proposals for change and make recommendations to the Office of the Chancellor regarding potential improvements to ensure respectful, transparent and community-responsive public safety services.
According to a letter from KU Chancellor Douglas Girod, the idea for the task force was born from the death of George Floyd in Minneapolis and how that incident opened the world's eyes to the "toxic impact of racism on communities across the country."
Associate Athletics Director Dan Beckler will join McCormack in representing Kansas Athletics on the task force.
Originally from the Bronx, N.Y., McCormack grew up in Norfolk, Va., where he played multiple sports and became a McDonald's All-American in basketball.
Those who know him best say he always has been a well-rounded and socially conscious person, with his exploits as a drummer and in ballet classes and his willingness to get involved with helping his community as the best examples of both.
His quote on his Instagram page reads: "You wake up with two things everyday, choices and consequences. Make the right decision."
On the court, McCormack is entering his prime years at Kansas.
After playing in 63 total games during his freshman and sophomore seasons, McCormack enters his junior season poised to take on a bigger role with former KU center Udoka Azubuike no longer on the roster.
The 6-foot-10, 265-pound McCormack carries career averages of 5.3 points and 3.6 rebounds in 12.5 minutes per game into his third season as a Jayhawk.