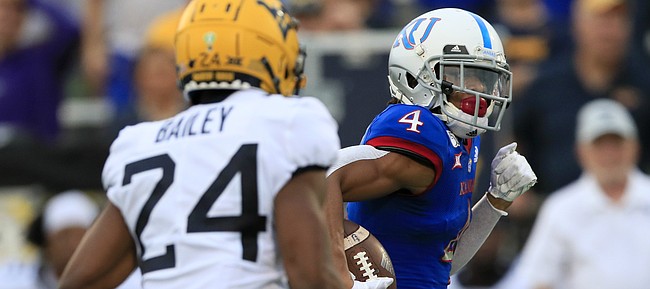 The majority of the Kansas football team's pandemic-shortened 2020 schedule is set.
As the Big 12 moved toward playing games this fall, officially announcing that decision Wednesday morning, the conference finally made its schedule public.
The Jayhawks' first league game will still be at Baylor, but now it won't come until Sept. 26 — it was originally scheduled to be played Sept. 12, before the conference opted for a shorter season because of the complications anticipated to come with playing during the COVID-19 pandemic.
Just as they would have on their original 2020 calendar, the Jayhawks will play four Big 12 home games and five road games — only the dates have changed.
"We are excited to be able to move forward with the updated schedule and compete this fall," head coach Les Miles said in KU's release. "We will continue to prepare for our season cautiously, while also relying on the direction and oversight of Kansas Team Health medical professionals to provide our players with a game plan that promotes their health and safety."
KU Athletic Director Jeff Long revealed during a video conference with reporters Wednesday night that the Jayhawks will open the season on Sept. 12, and it won't be against Southern Illinois. Long said he didn't want to reveal the opponent before the contracts for the game were finalized.
The Jayhawks' first Big 12 home date is set for Oct. 3 versus Oklahoma State. They will also play in David Booth Kansas Memorial Stadium against Iowa State (Oct. 31), Texas (Nov. 21) and TCU (Nov. 28).
The regular season is set to last until Dec. 5, and each team will have two open dates on the schedule.
Long said in a statement Wednesday afternoon it is the athletic department's "priority" to promote the health, safety and well-being of its student-athletes.
"We have known since the shutdown last spring that it would be a challenge to play college sports during this pandemic," Long said. "That said, we are confident the additional testing protocols instituted by the members of the Big 12 Conference will allow those student-athletes who choose to move forward and compete the ability to do so this fall."
Long asked for diligence from KU's athletes, coaches and staff during the pandemic, with more frequent testing and health monitoring.
"Further, we need all of our fans to help us by wearing masks, social distancing and following all of the state and county health department requirements," Long said. "We will continue to follow the recommendations of Big 12 medical advisors, Kansas Team Health as well as local health officials."
KU's new 2020 Big 12 schedule
Sept. 12 — TBA non-conference
Sept. 26 — at Baylor
Oct. 3 — Oklahoma State
Oct. 10 — open
Oct. 17 — at West Virginia
Oct. 24 — at Kansas State
Oct. 31 — Iowa State
Nov. 7 — at Oklahoma
Nov. 14 — open
Nov. 21 — Texas
Nov. 28 — TCU
Dec. 5 — at Texas Tech