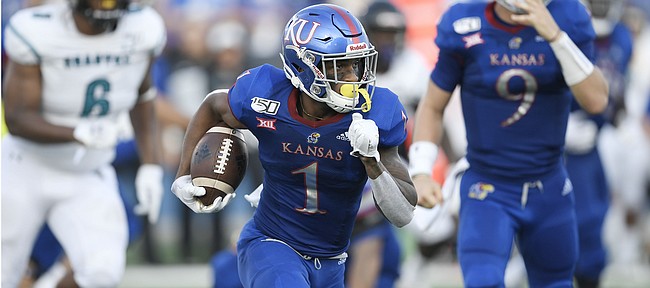 The Kansas football team has a new season-opening opponent — again.
While explaining Wednesday night what the Jayhawks would do with their one nonconference date in September, KU Athletic Director Jeff Long told reporters on a video conference that the football team will kick off its 10-game slate on Sept. 12.
And the game won't be against Southern Illinois.
Long said he didn't want to yet say officially who the Jayhawks will face in their debut because the contract for the matchup wasn't yet signed to make it official.
"One of my things is I don't announce it even though we've got the verbal. Until that signed contract is here I don't want to announce it, because I've made that mistake in the past, not gotten the signed contract and been embarrassed because we've released an opponent that we didn't play," Long admitted. "As soon as that piece of paper comes back we will release that, and it should be in a matter of hours or for sure (Thursday)."
Earlier this summer KU had to find a new opponent for its opener — set for Sept. 5 —when New Hampshire's fall sports were canceled due to the COVID-19 pandemic.
The Jayhawks then found an earlier date, Aug. 29, that would work for them to face Southern Illinois.
Even though the Salukis had open dates on their schedule in September and the Missouri Valley Football Conference is allowing its teams to play nonconference games this fall, Long said KU decided to go another direction.
In an SIU release on Tuesday, the Salukis listed KU as an opponent in 2024.
When the Big 12 adopted a nine-plus-one format for its 2020 schedule, it determined nonconference games would be played at Big 12 venues.
Coastal Carolina, a team KU originally was scheduled to play on the road on Sept. 26 this year, now has an open date on Sept. 12, because its game at Eastern Michigan was canceled when the MAC pulled the plug on fall sports.
Long said KU's nonconference plans changed dramatically through the past couple of months and the program had options before it figured out it would play just one nonconference game on Sept. 12.
The Jayhawks will have an open week following the first game of Les Miles' second season. KU begins Big 12 play Sept. 26 at Baylor.
KU's new 2020 schedule
Sept. 12 — TBA non-conference
Sept. 19 — open
Sept. 26 — at Baylor
Oct. 3 — Oklahoma State
Oct. 10 — open
Oct. 17 — at West Virginia
Oct. 24 — at Kansas State
Oct. 31 — Iowa State
Nov. 7 — at Oklahoma
Nov. 14 — open
Nov. 21 — Texas
Nov. 28 — TCU
Dec. 5 — at Texas Tech