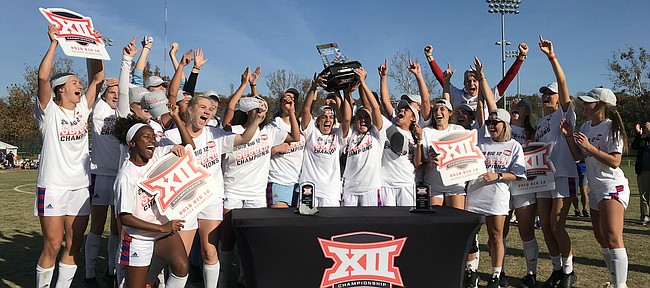 The Kansas soccer team won the Big 12 Tournament and advanced to the NCAA's Sweet 16 a year ago, but according to the conference's preseason coaches' poll, expectations outside of Lawrence aren't as high for the Jayhawks in 2020.
KU showed up at sixth in the preseason poll released this week.
Texas Tech is the Big 12's preseason favorite, receiving six first-place votes and 72 points, while Oklahoma State is close behind, with three first-place votes and 70 points.
TCU, West Virginia and Texas also appeared in the projections ahead of Kansas.
The Jayhawks return nine starters from last year's team, which finished 17-5-3.
2020 Big 12 Soccer Preseason Poll
No. 1. Texas Tech (6 1st-place votes), 72 points
No. 2. Oklahoma State (3 1st-place votes), 70 points
No. 3. TCU, 55 points
No. 4. West Virginia, 54 points
No. 5. Texas, 50 points
No. 6. Kansas, 48 points
No. 7. Baylor (1 1st-place vote), 38 points
No. 8. Oklahoma, 31 points
Tied-No. 9. Iowa State and Kansas State, 16
More like this story on KUsports.com