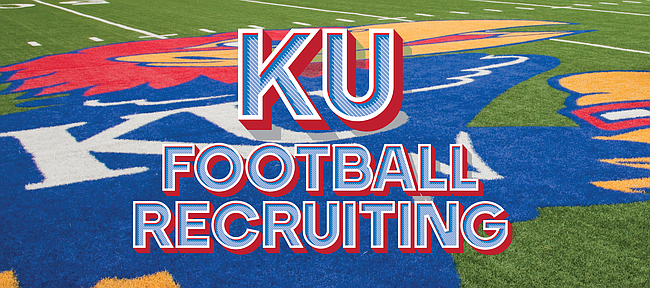 The Kansas football program's next recruiting class now has a second in-state prospect on board.
Christien Hawks, an offensive tackle from Norton, made his decision known Friday morning via Twitter.
"I am absolutely pumped to announce that I am committing to the University of Kansas," Hawks posted in a tweet, tagging head coach Les Miles, offensive coordinator Brent Dearmon and offensive line coach Luke Meadows.
Hawks shared with Jon Kirby of Jayhawk Slant that he first informed KU's coaches of his commitment on a Zoom call Friday morning.
"There was a lot of shouts and everything," Hawks said. "It was great."
When college football coaches were able to start extending official scholarship offers Aug. 1, Hawks received quite a few, from Air Force, Central Michigan, South Dakota, Eastern Michigan, Valparaiso and Akron. But KU stood out as the only Power Five program to do so.
It had been several months since Lawrence High's Devin Neal gave KU its first Sunflower State commitment, and the class grew with additions from all over the map before Hawks joined Neal as an in-state recruit in KU's 2021 class, which now includes 17 high school prospects.
A 6-foot-5 offensive lineman, Hawks hasn't yet received a scouting grade from Rivals, while 247 Sports assessed him as a three-star talent.
All verbal commitments, of course, are nonbinding. The earliest that Class of 2021 football prospects can sign is December 16.
KU football Class of 2021 commitments
(Rivals rankings)
• Majik Rector — 3-star Texas prep WR
• Ben Easters — 3-star Indiana prep QB
• Jaddai Henry — 3-star Texas prep WR
• Kelan Robinson — 3-star Texas prep WR
• Devin Neal — 3-star Lawrence prep RB
• Mason Brotherton — 3-star Arkansas prep TE
• De'Kedrick Sterns — 3-star Texas prep OL
• Edgar Amaya — 3-star Alabama prep OL
• Andrew Simpson — 3-star California prep LB
• Trey Staley — 3-star Georgia prep LB
• Omar Burroughs — 3-star Florida prep DB
• Keon Coleman — 3-star Louisiana prep WR
• Devonte Wilson — 3-star Florida prep DB
• Kameron Grays — 3-star Alabama prep DB
• Deldrick Withers — 2-star Arkansas prep DE
• Larson Workman — 2-star Texas prep OL
• Christien Hawks — Norton prep OT
More like this story on KUsports.com