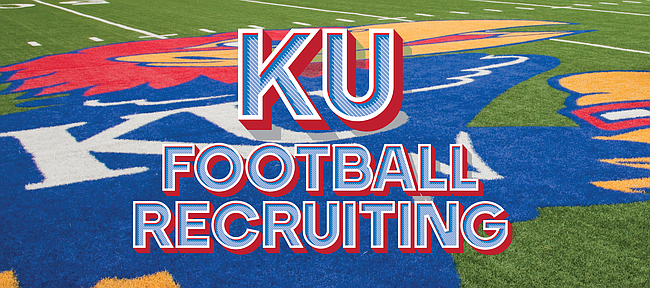 As Kansas football head coach Les Miles and his assistants finally began full-blown preparations for the 2020 season, with the team's first practices of the year this past weekend, the Jayhawks also started adding potential pieces for their 2022 roster.
A pair of soon-to-be high school juniors from Arkansas became the first members of KU's 2022 recruiting class when quarterback Austin Myers and offensive lineman Brock Burns made public their commitments to Kansas on back-to-back days.
Myers, listed by Rivals as a 6-foot-4 pro-style QB, emerged as the first player in the class to commit to KU on Saturday, announcing his choice on Twitter.
"The road to success is long," Myers wrote in his post, "but today I take my first step toward my future."
In the tweet, Myers thanked Miles, as well as KU offensive coordinator and quarterbacks coach Brent Dearmon, who leads KU's recruiting efforts in the state of Arkansas. Dearmon helped land both the QB and O-lineman Burns.
"Coach Dearmon is a great coach and an offensive genius," Myers said in an interview with Jon Kirby of Jayhawk Slant. "I started reading his book recently on iTunes. Les Miles is a great coach and a legend. I'm just really excited (about) what they have going on up there."
KU was the first school to offer Myers a scholarship, but Rivals reported programs such as Florida State, Tennessee, Arizona State, Cal and Arkansas showed interest in the QB, too.
Burns officially joined Myers in aligning himself with KU on Sunday. Listed at 6-4 and 285 pounds by Rivals, Burns actually visited Lawrence with his family this past weekend, he told Jayhawk Slant.
The NCAA, of course, has suspended all typical recruiting visits amid the COVID-19 pandemic. But Burns was able to drive up to KU and check out the campus.
"Coach Dearmon wanted us to call and tell him how the trip went," Burns said in an interview with Jayhawk Slant. "I told him I liked it so much I wanted to commit."
As with Myers, KU was the first program to offer Burns a scholarship.
While Rivals has not yet graded the prospects, both are considered 3-star talents according to 247 Sports.
All verbal commitments are nonbinding. Football recruits in the 2022 class can not sign and make their pledges official until December of 2021 at the earliest.