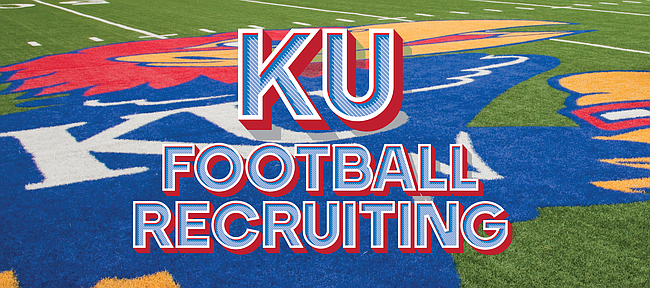 This year college football coaches haven't been able to invite recruits to campus for spring visits as they normally would, due to the COVID-19 crisis. Nevertheless, Les Miles' staff at the University of Kansas has seen in recent weeks a number of prospects identify KU as one their top college choices.
Some Class of 2021 players have longer lists of potential landing spots than others, but since in-person recruiting was shut down in mid-March KU coaches have learned their program is in the running with five notable recruits.
KU's first appearance on the recent string of lists came from D'Marion Alexander, a three-star linebacker from China Spring, Texas. Listed at 6-foot-4 and 210 pounds, Alexander has scholarship offers from teams in the Big 12, Big Ten and Pac-12.
Alexander in late March unveiled his personal top four, and included KU with TCU, Texas Tech and Minnesota.
It was in late January that Alexander picked up his offer from KU. Alexander told Jon Kirby of Jayhawk Slant that he stays in contact with new KU outside linebackers coach Chidera Uzo-Diribe via text every day and has spoken on the phone with Miles.
"It was crazy talking to him at first because I'm a big LSU fan so that one hit me hard," Alexander told Jayhawk Slant. "We talked back when the basketball season was going on and he was telling me good luck and congrats on a big win we had."
In the past week, four more high school juniors added KU to their lists.
Rated a three-star prospect by Rivals, Sedarius McConnell, a three-star defensive end from Atlanta, put KU in his top six, along with Pittsburgh, Louisville, Wake Forest, Vanderbilt and Minnesota.
A 6-1, 185-pound dual-threat quarterback from Cedar Hill, Texas, Kaidon Salter is considered a three-star prospect by Rivals and a four-star talent by 247Sports.
Salter placed KU in his top 11, along with Auburn, Tennessee, Ole Miss, Arkansas, Utah, UCLA, Georgia Tech, Louisville, Michigan State and Baylor.
A three-star outside linebacker from Duncanville, Texas, Jadarius Thursby unveiled his top eight, and grouped KU with Missouri, Arkansas, Houston, San Diego State, SMU, Toledo and Texas-San Antonio.
A high school teammate of Thursby's in Duncanville, three-star receiver Roderick Daniels included KU on his 10-team list, as well. Daniels also is considering Missouri, Arkansas, TCU, Texas Tech, Baylor, Colorado, SMU, Minnesota and Arizona State.
KU football Class of 2021 commitments
(Rivals rankings)
• Majik Rector — Texas prep WR
• Ben Easters — 3-star Indiana prep QB
• Jaddai Henry — 3-star Texas prep WR
• Kelan Robinson — 3-star Texas prep WR
• Devin Neal — 3-star Lawrence prep RB