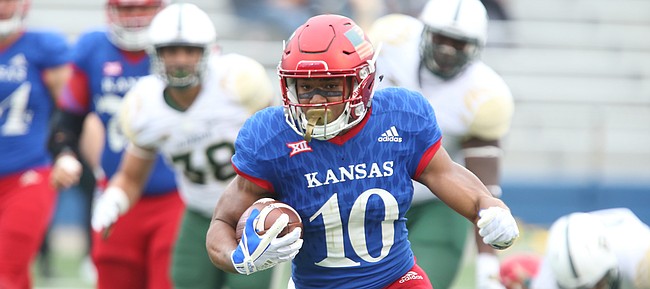 All signs point to Khalil Herbert's Kansas football career being over.
While no one within the program, including head coach Les Miles, would offer up that exact information Monday, the picture painted by the words of Miles and two veteran captains was one that doesn't include Herbert.
Two days after KU's senior No. 2 running back abruptly became unavailable for the Jayhawks' game at TCU for what the team described as personal reasons, Miles said on the Big 12 coaches teleconference he expects Herbert to be gone not just this week, but also for the foreseeable future.
"I don't expect Khalil to be with us," Miles said. "And that's really all I have. And you're up to date."
Asked later at his weekly press conference whether that meant a permanent departure, Miles declined to elaborate.
According to Miles, Herbert made the trip to Fort Worth, Texas, with the team Friday, and then he had a lengthy conversation with Miles that night about leaving.
"I spent some time on this," said Miles, who repeated during his media session that he didn't want to say much on the subject. "This is not something that did not go with effort from the head coach. Everybody has a different path."
Miles on Monday afternoon described his conversations with Herbert as "ongoing."
"It's really his business, and it's something that I'm not going to comment on," Miles said. "It'll — you'll eventually get it."
The Jayhawks' latest depth chart doesn't list Herbert. As of Monday, Herbert's name still appeared on KU's official roster. Still, Miles wouldn't say whether Herbert will be around the team and at KU's facility at all.
"I have not seen him," Miles said.
Given the timing of Herbert's absence — he has played in just four games, the maximum for a college football player who wants to take a redshirt season — many have speculated Herbert could sit out the rest of the year and then transfer.
All Miles would say Saturday after his team's loss to TCU about that theory was, "It makes sense to me."
As far as the redshirt rule itself, which went into effect before the 2018 season, Miles didn't weigh in. But KU's coach said during his Monday press conference that any staff looking to build a program would view attrition in the same way.
"That's not something you want," Miles said of players deciding to transfer out after playing in a handful of games. "You want your guys that — you want them to stay with you. You want to give them the opportunity to have great success and have all the dreams they want fulfilled right here."
In KU's first four games, Herbert provided 8.9 yards per carry, 96 yards per game and two rushing touchdowns.
Herbert, one of the team captains for KU's most recent home game against West Virginia, has been one of the faces of the program the past couple of years. Both Miles and former KU head coach David Beaty spoke highly of Herbert and held him in high enough regard that each chose the running back from Coral Springs, Fla., to represent the program at Big 12 Media Days the past two summers.
KU senior left tackle and team captain Hakeem Adeniji said Herbert spoke to some of the Jayhawks individually about his decision. Adeniji, who considers Herbert a close friend, said his conversation with the running back came on Friday night.
Adeniji, while keeping much of those words private, shared what he could about Herbert's message.
"Just that everything didn't go like how it was planned to," Adeniji said. "Obviously it's a bad little situation, but I don't think anyone really intended for it to go down how it did."
The senior O-lineman said the entire situation was difficult to navigate, with the "indecision" and "people not knowing what's going on." Adeniji, though, also described Herbert as a "great teammate" and "a really good guy."
"So it hurts to kind of not have that with us right now," Adeniji added.
Another senior captain, safety Bryce Torneden, described how KU's leaders went about handling Herbert's departure.
"I think we kind of have to take that step and really make sure everyone's focused on the goal, which is winning games and playing to the best of our ability," Torneden said. "So whatever the outside noise may be, we've got to make sure that we're tuned in and focused on winning games."
A starter in 14 games three-plus seasons into his college career, Herbert has produced three 100-yard rushing games in 35 appearances for KU, most recently running for 187 in the Jayhawks' convincing upset victory at Boston College in Week 3.
Filling in as the starting running back in Week 1, when sophomore Pooka Williams Jr. served a one-game suspension, Herbert rushed for 88 yards on 17 carries against Indiana State.
The following week, when Williams returned, Herbert officially started but served as the secondary running back and still produced 82 yards and a touchdown on eight rushes.
Herbert only carried the ball seven times against West Virginia, and he finished with 27 yards in what now seems to be his KU finale.