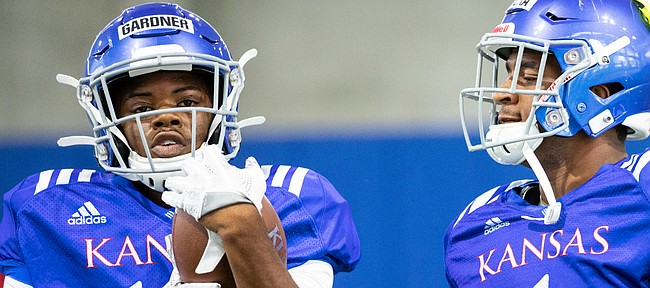 An overall forgettable Saturday for the Kansas football team at TCU featured a couple of individual performances that may prove more memorable for the true freshmen who delivered them.
With two key KU veterans absent for the Jayhawks' Big 12 road opener, running back Velton Gardner and linebacker Gavin Potter became more involved in the game plan out of necessity. And while neither of them — nor any of their teammates — could impact the game enough to keep up with TCU in a 51-14 rout, both Gardner and Potter showed early in their college careers they are capable of contributing.
KU's offense had the ball so seldom that even star running back Pooka Williams Jr. only had eight carries and three catches. The Jayhawks (2-3 overall, 0-2 Big 12) ran just 47 plays, allowing TCU to basically double up the visitors in time of possession, as the Frogs spent 39:35 of the 60-minute thrashing on offense.
With senior Khalil Herbert missing the game for what the team described as personal reasons, Gardner suddenly became KU's No. 2 running back. And on his four rushes and one reception, the 5-foot-9, 190-pound freshman from Dallas Skyline High led Kansas in yards from scrimmage. Gardner's 71 yards made up 45% of his team's paltry 159 yards of total offense.
Though Gardner had appeared on offense in each of KU's first two games, the trip to TCU was his first appearance since the Coastal Carolina loss, and the KU coaches had not yet asked for much out of him.
"We knew Velton was going to have some talent, some ability," KU head coach Les Miles said. "Really just looking for an opportunity to get him in the game and see how talented he is."
Miles pointed to Gardner's 45-yard touchdown run in the fourth quarter — KU's first TD of the day — and the cuts the freshman made as a rare positive moment in the lopsided affair.
"Considering the day," Miles said, referencing Herbert's absence, "it was well timed."
On the other side of the ball, Potter, a 6-2, 215-pound linebacker from Broken Arrow, Okla., started for the first time at KU, with junior inside linebacker Dru Prox out due to injury.
Potter actually led the Jayhawks in total tackles (11), mimicking Prox in that regard at least.
"Made some mistakes," Miles said of Potter's day. "But when you're a true freshman…"
KU senior safety Bryce Torneden, who finished with nine total tackles and one tackle for loss, wanted to watch the game footage before offering a thorough review of Potter's first start.
"I know that he was flying around," Torneden said. "I hope he really steps up and plays to his full potential because obviously he's got a big position to fill. And I think he's the perfect guy for it."
Considering where Potter is as a player at this stage of his career, the Jayhawks would prefer to have the older Prox taking the bulk of the snaps at that inside linebacker spot next to Kyron Johnson. Even so, Miles, as he has all along, thinks Potter will bring much more to the defense eventually.
"He's really going to be a future linebacker who's going to be really significant," Miles said.
KU-OU set for national stage
The Big 12 announced Sunday that KU's next game on the schedule, Saturday at David Booth Kansas Memorial Stadium, against Oklahoma, will air on ABC.
The conference previously had announced an 11 a.m. kickoff time.