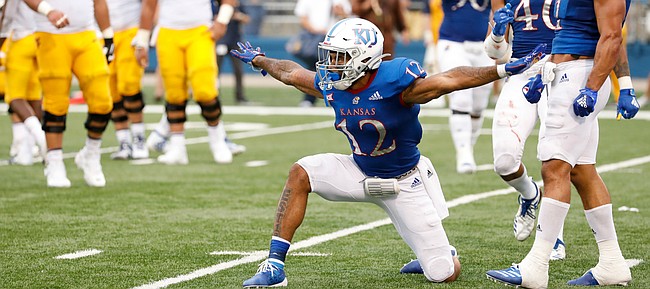 Four games into the season, senior safety Jeremiah McCullough is one of two players on the entire Kansas football roster who has recorded an interception.
But, as fellow safety Mike Lee doesn't mind reminding McCullough, he could have more.
"No, it's not in the past, because as a unit we're still trying to be better," said McCullough, who couldn't haul in a pair of potential interceptions at Boston College and had another would-be pick hit the turf in KU's home loss to West Virginia.
The Jayhawks' defense, after living on takeaways a season ago, are in a turnover drought headed into their Big 12 road debut at TCU.
McCullough picked off a pass against Indiana State in Week 1, the same day that cornerback Hasan Defense came up with a crucial pick-six. Since McCullough's third quarter interception that day, though, the defense hasn't recorded a single takeaway, giving the unit two on the season with a third of the schedule in KU's rearview mirror.
Four games into the 2018 season, KU boasted one of the most thieving defenses in the nation.
Posting gaudy takeaway numbers — seven interceptions and six fumble recoveries — thanks in large part to some turnover-prone nonconference opponents in Central Michigan and Rutgers, the KU defense built a reputation as one that could conjure up some havoc. KU finished the year with 27 total takeaways.
McCullough feels at least partially responsible for KU lagging in that department so far this year.
"I'm making it hard on myself, but at the end of the day I know the picks are going to come," McCullough said. "I'm just trying to be in the right position for my team."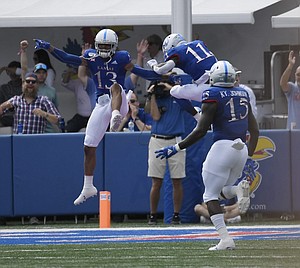 All the defensive players work on takeaways at every practice. For defensive backs that involves something as simple as making catches, but also includes breaking on receivers and getting their hands on throws at the highest point possible.
When practice is over, McCullough, a 6-foot, 190-pound senior from Baltimore, goes a step further to work on his hands.
"I get a real quarterback," the safety said of his approach, "because it's different from having a coach throw you the ball and having a real quarterback throw you the ball and breaking on it. It's totally different."
McCullough finds one of the eight quarterbacks on KU's roster — "anybody I can get my hands on" — for the drills. And it's necessary, he says, because it allows him get more used to game-like throws, with the zip a QB puts on a pass.
"It's hot," McCullough said. "The ball's coming."
The KU safety asks for all types of throws — high, low, ones that allow him to break at an angle, whatever comes to mind.
Creating more takeaways did not just recently become a priority for KU defenders, senior safety Bryce Torneden pointed out. They always have been the past couple of years and they will continue to be in the weeks ahead.
"We're trying to take advantage of every chance we get," Torneden said. "Anytime we get a ball carrier stood up we're trying to get that ball out, rip that ball out to the best of our abilities."
A video review overruled a Torneden interception for KU (2-2 overall, 0-1 Big 12) this past weekend. His almost takeaway (the ball touched the turf just as he snagged an errant throw) was a reminder of how much he and the rest of the defensive players work on takeaways.
Torneden said the Jayhawks go through a turnover circuit during individual drills at practices. They work on ripping the ball out, as well as catching all types of throws — low, bad, overthrown and tipped.
"It's a daily thing," Torneden said.
As the defensive backs search for ways to snap KU's three-week streak of games with no takeaways, their teammates who play in front of them obviously would like to contribute to that cause, as well. With two turnovers gained, KU currently is tied for 120th in the country. Just one team, Western Kentucky, with one, has fewer takeaways.
On Saturday, Kansas plays on the road against a TCU team (2-1) which has only thrown one interception (by Alex Delton, who is no longer starting) and has lost possession five times on 13 fumbles through three games — seven fumbles and two lost fumbles came in the Horned Frogs' opener versus Arkansas Pine Bluff.
KU head coach Les Miles, speaking about takeaways in general, said his staff has put an emphasis on such momentum-building plays throughout practices the past couple of months.
"They have taken balls away in summer camp from us," Miles said of KU's defensive players proving to him they can make more of an impact.
Junior Kyron Johnson said he knows one way in particular he and other linebackers can be helpful.
"Basically just running to the ball and when it comes to tackling and all that, we can hold them up and have the DBs and D-line come in and strip it out," Johnson said. "Or if they're holding them up we come in and strip it out."
So far this season KU's defense has forced three fumbles — one each by linebackers Dru Prox and Jay Dineen and one by Torneden — but recovered none.
In the air, the Jayhawks' 14 pass breakups rank them tied for 47th among FBS teams. KU's individual leader in that category, of course, is McCullough, with four (only 21 players in the country have broken up more).
Johnson is convinced by the end of the season McCullough will lead the Big 12 in interceptions, because he's been in position to make so many already.
If there's one would-be interception the senior safety finds himself wishing he had back it's a pass that he read and jumped out in front of in the second half at Boston College. But he said he mostly operates with a short-term memory, because that's what it take to survive as a defensive back.
Plus, he thinks as long as the Jayhawks are assignment sound there will be more chances for turnovers each and every week, and not just for him.
"They're going to come in bulk," McCullough predicted.