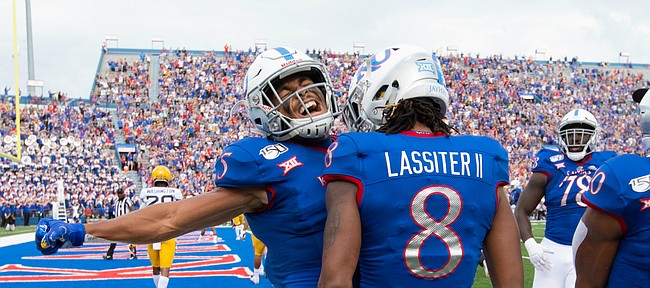 With the offense finally in a rhythm in the third quarter of the Kansas football team's Big 12 opener, and the Jayhawks four yards from the goal line and a potential momentum-boosting score, quarterback Carter Stanley did something for the first time in his college career.
The fifth-year senior, playing in his 29th game for KU, waved both his hands, motioning down, indicating to the fans inside KU's home stadium that they needed to quiet down so the Jayhawks' offensive players could hear the call and their assignments.
"Which is a good thing," Stanley pointed out after KU's 29-24 loss to West Virginia at David Booth Kansas Memorial Stadium. "Our fans were incredible today."
The play that followed didn't even result in a touchdown, but it was one of several occasions when the game day atmosphere provided by the announced crowd of 35,816 looked, felt and sounded far different from what the Jayhawks had grown accustomed to expecting the past several years.
Photo Gallery
Kansas football v. West Virginia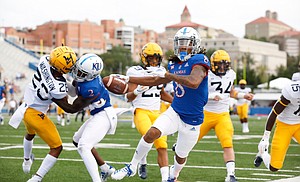 View a gallery from Saturday's game between the Jayhawks and Mountaineers at Memorial Stadium.
The stadium, which can seat as many as 50,071, was nowhere near full. But it was the largest crowd to date since Les Miles took over this past winter, as well as the biggest since — according to KU — 36,223 attended the 2017 Sunflower Showdown with rival Kansas State.
Senior KU safety Bryce Torneden, disappointed about the loss to WVU like the rest of his teammates, said Saturday night he was "thankful" for the "great turnout."
Following his 28th career start, the hometown defensive back from Free State High said it was the best KU crowd in front of which he's played as far as he can remember. And even though Torneden hesitated to call it the loudest he had heard, too, he said the noise was noticeable and beneficial.
"Just looking around on 3rd down and having everyone amped up," Torneden said, "it meant a lot to the defense."
In his third year with the Jayhawks, senior cornerback Hasan Defense said the environment this past weekend was "definitely" the best he has experienced in Lawrence.
"The fans came out. We came out and halftime and they weren't gone," Defense said with a laugh, referencing the trend of mostly empty bleachers in the second halves of KU home games in seasons past.
"When you see fans buying in it gives you that extra jump," Defense said, "that extra adrenaline rush to know that, 'OK, I'm tired here in this fourth quarter, but there's people out here who want to see us make plays.' We want to make plays. So it's not like we're going to just give up in any form, shape or fashion, especially with the fans rooting us to the fourth quarter no matter the score. It just keeps us fighting to put on a show for them."
Compared to just a year ago, the crowd for KU's third home game was "way different" from what the Jayhawks came across in 2018, according to senior safety Mike Lee. In David Beaty's fourth and final season in charge, KU averaged only 19,424 fans per home game. A mere 15,069 watched the Jayhawks' lone Big 12 victory over TCU.
"It's a good crowd this year," Lee said. "Last year the true Jayhawks fans were there, and they were always supporting us. I feel like we've got a lot of Jayhawk fans now, and they're going to always support us. We've got to go out and keep fighting."
Senior outside linebacker Najee Stevens-McKenzie, who transferred to KU from ASA College (N.Y.) ahead of the 2018 season, said he always goes up to fans after KU home games and thanks them.
"Without them, we're nobody," Stevens-McKenzie said.
While the Jayhawks (2-2 overall, 0-1 Big 12) felt as if the WVU loss was a letdown, coming off an impressive victory at Boston College, Stevens-McKenzie said the players trust they're still trending upward a third of the way into the 12-game season.
And he thinks KU fans feel the same way. According to the senior linebacker, he has spoken to friends who were "born and raised" in Kansas, and they've told him this team looks different from those of recent memory.
"They're telling me the game is watchable," Stevens-McKenzie said. "It's entertaining, and we're giving them what they want to see. They're getting their money's worth. It's not just a blowout, 'Oh, let me leave the game right now. Let me go check out some other game.' So we're heading in the right direction."
Not all of the KU fans who attended the narrow loss to WVU (3-1, 1-0) stayed in their seats to see the Jayhawks battle back from a 12-point deficit and have an outside chance of winning on the game's final play.
Still, those who were there, junior receiver Andrew Parchment thought, stuck around because they sense this year's KU team is unlike the ones they've watched — or chose not to — over the past several seasons.
"Coach Miles, he's invested in us and we're invested in him," Parchment said. "As a team we have goals to get to a bowl game and win a Big 12 championship. That's not going to change after this game, and I feel like the fans see that."
After the loss, as KU's players and coaches headed for the locker room, most of their supporters in the stadium sent them off with a standing ovation.
Miles said he was thankful the fans enjoyed what they saw.
"And I am thrilled for our players," Miles added, "because I want you to know something. It's not easy finishing second in the game and coming to practice and busting your tail, because they're going to bust their tail again, and they know it. And yet, that fanbase that's giving them a standing O and enjoying how they played makes a difference. It really does. And we thank them."
Stanley said the show of support from the KU fans meant "the world" to the players.
"I hope they can come out and continue to support us for the rest of the year for our home games certainly," Stanley said of remaining matchups with Oklahoma, Texas Tech, K-State and Baylor in the weeks ahead. "That was an awesome crowd today."
Kansas plays at TCU (2-1) at 11 a.m. Saturday (FOX Sports 1).
Prox banged up
KU's leading tackler on the season, junior linebacker Dru Prox had to leave the field in the fourth quarter of the Jayhawks' loss to West Virginia, appearing to have suffered a shoulder injury.
Miles didn't have an exact update on Prox's status Saturday night.
"I saw him in the locker room after the game, and he was walking," Miles said. "And I would guess that he'd be OK. But I do not know."
Prox made nine total tackles and a sack in Week 4. He has 39 total tackles through four games.