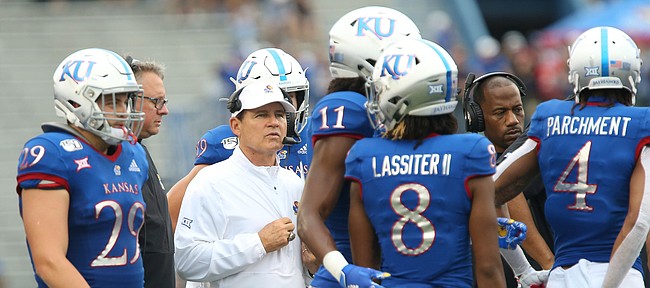 The desperation play that ended 12 yards shy of the end zone could have given the downtrodden Kansas football program a victory in its Big 12 opener.
Those of the 35,816 in attendance who stuck it out until the end were so inspired to see the Jayhawks compete that most of the fans who saw it happen delivered a standing ovation to the KU players and coaches as they walked off the field Saturday at David Booth Kansas Memorial Stadium.
And while quarterback Carter Stanley and his teammates obviously appreciated the gesture, following a 29-24 West Virginia victory it became clear this group of Jayhawks aren't into patting themselves on the backs for narrow defeats.
Les Miles loved what he saw out of his offense, defense and special teams late in the second half and all.
"But we've got to be better," Miles said. "Frankly, you hate to give away opportunities at victory."
The improbable final play, when the Jayhawks (2-2 overall, 0-1 Big 12) had two seconds left and 52 yards between them in the end zone, covered 40 yards. Stanley hit an open Daylon Charlot, and the receiver immediately pitched a lateral to a sprinting Andrew Parchment. The play didn't end until Parchment tried pitching it to Pooka Williams, who was knocked out of bounds.
Moments later, as the Jayhawks tried to digest what they had experienced, they could see the fans' appreciation for their efforts.
"I think they see the fight," Stanley said, after going 19-for25, with 275 yards, three touchdowns, one interception and one lost fumble. "I'm not into moral victories at all. But I think they see the progress."
Emotional about coming up short, the QB's interception early in the fourth quarter led to a West Virginia touchdown drive and a 29-17 deficit for KU.
"It was tough," Stanley said of seeing WVU cornerback Keith Washington II leap up and get his hands on the throw down the sideline, before hauling it in on his way to the turf. "That hurt."
Even so, the Jayhawks bounced back, responding with a 10-play TD drive of their own that took just 2:49 of precious fourth quarter game clock.
After safety Bryce Torneden, linebackers Gavin Potter and Najee Stevens-McKenzie and defensive end Darrius Moragne gave the KU defense the tackles it needed to give the offense one last prayer, Stanley and company nearly pulled it off.
Photo Gallery
Kansas football v. West Virginia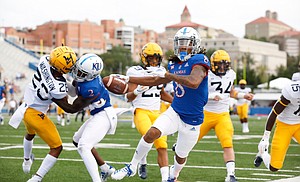 View a gallery from Saturday's game between the Jayhawks and Mountaineers at Memorial Stadium.
"I'm proud of our guys with the way they fought 'til the end, 'til the clock hit zero," Stanley said. "But that's what this team is. We're never going to give up. Our coaches called great plays down the stretch to get us in those situations. There's more I've got to do. There's more this team has to do to win games."
Following a mundane, punt-filled first half, a tight conference opener got interesting in the third quarter. Even though KU's first series concluded with a Liam Jones 23-yard field goal, that's when the real fun began.
Miles elected to go for an onside kick trailing, 17-10. It worked, too. Or so it seemed.
Freshman Jacob Borcila lightly lofted the attempt about 12 yards down the field, along the right sideline. Redshirt freshman Jamahl Horne stole the ball away from WVU, too. However, Horne got flagged for kick-catch interference.
"They interpreted the rule," Miles said after the loss of the explanation he received from the officiating crew, "as if (the Mountaineers) have the opportunity, we have to give them the opportunity to catch it. When we kicked it we thought they would have a very difficult time getting to the ball. … That was the ugliness."
Even though WVU (3-1, 1-0) began its series on KU's 31-yard line as a result, KU's defense responded with a three-and-out, capped by a Codey Cole tackle and celebratory dance. The Mountaineers settled for a 44-yard Evan Staley field goal that gave them a 20-10 lead.
But the next play from scrimmage turned out to be a one-play touchdown drive for Kansas, as Stanley connected with Parchment (five receptions, 132 yards, two touchdowns), who was too fast to be caught.
Miles said he thought throughout the second half that KU would ultimately win. The players, such as Hasan Defense, said that resonated on the home team's sideline.
"Our coaches kept our heads up," Defense said. "People wanted to get down. But no on e let it happen. From players to coaches we all stayed up. We all stayed together. We rallied together even more. And as the offense went out on their last possession we all had that feeling like 'we're going to win this.'"
Of course, that ultimately wasn't the case.
KU had a chance to take its first lead of the afternoon in the final minutes of the first half. A Caleb Sampson sack for the KU defense on 3rd and 11 set the Jayhawks up with ideal field position, at their own 44-yard line, with 2:07 left in the second quarter.
But after a one-yard run for Khalil Herbert (seven carries, 27 yards) and a minimal gain on a pass to Williams (15 rushes, 76 yards) to open the series, WVU linebacker Dylan Tonkery sacked Stanley. KU had to punt for the fifth time in the first half.
WVU's drive began with 0:49 left on the second quarter clock. Still, the Mountaineers got down the field for a last-second field goal and take a 10-7 lead into halftime, as Staley hit from 37 yards, ricocheting his kick in off the right upright.
"They made plays," Miles said of WVU's defense mostly stifling KU in the first half. "I mean I have to be honest with you, I didn't expect them to be that good, and they made plays, and I think our defense was on the field in the first half just seemingly forever. And so I feel like, you know, that was significant certainly."
A 19-yard run by Stanley on what had all the makings of a sack in the opening minutes of the second quarter bolstered the offense — if only momentarily — after KU had to punt on each of its first three possessions.
Three plays after Stanley's magic act, he found a wide open Stephon Robinson on the west sideline for a gain of 13 yards. That put the QB in a rhythm and his next toss hit Kwamie Lassiter II in stride, allowing the junior receiver to win a foot race to the goal line and score a 28-yard touchdown and set up a 7-7 tie with 12:06 left in the second quarter.
After 125 yards of offense and only five first downs in the first half, KU regrouped down the stretch, finishing with 417 total yards and averaging 7.4 yards per play.
Though disappointed in the loss, Stanley said he could see progress.
"A lot of it is how dedicated these guys are," Stanley said. "The coaches, players, everybody comes to work everyday and we get to work. We have one goal for each week and that's to go 1-0. It'll be the same starting now with TCU. We've got to have a great week. And I'm fired up."
KU plays at TCU next Saturday.