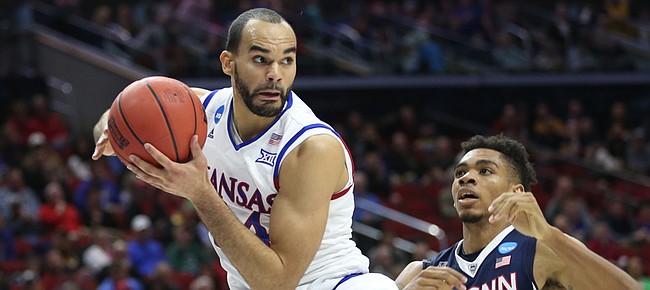 As former All-Big 12 basketball forward Perry Ellis works toward completing his undergraduate degree, he knows he has a job waiting for him.
Jayhawks head coach Bill Self announced Friday evening that Ellis, a double-digit scorer for KU just three years ago, will join the basketball staff as a video coordinator once Ellis completes a sports management internship for his degree.
After suffering a knee injury this past summer, Ellis, a Wichita native, looked into returning to Lawrence to both rehabilitate and work on his degree.
"This opened up a cool opportunity for me," Ellis stated in a KU release.
Self said Ellis' internship hours should be completed "in the next month."
Upon going undrafted in 2016, Ellis played professional basketball in the NBA's G-League, as well as in Australia, Italy, Germany and Turkey.
Earlier this year, he joined other former KU players on the Self Made entry in The Basketball Tournament. A few minutes into a TBT game, Ellis injured his knee. Prior to that, Ellis had planned to play in Japan this coming season.
"Getting injured was God showing me a different path," Ellis said, "preparing me for the future and to grow stronger as a person."
From 2013-16, Ellis averaged 12.5 points and 5.8 rebounds during his four-year career, which included 144 appearances and 109 starts.
Ellis currently ranks ninth on the program's all-time scoring list, with 1,798 career points. He was a consensus second-team All-American as a senior, when he averaged 16.9 points and 5.8 rebounds and KU reached the Elite Eight.
More like this story on KUsports.com