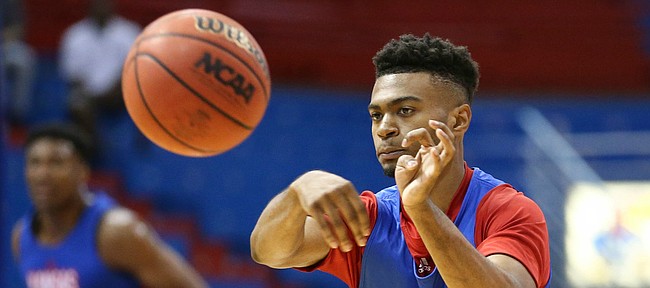 After a little more than three months with the University of Kansas basketball team, freshman Issac McBride decided the program wasn't for him.
KU head coach Bill Self announced early Friday evening the point guard from Little Rock, Ark., was leaving the team and withdrawing from the university.
"We are all disappointed that Issac made this decision, basically on Tuesday," Self stated in a KU release. "After discussing with his family, everybody came to the conclusion that this was not a good fit. We wish Issac the best."
Within a few minutes of the announcement, McBride posted his thoughts on the matter through his Twitter account.
"I decided the program was not a good fit for me," McBride reiterated in a note he wrote and posted. "I will continue to pursue a future basketball career. I would like to thank the basketball staff at KU. Most importantly, I would like to thank my family, especially my dad, who has supported me through this decision."
McBride signed with KU last November. He arrived in Lawrence in June as a four-star prospect in the class of 2019 and the Arkansas Gatorade Player of the Year, following a standout high school career at Baptist Preparatory School.
McBride was expected to play as a backup point guard this coming season behind starter Devon Dotson. This past year, Dotson averaged 32.4 minutes a game.