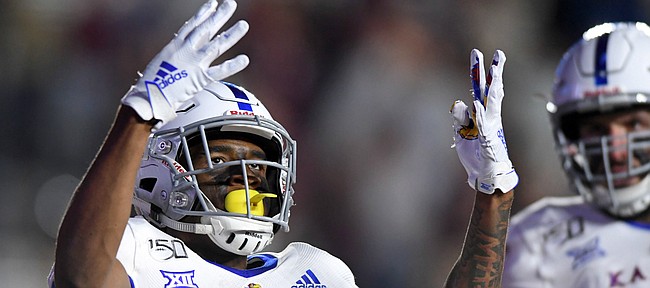 The Kansas football team's receivers and quarterback weren't the only ones who benefited from the offense spreading the field at Boston College, where the Jayhawks often lined up with three or four receivers.
The resulting spacing allowed KU running backs Khalil Herbert and Pooka Williams to flourish, as well, thanks to one-on-one scenarios in the open field.
By the end of a 48-24 Kansas road win, the Eagles' defenders were sure of one thing.
"You have a hell of a lot of skill players," KU junior receiver Andrew Parchment shared of their message to him.
When quarterback Carter Stanley wasn't connecting with Parchment or one of the other six players to whom he completed passes, Stanley was handing the ball or pitching it to Herbert and Williams and often times watching them take off. Williams produced five rushes of at least 10 yards and Herbert, who delivered a backbreaker of an 82-yard carry just before halftime, added four double-digit gains.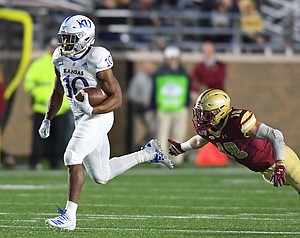 With BC unable to stop KU's rushing or passing attack, the Jayhawks averaged 7.9 yards per play, and both Herbert (187 yards) and Williams (121 yards) played key roles — along with KU's offensive line, the backs would point out — in rebooting the Kansas offense after it struggled through much of the first two weeks.
"It wasn't like those were new plays," Williams said of the spread-out approach. "We had the plays in, but we just had to get back to the basics and master the basic plays."
Head coach Les Miles joked he and his assistants found the plays that worked so favorably under a shelf at Boston College.
"We said, 'Hey, guys, what do you think? Maybe we could just put that in today while we're here.' And luckily it was there," Miles said, extending the gag.
"No. Yeah, that's been in the playbook all along," Miles said. "The opportunity for us to continue that direction, certainly as long as we stay accomplished at the things that we're doing while in that style of offense, we'll stay right with it."
While many of the late-game plays in KU's Week 2 12-7 home loss to Coastal Carolina featured I-formation calls and runs into a stacked box, it became clear to Stanley a couple days later the Jayhawks would turn to more of their run-pass option, or RPO, and shotgun, spread formation plays at BC.
The idea of integrating more RPO plays in particular excited Stanley, whose experience using such run-pass reads dates back to his freshman year of high school, in Vero Beach, Fla.
Stanley repeatedly praised the entire offensive staff for its top to bottom contributions in adjusting the scheme appropriately.
"From my understanding it was bits and pieces from everyone," Stanley said of the formulated game plan.
Williams, too, said he first played in an offense that used RPO in high school, in Louisiana.
"It made it easier for everybody, because it wasn't just forcing me the ball and everybody else is coming open, too," Williams said.
It obviously worked for the Jayhawks (2-1) at Boston College, too. Williams chalked it up to "great" coaching.
"They had to find someway and somehow to get the ball spread out," Williams added.
Taking that approach — KU used at least three receivers on roughly 60% of its 72 snaps — Williams found it much easier for he and his fellow skill players at BC to do what they do best.
"By us just having to win a one-on-one battle," Williams said, "nine times out of 10 we're going to win those battles."
When KU lined up with three or four receivers, Herbert agreed it helped him as a rusher.
"Most of the time I only have one or two backers in the box," the senior said of those situations. "So it just helps us be able to space them out, spread them out. You're not pounding it in there every time."
With Big 12 play beginning on Saturday for KU, when West Virginia (2-1) plays at David Booth Kansas Memorial Stadium (3:30 p.m., ESPN+), the Jayhawks have two of the league's top six rushers in terms of yardage — Herbert is third with 357 yards in three games and Williams is sixth with 220 yards in two.
Herbert said the offense is heading into the conference schedule with confidence in the offensive line and the play-calling. It seems both running backs will factor heavily into the game plan every week.
"I think we're able to complement each other really well, feed off each other," Herbert said.
Their effectiveness in the run game makes the entire offense easier to execute.
"We have so many weapons on the offensive side of the ball," Parchment said after his 100-yard, two-touchdown night at BC.
"I feel like if we just continue to use what we have to our advantage, which is our speed and athleticism and the way we can just make plays happen in space," Parchment added, "we're going to have a hell of a year."