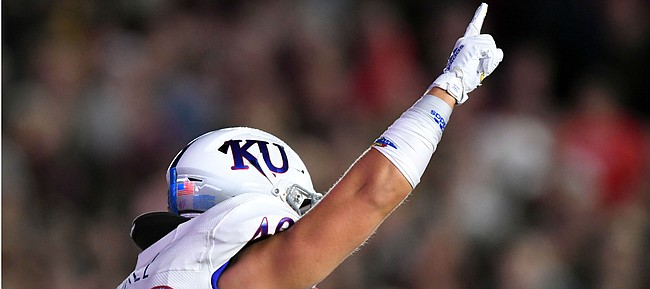 Chestnut Hill, Mass. — It took close to five years of service in the Kansas football program, but Hudson Hall finally entered the end zone for the Jayhawks on Friday night at Boston College.
Regardless of how many more rushes the senior fullback has in his future, Hall won't forget the second one of his career, which he took across the goal line for a touchdown under the lights at Alumni Stadium, where KU won by a 48-24 margin.
Typically a 6-foot-2, 230-pound blocker stuck with doing the grimy jobs on offense, Hall helped a revived KU offense keep surging in the opening seconds of the second quarter.
The Austin, Texas, native began his career on defense as a true freshman linebacker, then redshirted in 2016. He joined the offense in 2017 and registered his first carry in 2018.
No Sosinski
The Jayhawks' third leading receiver through the first two weeks, senior tight end James Sosinski did not suit up for the nonconference finale at BC.
A 6-foot-7, 260-pound target, Sosinski, the former KU basketball walk-on, caught five passes for 61 yards and a touchdown before missing the game.
A KU spokesperson said before the game the only information available at the time was that Sosinski was out, and could not confirm whether Sosinski was injured.
Parker, Potter debut
As head coach Les Miles hinted might be the case four days before the game, freshmen linebackers Steven Parker and Gavin Potter both played for the defense.
Though neither touted member of Miles' first signing class got a chance to contribute for the defense in the first two games, both had played on at least a series by the end of the first quarter.
First start for Lee
A sophomore defensive lineman from Omaha, Neb., Malcolm Lee started for the first time as a Jayhawk at BC.
A junior college transfer from Iowa Western Community College, Lee started at defensive end, making him the third different Jayhawk to man that spot in three weeks, after Sam Burt started the opener and Codey Cole III started in Week 2.
Miles and Addazio connections
Even before he became KU's head coach, Les Miles knew a little about the BC program and Eagles head coach Steve Addazio.
For one, it was just a few years back that Addazio and his staff recruited Miles' youngest son, Ben Miles, to play fullback at BC. Ben Miles ended up instead at Nebraska before transferring first to Texas A&M; and then to KU.
As early as a decade before that, the two coaches were on opposite sidelines for some of the biggest games in the SEC, when Addazio worked as an assistant at Florida and Les Miles was the head coach at LSU.
Photo Gallery
Jayhawks earn road victory over Eagles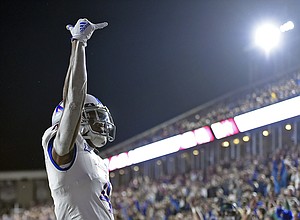 Photo gallery: Jayhawks earn road victory over Eagles (Photos by Chris Evans)
"I think he's one of those guys that's going to take chances," Addazio said earlier this week of Miles' reputation. "He makes college football fun in a lot of ways, not just with that, but just with personality and everything else. Been in a lot of big-time ball games, and certainly one of the great coaches in the history of our game. No doubt about that now. He gets his teams ready to play. I always felt like, when you played LSU, they were ready to roll. They had some great players, super talented players. He's got personality with it."
Recent nonconference road trips
It's not often that KU plays a Power Five team on the road during its nonconference schedule. In fact, it has only happened five times in the past 20 seasons.
The Jayhawks' trip to Alumni Stadium and the northeastern most portion of ACC territory marked the program's first such road game since a 27-14 loss at Rutgers, in 2015, when David Beaty was the head coach.
The year before, KU was embarrassed at Duke, 41-3, just a couple of weeks before Charlie Weis was fired four games into the season.
In Turner Gill's second year as head coach, in 2011, Georgia Tech throttled KU, 66-24, while racking up 768 total yards of offense.
In 2004, KU suffered a narrow 20-17 defeat at Northwestern, in Mark Mangino's third season.