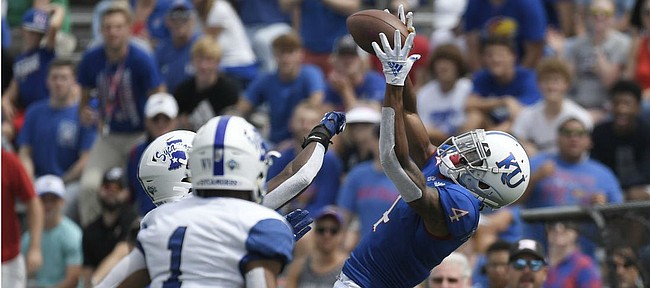 Although the receiving duo of Andrew Parchment and Daylon Charlot wasn't likely to combine to produce 200 yards and 14 catches every week just because the two did so in the Kansas football team's season opener, the Jayhawks would like to get a lot more out of the pair of targets than they did in a Week 2 setback.
After a career game in KU's opener against Indiana State, when Charlot grabbed six passes for 79 yards and secured what proved to be the winning touchdown, his stat line against Coastal Carolina looked more like it so often did during his sophomore and junior years at KU: zero receptions.
Parchment, although he caught three of the 13 passes Carter Stanley completed in the home loss, only was able to produce 14 receiving yards.
KU head coach Les Miles said at times the offense failed to set the senior Charlot and junior Parchment up for success.
"We've not had time of possession on our side yet," Miles began, referencing CCU having the ball for 34:26 of the 60-minute game, "and when you go up in there and you don't score and you turn the ball back to a team that's eating the clock, it's difficult. Suddenly those calls become, do you need that run, do you need that pass, do you need -- what do you need, as opposed to we opened the game with a deep ball or so and then get a big run, and suddenly it's a nice drive, and so the next drive we certainly hit some."
According to Stanley, the CCU defense also showed some looks that may have steered KU's play-calling away from more pass plays that could have gotten Charlot and Parchment involved.
"I think our game plan was probably a little bit more run based, as well," Stanley said.
Mistakes played a factor, too. Stanley was looking Charlot's way when he fumbled one would-be throw and James Sosinski recovered it on KU's opening drive.
Despite Parchment's successful KU debut (eight receptions for 121 yards versus Indiana State), he said he wasn't necessarily given more individual attention from Coastal Carolina's scheme.
"I just feel like they played with a lot of diverse coverages against us," Parchment said. "Blitzed a lot on third down and stuff like that. And we didn't really (acclimate)."
Charlot, who hauled in the game-winning touchdown catch in Week 1, capping a six-catch day when he contributed 79 receiving yards, wasn't made available for interviews this week.
Miles said on his "Hawk Talk" radio show Wednesday night that Charlot had played fewer snaps, as well, because he was coming off an unspecified injury, "but not a very serious one."
Miles said Charlot should be "fresher" than he was when KU plays Friday night at Boston College (6:30 p.m., ACC Network).
Some Hokie advice
As Stanley looks to bounce back from a difficult outing against CCU, his preparation for Boston College included some conversations with a former KU teammate who already has faced the Eagles this season.
Stanley hasn't worked in the same quarterback room as Ryan Willis since 2016, but KU's quarterback said he still catches up with Willis, now at Virginia Tech, about once a week.
Naturally, when the two conversed on Monday, Stanley shared, Willis' Week 1 start at BC came up.
"Shoot. I'm going to ask him for some tips, for sure," Stanley said earlier this week.
Whatever insight Willis, who went 29-for-47 for 344 yards, with four touchdowns and three interceptions against the Eagles in a 35-28 loss, shared with Stanley, KU's QB kept it to himself.
"Ummm. Nothing too much that I can really share right now. But I'll be in contact with him," Stanley said during a Monday interview.
Time for some freshmen LBs?
Though Miles spoke highly of two of KU's freshman linebackers, Steven Parker and Gavin Potter, throughout preseason camp, neither contributed for the defense in the Jayhawks' first two games.
What would they need to show to get on the field and help the cause?
Miles was intentionally vague when addressing that very question this week.
"I think both of them are going to play a ton of football," Miles' response began. "I think there's a point in time where you get comfortable or maybe that veteran wants a blow, but I think they could see playing time certainly Friday."
At that point, Miles made sure to highlight the theoretical nature of his comments.
"And that was a 'could,' so when you come back in and you go, 'Hey, you told me…' No, I told you 'could.'"
Parker, from Dallas, was the lone four-star prospect in KU's 2019 signing class. Potter also was a sought after linebacker as a three-star prospect from Broken Arrow, Okla.