Prior to the first serve in the newly renovated Horejsi Family Volleyball Arena, sophomore libero/defensive specialist Lacey Angello took a breath to calm any last second nerves.
"Lacey was back there and she didn't even look at me. Usually I give her a signal like, 'Where are you going to serve it to?'" Kansas head coach Ray Bechard said. "And I think she said, 'This is historic here; I better serve the ball inbounds somewhere.' But it was fun to get it going."
Photo Gallery
Opening Night at KU's Newly Renovated Horejsi Family Volleyball Arena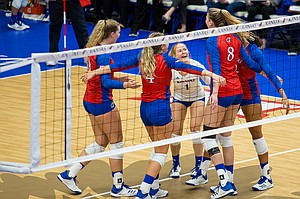 Opening Night at KU's newly renovated Horejsi Family Volleyball Arena
The Jayhawks secured the first point in their new home — a kill from junior setter Sara Nielsen — and controlled that early momentum to a 3-0 (25-18, 25-21, 25-18) victory over Morehead State in the first match of the Kansas Invitational.
"We were all just like, 'Wow, it starts now,'" senior libero Allie Nelson said, "which was cool."
But even with the win, it could be argued Thursday night served as more than just another match for KU volleyball. It's a start to a new era after playing in the previous version of Horejsi from 1998-2018, fit with a video board and still fresh enough for sawdust to be on parts of the arena floor.
"This place is magic," Nelson said. "I try not to cry about it before games, but it's really special."
With a near capacity crowd — the new arena holds 2,265 fans — and Big Jay watching from the top row, the Jayhawks got off to a blazing start, jumping out to a quick 12-4 lead in the first set.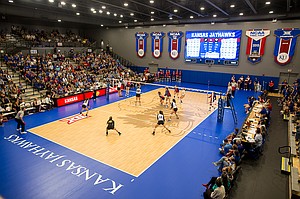 And while Morehead State cut the lead to 22-17, KU put the first set away on a Morehead State attack error and block from KU redshirt freshman middle blocker Kailea Carrier and redshirt senior outside hitter Ashley Smith.
KU started off the second set slow, though, never running away from Morehead State like the Jayhawks did in the first frame. Instead the Jayhawks and Eagles traded points back and forth, with 15 ties before KU broke away for the 25-21 set win.
What made it more difficult for the Jayhawks was dropping from a .400 hitting percentage in the first set to a .094 clip in the second set. But with Morehead State hitting for .059 and .133, respectively, KU found a way to hang on.
The Jayhawks grabbed a 2-0 match lead even without playing at a top level.
"We were just like, 'Hey guys, this is our base to start the season,'" Nelson said of the second set lull. "'This is Horejsi, this is where we start. Let's go all out one more set.'"
For the third set, KU seemed reinvigorated and feeding off the energy of the arena, jumping out to a quick 8-1 lead before a Morehead State timeout stopped the bleeding. But the momentum had shifted enough in the home team's favor as the Jayhawks rolled to a 25-18 win in the third set and a 3-0 match win.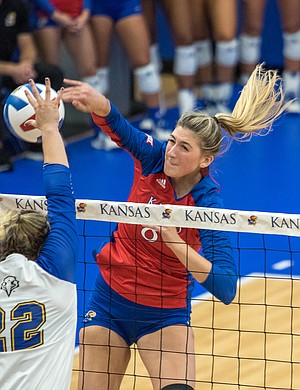 The final frame served as a rebound for KU, as the Jayhawks hit for a .303 clip. KU finished with a .255 clip for the entire match.
Senior middle blocker Zoe Hill (10 kills) and Smith (nine kills) led the way for the Jayhawks, with Hill also hitting for a .353 clip. Hill leads the Jayhawks with 55 kills this season.
Outside of the victory, Bechard said this is the beginning of a "something opportunity" in the Jayhawks' new home.
"I think it gained some amenities, certainly, but it felt intimate, it felt enthusiastic and it felt really live," Bechard said. "I told the team, this place is going to turn into something special and it's going to deserve a special effort from us every night."
KU will take on Arizona at home in the second match of the Kansas Invitational, with first serve scheduled for 6:30 p.m. Friday.