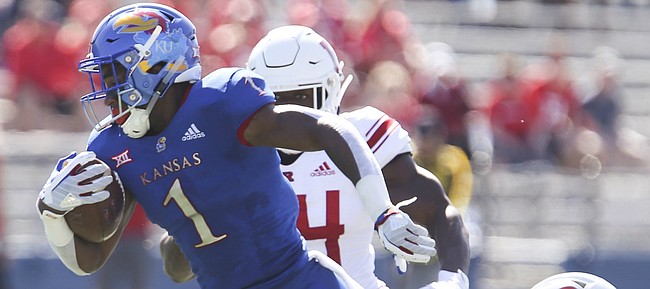 — Kansas (1-0 overall) vs. Coastal Carolina (0-1) • 6 p.m. kickoff, David Booth Kansas Memorial Stadium • Game-time forecast: 82 degrees, mostly sunny, 0% chance of rain • Video stream: ESPN+ • Radio: KLWN, FM 101.7 / AM 1320
— Log on to KUsports.com for our live coverage and follow our team on Twitter: @KUSports, @BentonASmith, @mctait and @SJacksonLJW
Keys for Kansas
1. Welcome back, Pooka
The Jayhawks downplayed the absence of their All-Big 12 running back ahead of their season opener against Indiana State. But once a victory and Pooka Williams Jr.'s one-game suspension were behind them, they were glad to share how much they're looking forward to having Williams in uniform again.
KU's rushing didn't overpower ISU the way many expected in Week 1. While some of that had to do with mistakes made by blockers for Khalil Herbert (17 carries, 88 yards) and Dom Williams (nine rushes, 34 yards), the presence of Pooka Williams figures to help significantly.
Starting fullback Ben Miles said KU trusts all of its running backs, but Pooka Williams provides an extra dose of talent.
"His acceleration is special," Miles said. "So Pooka adds another guy who can make a really electric play for us."
As a true freshman, before his offseason arrest and domestic battery charge that led to his suspension, Pooka Williams averaged 7 yards per carry and 8.8 yards per catch, on the way to his 1,473 yards of offense and nine touchdowns (not counting his TD pass at Oklahoma late in the season).
Said KU starting quarterback Carter Stanley: "He's just pretty routine at making the incredible plays at this point."
Podcast episode
On this week's episode of the KU Sports Hour, our crew breaks down Bill Self's new strength coach hire and discusses KU football coach Les Miles looking to move the Jayhawks to 2-0. Follow the KU Sports Hour on: iTune/Apple Podcasts | Spotify | Google Play | ...
Even though Pooka Williams wasn't allowed to practice with KU in the spring as part of his punishment and he was suspended for the opener, Les Miles doesn't expect the 5-foot-10, 170-pound back from Louisiana to show any rust versus Coastal Carolina.
"I think he's played a lot of football in the meantime," Miles said, referencing August camp and KU's practices since then. "I think he's caught balls and done some — he's taken plays."
The Chanticleers limited Eastern Michigan to 2.9 yard per rush on 35 carries in CCU's season-opening loss. But that shouldn't deter KU from going to Pooka Williams, Herbert and Dom Williams in Week 2.
2. Build on defensive debut
KU's defense didn't dominate in its debut under coordinator D.J. Eliot, but it only surrendered one touchdown drive in a 24-17 win while allowing ISU to pick up 5.1 yards per play on offense.
"I felt like it gave the coaches a real good look at what a lot of us can do," junior inside linebacker Dru Prox said. "There's definitely areas we can improve in, as far as being in the right gap or not getting too greedy where you get out of your gap."
Head coach Les Miles also praised the defense for its sound tackling, which no doubt factored into the Sycamores only breaking for runs of 10-plus yards five times on 37 rush attempts (with none going for more than 19 yards).
Prox led the defense with nine total tackles, but sometimes defensive end Darrius Moragne stopped plays before Prox could. A 6-7, 294-pound senior, Moragne registered seven solo tackles.
"For a defensive end, that's pretty unique," senior "Jack" Azur Kamara said, adding Moragne's size makes him difficult for offensive linemen to handle. "He was just being him."
The Jayhawks should be able to keep building their confidence in their front against the Chanticleers. CCU ran 30 times in its loss to Eastern Michigan and only averaged 2.5 yards per carry. CCU's longest run of the day went for a mere 7 yards.
KU's defensive linemen and linebackers, a mostly inexperienced group, need as many successful reps as they can get early in the season in order to develop quickly and play effectively in the Big 12.
3. Don't forget those play-making WRs
The Jayhawks wouldn't have won Les Miles' debut without receivers Andrew Parchment and Daylon Charlot coming through in crunch time and hauling in Stanley's passes.
With his eight receptions for 121 yards, Parchment, in his first KU appearance, looked like a real weapon for the offense. And with Charlot's six catches for 79 yards, including the must-have late-game TD, he produced half as many receptions as he did all of the 2018 season.
Both of Stanley's emerging favorite targets registered in the top 10 of the Big 12 in receptions and receiving yards.
Now comes what should be the easy part: keeping both Parchment and Charlot involved in the passing game. For the offense to reach its potential this season, this type of production needs to be the expectation instead of something that happens once every handful of games.
Even though more attention will inevitably come their way, the 6-foot Charlot and 6-2 Parchment showed they can go up and grab a pass in difficult situations.
Miles said Stanley also helped them look good by putting the ball in favorable spots late in the game.
"Our receivers fell in line and made some significant catches in that drive that led to the score. Again, Andrew Parchment did some special things in that game," Miles said of the junior, whom he considered KU's Week 1 MVP. "And really enjoyed how they played as a group and individually. Some special guys."
Mega Matchup
CCU QB Fred Payton vs. KU's secondary
No one would blame the experienced members of KU's secondary if they began salivating while watching Week 1 footage of the Coastal Carolina offense.
Sure, corners and safeties alike realized they will likely be tested often by Chanticleers quarterback Fred Payton, given his 43 passing attempts, 304 yards and two touchdowns in a 30-23 loss to Eastern Michigan.
But sophomore QB Payton, who completed 67.4% of his throws, had four intercepted and two others broken up.
The KU defense, of course, made a living on takeaways in 2018, when 16 of those came via interceptions. It appeared in the Jayhawks' win over ISU they could once again have a defense that benefits from timely picks.
With senior cornerback Hasan Defense intercepting a pass and taking it in for a touchdown to open the season for the unit and senior safety Jeremiah McCullough swiping a later errant throw out of the air in the end zone, KU enters Week 2 tied with many other teams for ninth in the country in interceptions.
The Jayhawks' corners and safeties, however, sophomore Corione Harris shared, thought they could have done more.
"I think we played real well. We should get our hands on a lot more balls," Harris said. "Other than that, we had a solid day."
Defensive backs coach Chevis Jackson, who played for Miles at LSU, told the Jayhawks they need to make more plays this week, according to Harris, while working on little details such as footwork and eye control.
"Don't get complacent," Harris said was Jackson's primary message to the defensive backs after their 2019 opener.
Jayhawk Pulse
Miles expects to witness growth from his Jayhawks between their first game of the season and their second.
And he wants to see upgrades from all of the position groups, not just the ones that looked the furthest behind.
"I really think that we're in a position to improve jointly as a group, and I think we'll be fine," Miles said. "I think that group, whatever group that you might want to talk about, is within striking distance of being much better and improved, so much that it could help our football team significantly."
If the Jayhawks progress the way their coach expects, the program could achieve its first 2-0 start since 2011.
Tale of the Tape
KU ….. CCU
√ KU run D vs. CCU run game
√ KU pass D vs. CCU pass game
√ KU run game vs. CCU run D
√ KU pass game vs. CCU pass D
Special teams √
Prediction
KU 31, CCU 20
More like this story on KUsports.com