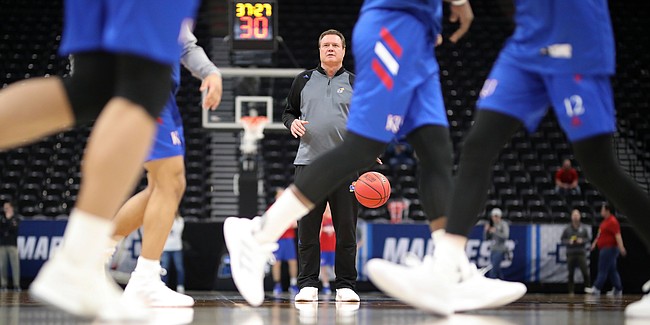 A 28-year-old NBA strength coach has been hired to replace Andrea Hudy with the Kansas basketball program, KU coach Bill Self announced Wednesday afternoon.
Ramsey Nijem, who spent the past five years working with the NBA's Sacramento Kings, has agreed to fill the role of Men's Basketball Director of Sport Performance at KU, and he is expected to arrive in Lawrence this weekend.
Shortly after the hire was announced Self told the Journal-World that Nijem's ties to professional basketball made an already impressive resume even more appealing.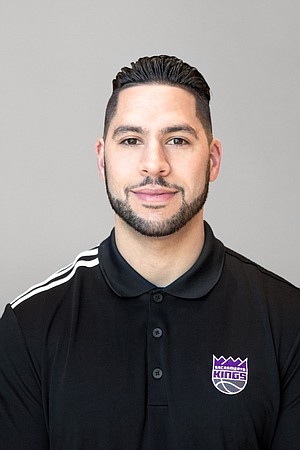 "That's definitely an attention grabber right there," Self explained. "That was my first priority, to get somebody that has a connection and will be connected to players through recruiting and things like that so I was excited about that part of this hire. I'm not saying that was the only thing we looked for, but I saw that as a bonus."
According to a KU news release, Nijem (pronounced Nigh-jum) was the NBA's youngest head strength and conditioning coach, a role he filled for the past three years after serving as assistant strength coach for two years after joining the Kings.
Nijem's role in Sacramento, much like it will be at KU, was to direct strength and conditioning, as well as sport science and nutrition while aiming to support athlete health, wellness and performance.
Self found Nijem at the urging of former KU student manager Bill Pope, who worked for the Kings from 2013-18 and is now the director of pro personnel with the Orlando Magic.
"Bill Pope is the one who first told me about him," Self explained. "And then I checked him out and talked to numerous people after that and everybody had great things to say about him."
Self said a few different people he talked to regarded Nijem as a top five strength coach in the NBA, regardless of his age, and that reputation, along with his academic prowess, inspired Self to get serious about his pursuit.
"Ramsey should fit very nicely, not only with the men's basketball program but also with the future of Kansas Team Health," Self said in the release. "(He) comes very highly regarded by his peers. He will bring an academic element along with energy, toughness and a track record of working with professional athletes that will also aid us in recruiting."
As outlined in the recent shift in KU's student-athlete healthcare, Nijem will report to medical professionals involved with the newly formed Kansas Team Health instead of becoming an employee of KU's athletic department.
Although KU Athletic Director Jeff Long recently told the Journal-World that he thought Kansas Team Health could limit the pool of candidates, Self said that it merely made the Kansas job more attractive to Nijem.
"He saw the Kansas Team Health thing as an advantage," Self said. "He'll have research and additional resources that he could potentially use down the road."
Added Long in the news release announcing the hire: "Ramsey will be a strong addition to KU basketball and our model of student-athlete care. I believe he is an ideal fit because he has earned a doctorate in his field of study and has trained at the highest level of basketball. We're excited to get him to Lawrence to work with our men's basketball student-athletes and be an integral part of Kansas Team Health."
With Hudy officially leaving for Texas almost three weeks ago, the KU men's basketball team operated with the help of KU volleyball and baseball strength coach Luke Bradford in the interim.
"It was two weeks where we didn't have anyone named," Self said. "But Luke Bradford took on that role and kept the guys going with what they were doing and did a fantastic job."
Nijem earned his doctorate of science in human and sport performance from Rocky Mountain University Health Professions in 2018. He attained his masters of science sport performance degree from Cal State Fullerton in 2013 and his bachelors of arts communication, exercise and health sciences degree from UC Santa Barbara in 2012.
He is certified by the National Strength and Conditioning Associate as a Registered Strength and Conditioning Coach and Strength and Conditioning Specialist (CSCS). He is also certified as a USA Weightlifting Performance Coach by USAW and is a Precision Nutrition Coach. Nijem has published research in top scientific journals in strength and conditioning.
The San Francisco native is expected to arrive in Lawrence sometime this weekend and begin his new job on Monday.
"It is an honor and privilege to join the tradition of Kansas basketball," Nijem said in the release. "I am excited to work alongside Hall of Fame coach Bill Self and his staff while supporting the development of the young men currently on the roster and the Jayhawks to come. I look forward to working with Kansas Team Health to provide integrated performance services to the men's basketball program and most importantly (to) be a resource to the student-athletes on and off the court. I am thrilled to join the KU family and Lawrence community."