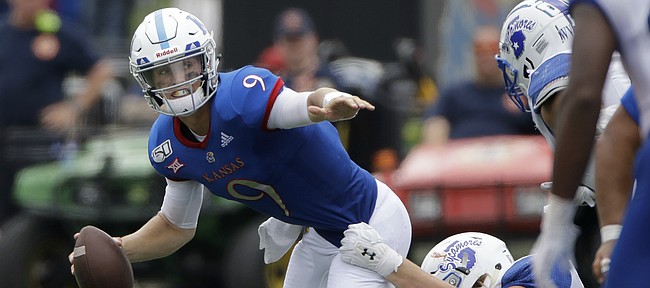 Of course Kansas quarterback Carter Stanley left the Jayhawks' season opener pleased about winning the starting job and leading a must-have touchdown drive in crunch time.
At no point during Stanley's postgame discussions with the media nor in his interview session on Monday, however, did the fifth-year senior come across as a QB elated or even satisfied by his performance.
In his first time entering a season as KU's No. 1 QB, Stanley completed 20 of his 29 passes (68.9%) for 241 yards, and threw for two touchdowns without having an attempt intercepted.
However, Stanley proved fortunate with a handful of misfires — one intended for Andrew Parchment that should have been picked off in particular — and the QB was credited with two lost fumbles in the win over Indiana State. What's more, one lateral pass that went down as a Dom Williams lost fumble actually was the result of Stanley overshooting his target in the backfield.
Podcast episode
On this week's episode of the KU Sports Hour, our crew breaks down Bill Self's new strength coach hire and discusses KU football coach Les Miles looking to move the Jayhawks to 2-0. Follow the KU Sports Hour on: iTune/Apple Podcasts | Spotify | Google Play | ...
One of Stanley's fumbles could have cost KU a win in head coach Les Miles' debut. That potential killer came with 4:24 left in the fourth quarter and Stanley trying to avoid three defenders that were closing in on him less than two seconds after catching a shotgun snap from center Andru Tovi.
Instinctively, the QB looked to get rid of the ball, but Kaleb Brewer's pressure caused a sack and a fumble, and the Sycamores scooped up the turnover in the end zone as Stanley was slung to the turf a few yards away.
Looking back at that disastrous play, Stanley described it as unfortunate from start to finish.
"For whatever reason, we kind of had a lack of communication. And it turned into the play not being ran the way we practice it. It just completely changed the look that we had. And it obviously didn't help that they brought a blitz that heavy," Stanley said.
Two defenders came untouched into the backfield from Stanley's left as he faked a handoff to Khalil Herbert. In the meantime, to his right, Brewer beat right tackle Clyde McCauley III on the edge.
"At the end of the day I was really just trying to throw it away, just get the ball out," Stanley said. "They got to me pretty quick. It was unfortunate."
Immediately following the defensive score that gave ISU a 17-16 lead, though, Stanley led KU on a 75-yard TD drive in 2:04. Senior receiver Daylon Charlot, who caught the go-ahead TD from the QB, said the Jayhawks respond well to Stanley, even when things aren't going as planned.
"When Carter got the turnover, we were like, 'Everything's going to be all right,'" Charlot related. "Carter's also been here for four or five years now and everybody respects him as a player and everybody knows he's a great guy on and off the field."
Even so, the problematic portions of Stanley's showing are the moments that he will end up spending more time reviewing and addressing this week, as the Jayhawks prepare to play host to Coastal Carolina (6 p.m., ESPN+)
On Stanley's other lost fumble in Week 1, the under-center exchange between the QB and Api Mane never made it firmly into Stanley's hands on a 4th and 2 play late in the third quarter.
The Jayhawks, looking to extend a drive just outside the red zone and potentially create a comfortable lead by adding to their 16-3 margin, instead lost the ball, providing ISU with some momentum and leading to a TD drive for the visitors.
Following the botched snap, Stanley walked off the field next to Mane, patting the center on the back and offering words of encouragement.
"He's got an incredibly hard job. He's got a 300-pound nose tackle that he's got to guard, and on those plays he's in like a four-point stance," Stanley said. "So I told him, 'That's me. I've got to get my hands further in there.' It obviously wasn't a good exchange and that's something we can't have happen in the future."
According to Stanley he and the centers work on that "every day" in practice.
"I don't think it should happen again," the QB added.
Miles called Stanley "a team guy" after the win. And the coach followed up the compliment by disclosing that some issues the QB encountered were no fault of his own.
"It's not easy what we did, OK," Miles said. "We put him out there and give him the wristband where at least two calls were — we had the wristband right but we didn't give him the calls properly, which will be easy to fix. But can you imagine standing in front of a stadium of people waiting for the big play and knowing that the big play was just sent in to your wristband and you're trying to make that look? He did some really, really good things."
Reviewing the video of his start, Stanley shared, left him wanting to improve as a QB.
"Some things that can definitely be cleaned up," KU's QB said, adding he spoke to or texted with offensive teammates to address specific matters even before they entered their game week meetings and routines on Monday.
Stanley's 161.53 passing efficiency rating ranked 36th nationally among FBS QBs for the week. His 8.3 yards per pass attempt ranked 41st.