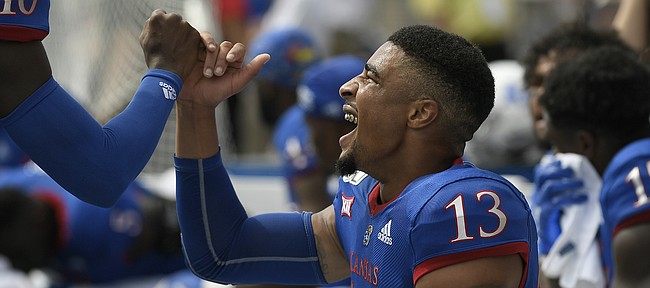 The Kansas football defense had only been on the field for six snaps on Saturday when starting cornerback Hasan Defense took a seat on the bench.
Defense wasn't winded. Nor had the senior corner committed some egregious mistake.
This was not a case of his coaches trying to teach him a lesson. In fact, Defense's most recent contribution at the time was a 57-yard interception return for a touchdown.
When Defense sat out the ensuing series after delivering what proved to be one of the most crucial plays of a Week 1 victory, it served as an introduction to KU's cornerback rotation, a reflection of the depth the coaches think the Jayhawks have at the position.
Defensive coordinator D.J. Eliot and defensive backs coach Chevis Jackson mapped out the substitution pattern for four Jayhawks corners before the game. Defense just happened to be the odd man out — highlight takeaway be damned.
"I was on the sidelines, unfortunately," Defense recalled with a laugh. "But it was one of those things. I made a play. I wanted to see everybody else make a play. We have a mentality: everybody eats."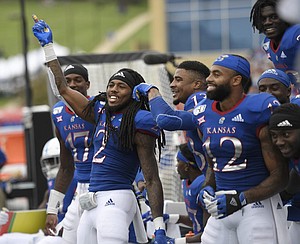 Defense and redshirt junior Kyle Mayberry started for Kansas (1-0) at cornerback. But by the second offensive series for ISU, sophomore Corione Harris joined the mix as Defense sat. The next time the Sycamores got the ball, redshirt junior Elijah Jones checked in for Mayberry.
The game had not even reached the second quarter and already KU had played all four of its best cornerbacks. Defense, a 6-foot, 193-pound senior from Jacksonville, Fla., expects the revolving door approach to work out in the Jayhawks' favor.
"It's one of those things that we know when we get into Big 12 play it's going to be tempo, a lot more passes thrown," Defense said. "So we've got to keep fresh legs in there. We've got to keep (different) guys in there."
According to Pro Football Focus, Mayberry played the most snaps among the group, registering 43. Defense played 33 snaps, while both Harris and Jones ended up with 31.
Les Miles said during his Monday press conference he was pleased to see that type of depth on display in the victory.
"Yeah, you have to have fresh bodies," Miles said. "You have to have fresh legs. Those guys in the secondary, they're chasing things down and making hits and defending balls that are thrown. It's important."
Harris knows that from experience. A year ago, when he was starting 11 games as a true freshman, at times he and fellow corner Shakial Taylor had to play 70-plus snaps in Big 12 action.
"That was a long year, really," Harris reflected. "I think by the end of the year we had like three corners left. A lot of people redshirted, injuries. It was me and Shak and Elmore (Hempstead). So we just had to thug it out."
Harris said he didn't mind opening this season as a reserve instead of starting — "As long as everybody gets reps and everybody's playing and everybody makes plays I'll be excited," he said.
He may have spent more time on the sidelines than he's used to, but rotating corners proved to be a refreshing approach.
"My body feels better," Harris said on Monday. "I wasn't as tired or didn't have really much to worry about, knowing I had somebody behind me who could play, in front of me who could play. It really helped out a lot."
Some may have been surprised to see Harris listed as a backup on KU's first published depth chart of the season, given that Harris started throughout the previous season as a true freshman and entered the program as a rare, highly coveted four-star defensive back.
The second starting spot with Defense instead went to Mayberry, who redshirted in 2018 after starting five games in 2017, when he played in all 12 games.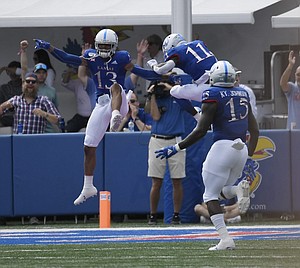 "It wasn't much of a surprise to me, but it doesn't really mean much," Mayberry said of entering the season atop the depth chart. "I've still got to go out there and I've got to play. We're going to play. Everybody's going to play. Whether I was a one, two or three, I knew I wanted to come in, I wanted to contribute and just wanted to ball. It wasn't a big deal."
After one game, Mayberry leads KU's corners with six total tackles. Harris and Jones each recorded two and Defense had one. Pro Football Focus graded Mayberry (70.6), Harris (69.2) and Defense (68.8) as three of KU's top six defensive performers in the opener. Jones received a 63.1 grade.
"Really, it's not up to us," Harris replied, when asked if KU could start different pairings of the four corners each week. "But no matter how it goes I think the rotation's going to always be there, so we should be straight."
According to Harris, he and Jones went wild on the sideline watching Defense's pick six early in the victory.
"We almost met him on the field, but we couldn't get a flag — Miles is big on flags. We had to just keep it composed," Harris said.
But such instances do more than provide corners with opportunities to rest or cheer on their teammates.
With so much to digest and react to during a game, Defense said sitting out for a series or two has other benefits.
"It gives you a chance to get to the sideline, kind of watch the game, observe a play from the sideline so you can get in better position on plays," Defense said.
Coastal Carolina (0-1) visits KU on Saturday at David Booth Kansas Memorial Stadium (6 p.m., ESPN+).