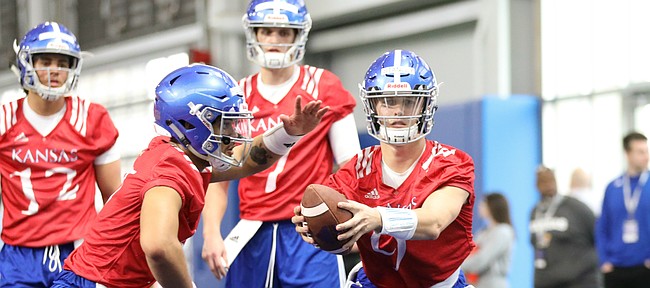 As Hurricane Dorian slowly headed toward the southeastern Atlantic coast on Monday, its coming impact was on the minds of members of both the Kansas football team and the Jayhawks' next opponent, Coastal Carolina.
The Chanticleers, based in Conway, S.C., had to pack up and relocate on Labor Day, according to a report from The Sun News. Two days after dropping their season opener at home 30-23 to Eastern Michigan, CCU players and coaches headed to Greenville, S.C., where they will set up shop and practice at nearby high school and college facilities before traveling to Lawrence on Friday.
Meanwhile, KU starting quarterback Carter Stanley has spent portions of the past several days thinking about the coming storm. A native of Vero Beach, Fla., Stanley said his Week 1 start against Indiana State marked the first time his parents, Beth and John, missed one of his KU games.
"It was kind of tough," Stanley, a fifth-year senior, said after the Jayhawks' 24-17 win Saturday. "It's something they've dealt with. It's a stressful process of preparing the house."
According to The Weather Channel, Dorian is considered a threat from Florida to southeastern Virginia this week. The storm claimed at least five lives in the Bahamas, per media reports Monday.
Stanley's parents had to make a decision this past Thursday night about whether to come watch KU because they had an early Friday morning flight out of Orlando.
"I told them, 'Do what you've got to do. Stay at the house. Just make sure everything's all good,'" Stanley said.
The QB said Monday afternoon his parents' prep work for the hurricane was mostly completed. They planned to head west about 15 miles to where Stanley's grandmother lives. Stanley said they will stay there because it is farther away from the coast and has hurricane proof windows.
As he prepared for his second start of the season, Stanley said he's in a good frame of mind because his family has been through hurricanes before.
"It's just kind of scary driving back home to see what is still left," Stanley said of the times as a child that his family had to leave their house behind. "It's a tough time, and I'm praying for all the people back home."
Both Stanley and KU head coach Les Miles can relate to what the Chanticleers are going through. During Miles' time at LSU, the Tigers had to evade hurricanes during game weeks on various occasions.
"I think the positives are you're with your team and there's some new and some different enjoyment," Miles said. "And yet the negative is it takes you out of your routine and you have to take a new road, a new schedule. That's always a pain. Again, it's difficult at best and I wish them all the best."
The entire CCU campus was scheduled to shut down indefinitely beginning on Tuesday.
"Having been through the Katrina and some of those pieces of other hurricane seasons," Miles said, "I wish them well."