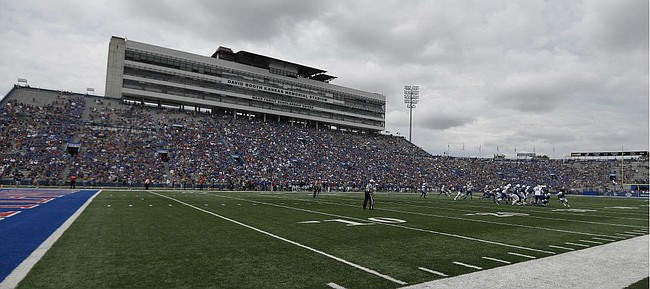 Waving flags that read "Rock Chalk Jayhawk" and "LFK." A full student section. One fan even had a plunger on his head.
The first Kansas football game in the Les Miles era seemingly signaled a culture change from the opening kick.
"It's definitely different," said Zach Panther, a KU junior from Overland Park. "You know, I'm used to most people leaving after the first two quarters, but everybody seems to be sticking around."
"It's super fun," said Jackson Rush, also a KU junior. "We're all having a blast and we're all screaming together, jumping up and down."
According to KU, 32,611 people attended KU's 24-17 victory over Indiana State on Saturday afternoon. And from the look of the stands at David Booth Kansas Memorial Stadium, especially the student section, that number could've believably been higher.
"So far it's probably the best crowd I've seen in two years at least," said Kurt Bossert, a KU season ticket holder from Topeka.
Panther, Rush and Bossert all emphasized the palpable buildup and fervor over finally seeing the Jayhawks take the field. And that's made coming to the games more of an event to look forward to for Jay Templin, a 1958 KU alumnus, and his wife, Connie.
"There's a lot of hope," Connie Templin said. "We'll be more apt to come to more of the games. We have season tickets, but we didn't always make it to all of the games.
"But we'll be making more of an effort (to attend)."
The Templins are Kansas City, Mo., natives who have been following the program for years and are appreciative of the newfound positivity surrounding the program.
"We're pleased that they have really nowhere to go but up and they're going up," Connie Templin said.
Another KU alumnus, Chris Sprecker, is ready for a possibly exciting next chapter akin to the Mark Mangino-led Jayhawks.
"Hopefully it's a new era," Sprecker said. "Maybe we can go back to some of our glory days like 2008."
And a big part of getting back to those "glory days" is bringing back fan support to football team that has struggled over the last decade.
"Your teams feed off of that," said Richard Priest, a friend of Bossert. "The bigger the crowd you have, the louder they are, I think the better (the team) is going to do."
Not only does that come from alumni and fans outside KU, but especially from the students, according to Panther.
"I think the students are a lot more proactive being here, and it's a lot more fun (to go to games)," Panther said. "It's been a long wait. I've been really excited about Les Miles, so it's good to see him finally."
But for this first year, expectations are modest across the board. Sprecker wants to see a couple of wins in the Big 12, Panther and Rush say four or five wins and Bossert said it's "necessary for KU football" to show some improvement.
"(Miles) just came in (this year) and 2020 will be his first real recruiting class," Panther said. "It's going to take a while to get there so I would say four wins now, maybe bowl eligible next year."
Whether those predictions come to fruition, Bossert is still hopeful for what this first season under Miles means.
"As far as the hype, the hype's been great," Bossert said. "There's been more communication (with fans) than there's ever been, and I think it did bring a lot more fans (on Saturday). And it makes it more, I guess, fun, interesting to go. Hopefully the results will follow that."