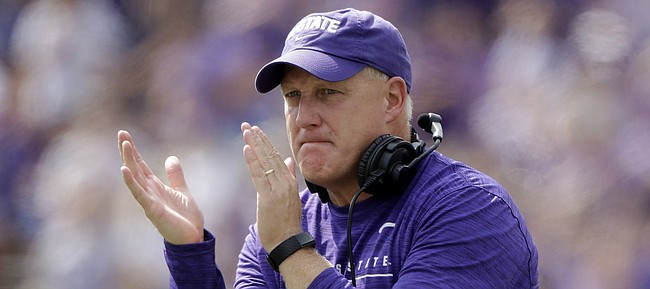 It might have been easier than some would expect for Kansas State's football players to flip the page this week and move on from a victory over Big 12 powerhouse Oklahoma.
According to Wildcats head coach Chris Klieman, the way their in-state rival Kansas Jayhawks are playing had something to do with that.
Klieman spent various portions of his weekly press conference in Manhattan on Tuesday making much of the confidence he noticed in KU's players of late, as he watched game footage from afar.
While No. 22 K-State (5-2 overall, 2-2 Big 12) already has victories over Mississippi State, TCU and Oklahoma, with each opposing offense presenting its own unique challenges to the Wildcats, Klieman thinks KU (3-5, 1-4) brings with it into Saturday's Sunflower Showdown a distinctive characteristic, too.
"They get into a lot more personnel groups than a lot of the Big 12 teams we've played so far," Klieman said. "They can pack it in with a couple of tight ends and a couple wide receivers, or they can spread you out in four wide."
While preparing for his first trip to Lawrence as K-State's head coach, Klieman described himself as "really impressed" with the Jayhawks' offense right now.
"Obviously, the running back (Pooka Williams) can do so many things in and out of the back field," Klieman began, "and they hand him jet sweeps and stuff. I know they're continuing to put more of their offense in. So, I think we'll see some unique things or different things that we haven't seen so far this year."
Of course, the midseason change at offensive coordinator has infused the Jayhawks with life while also making it a little more challenging for opposing coaches to prepare for the KU offense.
In KU's two games since head coach Les Miles fired Les Koenning and placed Dearmon in charge, the Jayhawks suffered a last-second defeat at Texas, 50-48, and won at the last second against Texas Tech, 37-34. KU put up 569 yards of offense at UT and 527 versus the Red Raiders — the first time KU has produced 500 or more yards in consecutive weeks since 2009.
Although Klieman said his staff would try to determine how different the play calls have been under Dearmon, he also said they won't set aside KU's first six games of the season as they put together their game plan.
The key, while identifying the plays and formations that have remained a part of the offense, Klieman said, would be determining how, where and when Dearmon likes to use them.
"I know this. The level of confidence that those guys are playing with, obviously they bought in quickly to the change," the K-State coach observed from west down I-70. "I think the quarterback, (Carter) Stanley, and all the skill kids are playing really, really well and playing with a lot of confidence."
Indeed, two of Stanley's three highest career yardage games (310 passing yards at Texas, followed by 415 versus Tech) have come since Dearmon became the offensive coordinator and QBs coach.
The 6-foot-2 senior from Vero Beach, Fla., threw a career high four touchdowns at Texas. And following a 26-for-37 outing in KU's win over Texas Tech, which included three passing TDs and another on the ground, Stanley for the second time this season was named a candidate for the Manning Award QB of the Week.
Stanley enters his final in-state rivalry game (2:30 p.m. Saturday, FOX Sports 1) ranked fourth in the Big 12 in passing efficiency (153.6), third in passing TDs (19) and fifth in passing yards per game (237.5).
Watching video of Stanley, Klieman said it is clear KU's QB has a grasp of the offense.
"You can tell in the last two weeks he's understood a lot of things really well and the ball comes out on time," Klieman said of Stanley, praising the QB for his calm effectiveness under pressure.
Klieman didn't leave out KU's receivers while distributing praise. Without naming them individually, K-State's coach called the group that includes Andrew Parchment, Stephon Robinson Jr., Daylon Charlot and Kwamie Lassiter II "electric."
"It's not just, 'Well, you have to stop just one guy.' There's a bunch of guys that can beat you," Klieman said. "He's distributing the ball to all of them. As you watch him, especially early in the season and then as he's come on late in the season, I think he has a real good connection with a number of guys at receiver, and he is throwing the ball well."
K-State's passing defense ranks 27th among all FBS teams, allowing 187.1 yards per game. The Wildcats have allowed 7.4 yards per pass attempt this season (75th) and rank 36th in pass efficiency defense (120.02).
Giving up 181.9 yards per game on the ground, K-State's rushing defense ranks 89th. Opponents are averaging 5.58 yards per carry (125th) against the Wildcats.