Over seven months after a lopsided loss to Auburn in the second round of the NCAA Tournament, Kansas fans got their first look at this year's No. 3-ranked squad.
Despite a shorthanded roster, which was much of the story of last year's team, Kansas took care of business with a 86-56 victory over Fort Hays State University Thursday night in Allen Fieldhouse. It was just an exhibition game, and a highly-anticipated matchup with Duke is still 12 days away, but there were some positive signs from KU's first performance.
With starting point guard Devon Dotson sidelined, Marcus Garrett and Christian Braun filled in admirably at the position. Sophomore Ochai Agbaji, who didn't appear in an official game until Big 12 play last year, looks poised to take a big leap. KU's defense also made a number of plays in the win.
Agbaji poured in a game-high 21 points on 8-of-15 shooting to kick off his second collegiate campaign. Garrett finished in double figures as well, scoring 15 points on a 5-for-10 effort from the floor. Garrett went 4-for-7 from beyond the arc, including three 3-pointers in the first half.
Here's a quick look back at some of the action:
• The game turned when: In reality, Kansas was always going to win this game.
Fort Hays State gave KU a brief scare, though, jumping out to a 12-7 advantage within the first six minutes of the game. Mitch Lightfoot checked into the contest, and provided a necessary spark off the bench.
Lightfoot converted an and-one at the 13:44 mark, pulling the Jayhawks within a basket. Garrett and freshman Christian Braun then hit back-to-back triples to give Kansas a 16-14 lead.
The Jayhawks never trailed after that.
• Defensive highlight: An easy way to earn defensive highlight in the quick recap is with a steal and a dunk in transition.
That is exactly what happened with 2:30 left in the first half, as Agbaji made a perfect read on a pass to the wing. Agbaji snatched the ball in stride, and proceeded to dunk the ball in transition on the other end.
It was the first such highlight play of the night for the Jayhawks, and it was rewarded with a nice roar from the crowd.
• Offensive highlight: One minute later, Agbaji had an even more impressive flush in transition.
This play could have also been considered a defensive highlight, but it warranted its own section. Agbaji sprinted his way through a pair of Fort Hays State players to slam the ball on the other end.
Agbaji then shouted in celebration once he finished the dunk, which got the crowd into it late in the first half.
Photo Gallery
Kansas basketball v. Fort Hays State (exhibition)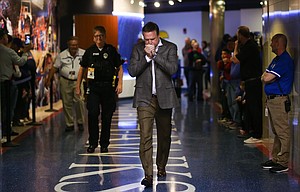 View a gallery from Thursday's exhibition between the Kansas Jayhawks and Fort Hays State Tigers at Allen Fieldhouse.
• Key stat: Does Garrett have a 3-point shot now?
Garrett's shooting struggles have been well-documented over his career, but Thursday's exhibition was a sign that it could be getting better this season. Garrett made a trio of 3-pointers in the first half alone for the Jayhawks.
For comparison, Garrett has only hit three-plus triples in two of his 69 career games. He has made multiple 3-pointers in just six career contests.
• Up next: Kansas will play host to Pittsburg State at 7 p.m. Thursday for the final exhibition game.