Not expected to play in Thursday's 86-56 exhibition victory over Fort Hays State, Kansas senior Mitch Lightfoot found himself on the floor and in the Kansas lineup 4:10 into the game.
Lightfoot, who has appeared in 97 career games during three seasons with the Jayhawks, has been considering redshirting the 2019-20 season because of the surplus of big men on the Kansas roster.
In order to do so, Lightfoot (seven points, three rebounds and three fouls in 14 minutes) would have to sit out of competition for the entire regular season. The NCAA rule book states that even one minute on the court during a regular season game jeopardizes the redshirt.
After initially thinking and saying on Wednesday that he thought the exhibition games would count against Lightfoot, KU coach Bill Self found out through the school's compliance office on Thursday morning that they would not.
Photo Gallery
Kansas basketball v. Fort Hays State (exhibition)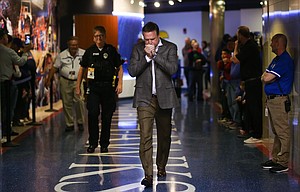 View a gallery from Thursday's exhibition between the Kansas Jayhawks and Fort Hays State Tigers at Allen Fieldhouse.
"The rule, I'm almost positive, used to be that only freshmen could do that," Self said after Thursday's victory. "But we got an interpretation that Mitch could play so that's still a strong possibility that (him redshirting) could occur."
Self said Wednesday at Big 12 media day in Kansas City, Mo., that nothing official had been decided about Lightfoot's status, but that the two parties were closing in on making a final decision and that some kind of official decision would be known "probably by the Duke game" on Nov. 5 in New York City.
Even if Lightfoot plans to redshirt, he still could enter the Jayhawks' lineup at any point during the season without issue. Doing so, even for just one game, would forfeit his redshirt season, but Kansas has recent history of doing just that.
Last year, KU announced plans to redshirt then-freshman guard Ochai Agbaji on the eve of its Champions Classic clash with Michigan State in Indianapolis. Sixty-six days later Agbaji was on the floor at Allen Fieldhouse helping Kansas knock off TCU.
Agbaji's insertion into the rotation — and eventually the starting lineup — was the result of injuries taking their toll on the 2018-19 roster. It likely would take another round of injuries to KU's big men to get Lightfoot off the redshirt path if that's where the 6-foot-8 senior from Gilbert, Ariz., is headed.
"The one thing about Mitch is it's not fair to him not to have a great last year," Self said recently. "Guys, he's the best. He loves this place, he bleeds red and blue and I would love for him to have the opportunity to go out in style his way."
Starting 5, for now
With starting point guard Devon Dotson nursing a sprained right ankle and out of the lineup on Thursday night, junior Marcus Garrett slid into the starting point guard slot, where he teamed with Agbaji in the KU backcourt.
Up front, Big 12 preseason player of the year Udoka Azubuike started at center and junior forward Silvio De Sousa made his return to the floor in a starting role at the 4.
The final spot in Thursday's starting five went to freshman Jalen Wilson, a 6-5 forward from Denton, Texas.
Senior grad transfer Isaiah Moss also did not play in KU's exhibition opener because of an injured hamstring.
Dotson has been listed as day to day and is expected to be fully recovered in time for KU's season opener against Duke.
De Sousa received the loudest ovation from the home crowd during introductions, and, as a thank you of sorts, he let out a roar of his own as he walked to shake hands.
New 3-point line debuts
Although none of the shots they attempted or made will count in the Jayhawks' official stat lines for the season, Thursday's game was the first played at Allen Fieldhouse that featured the NCAA's new 3-point line.
Now sitting at the international distance of 22 feet, 1.75 inches from the center of the rim — as opposed to the old college distance of 20 feet, 9 inches — KU's shooters will have to adjust this season to a 3-point shot that is roughly 17 inches farther back than they're used to.
Self said this week that he was not too worried about the added distance.
"We have not changed one bit how we practice," Self said. "And I doubt (other) teams have either. I don't think it'll affect really good shooters much. But I think it's going to affect average shooters a lot."
Despite the fact that NCAA Division II and Division III teams did not make the change this season, FHSU coach Mark Johnson agreed to play Thursday's game at the new distance.
"My assumption all along has been that we were going to play with the new line," Johnson told the Journal-World before tipoff. "To be honest with you, if there weren't two lines out here I'm not sure my guys would even notice."
While the new distance may not pose a major challenge for the individual players hoisting the shots, Self said he did expect the longer shot to play into the overall strategy of the game.
"I do think defenses and everything will be tweaked more and you'll play to scouting reports more than we ever have concerning shooters and the 3-point line," he said. "So I do think it's going to be a big impact."
This and that...
KU's win Thursday moved the Jayhawks to 12-0 all-time against Fort Hays in a series that dates back to 1994... The Jayhawks are now 89-9 in exhibition games, including a streak of 30 consecutive victories, dating back to Oct. 30, 2012.
Kansas is 62-4 all-time in exhibition games played inside Allen Fieldhouse and 57-2 all-time in exhibition play under Self... KU will close out exhibition play against Pittsburg State next Thursday at Allen Fieldhouse.
https://www.youtube.com/watch?v=E1RZ23SyitM
https://www.youtube.com/watch?v=J2PryGc-6OU&t=17s
https://www.youtube.com/watch?v=jAOAybfc7wk&t=1s
https://www.youtube.com/watch?v=fW-3txOd3ro&t=5s