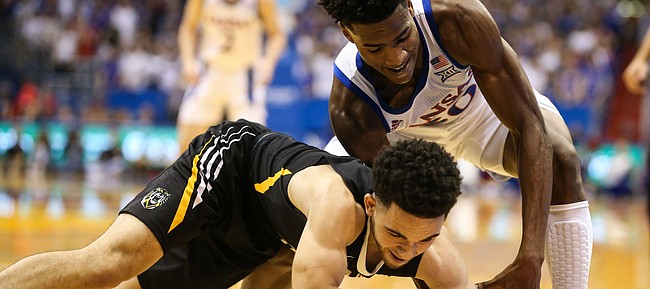 It was supposed to be the Kansas size that overwhelmed and swallowed up visiting Fort Hays State during Thursday's exhibition opener at Allen Fieldhouse.
Instead, it was the menacing KU defense that paced the Jayhawks to an 86-56 victory.
Led by a combined six steals from starting guards Ochai Agbaji and Marcus Garrett, Kansas ripped off a 17-4 second-half run to gain separation and then cruised from there.
Late in the first half, with Fort Hays State more than hanging around, Agbaji recorded back-to-back steals that gave Kansas a little space.
The first, which came in front of the KU bench and was the result of ball pressure by Garrett on the FHSU point guard, led to a high-flying, right-handed jam that ignited the crowd.
The second swipe, which came when Agbaji split two Tigers players and needed just two steps — and no dribbles — to reach the rim, ignited Agbaji, who let out a monster roar after the dunk that put Kansas ahead 36-21.
Although the highlights belonged to Agbaji, it was Garrett who the Jayhawks thought deserved the praise.
"I said, 'Ochai, why'd you get two dunks,'" KU coach Bill Self recalled after the victory. "He said, 'Because Marcus pressured the ball.' And then it makes it easier to run through a pass."
Photo Gallery
Kansas basketball v. Fort Hays State (exhibition)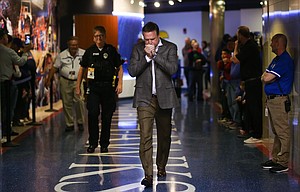 View a gallery from Thursday's exhibition between the Kansas Jayhawks and Fort Hays State Tigers at Allen Fieldhouse.
Agbaji backed up that story in the postgame meeting with the media, intercepting a question for Garret the way he did passes on the court to make sure the junior who started at point guard in place of the injured Devon Dotson (right ankle sprain) received the proper credit.
"I would have to say those came from Marucs," Agbaji quickly interjected when asked about the steals. "I give him a lot of props there. Playing on-ball defense definitely allowed that turnover to happen."
As for the dunks that followed, those, Garrett said, were all Agbaji.
"Great finish," Garrett said with a grin.
Answering the question — at least temporarily — of which Jayhawks would prove to be reliable shooters from the outside, Agbaji and Garrett also combined to hit seven of 16 from 3-point range. Garrett made three of his four triples in the first half, proving that open looks and the belief that they're going in can be dangerous weapons.
And Agbaji, who missed three open looks in the first half, made three of six in the second half.
The two combined for 36 points (21 for Agbaji and 15 for Garrett), eight rebounds and six assists to go along with their six game-changing steals.
"I do think it's much improved," Self said of Garrett's jump shot. "There's no question. He has worked on it awfully hard and it does look a little different from a technique standpoint than it did last year. If he can be a threat to shoot above 30 (percent) from 3, which I think he can, that'll change how people have to guard us for sure."
Trailing 36-25 at the half, Fort Hays State scored the first nine points of the second half to trim KU's lead to two just two minutes into the half.
Four minutes later, back-to-back steals by Garrett led to consecutive 3-pointers from Agbaji and KU was back in front by double digits.
"That's what I kept saying," Garrett said when asked about the importance of KU's defense in this one. "When they cut the lead to two, I kept saying, 'We've got to get out in transition, we've got to push the ball, we've got to push the pace of the game.'"
That sequence, which included a steal and layin by freshman wing Tristan Enaruna, capped KU's big run that ballooned to 26-7 before the game was firmly back in KU's hands.
None of Thursday's outing was as easy as the Jayhawks would have liked. Especially for their big men.
Starting center and Big 12 preseason player of the year Udoka Azubuike struggled to find room and space inside all night against the scrappy FHSU players who swarmed him like bees on a hive.
In 17 minutes, Azubuike finished with five points and eight rebounds. He did not record his first point until late in the second half and shot 1-of-5 from the free throw line.
Even junior Silvio De Sousa, who finished with a much more aesthetically pleasing final line of 11 points, seven rebounds and three assists in 18 minutes, got most of his production off of five offensive rebounds and free runs to the rim.
De Sousa was tied up in the post on the opening possession of each half, as KU tried to play to its size advantage but simply could not.
"Bad start," Self said when asked about the play of KU's big men, particularly De Sousa.
Part of that was because of the game plan employed by FHSU coach Mark Johnson.
"We just tried to send everybody there," Johnson said. "We can't take away everything, so we tried to take away everything they had at the rim and hope they missed a couple 3s. I would assume that's going to happen a lot this year. But I was really impressed with the defensive effort they put together. From point guard to center, that was about as long a team as we've played."