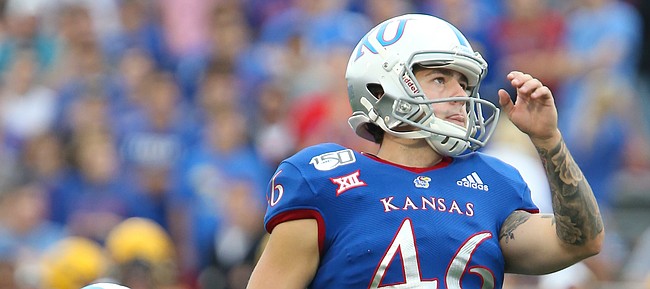 In a narrow, last-second loss for the Kansas football team at Texas this past weekend, a number of mistakes at various junctures of a wild game in Austin prevented the Jayhawks from pulling off the upset victory.
Some special teams failures, by KU's kicking unit in particular, stood out in a 50-48 loss. But junior kicker Liam Jones said this week he and his teammates plan to learn from their mistakes.
"We'll attack it as a unit," Jones told reporters.
A 5-foot-10 junior from Choctaw, Okla., Jones went 2-for-4 on his field goal attempts at Texas. Although he missed a 46-yarder in the first quarter, the real issue was that the Longhorns blocked one of his field goal tries late in the second quarter, as well as an extra point in the fourth.
The first breakdown came on a 37-yard attempt from the right hash in the final minute of the first half. The left-footed Jones never had a chance, with Joseph Ossai shooting through a hole between fullback Spencer Roe and offensive lineman Clyde McCauley III at the line of scrimmage to easily block it.
Later, in the fourth quarter, a standard extra point — Jones went 4-for-5 after KU touchdowns at UT — went much like the blocked field goal. With 10:06 to play and Kansas looking to tie the game at 31, Texas defensive end Malcolm Roach squeezed between Chris Hughes and McCauley to swat Jones' attempt out of the air and into the arms of D'Shawn Jamison, who took off 90 yards the other direction for 2 points.
"You have to do the things that are basic and fundamental to teams," KU head coach Les Miles would say two days later, at his weekly press conference. "When you line up to kick a field goal, when you line up to kick an extra point, you have to have protection. Period. If I'm Liam, I'm saying, 'Hey, guys, there's some leakage up here.'"
Even so, Jones wasn't calling anyone out when asked about the blocked field goal and extra point.
"I don't think it's any one individual's fault," Jones said. "When we go out there, we go out as a full unit. And that's been Coach Miles' emphasis."
At practices this week, Jones shared, the kicking unit has gone back to basics to clean up the issues that led to those blocked kicks. From an individual standpoint, Jones said he will work on getting his kicks higher, as well as whatever else the coaches ask of him.
"In all honesty, my job is to kick it. I shouldn't be focused on what's in front of me," Jones said. "Just making sure I hit it, a clean hit, and trust in my teammates."
As special teams coordinator Mike Ekeler and Miles address the mistakes that led to Jones getting two kicks blocked on one big night, KU's head coach said the issue boiled down to weak points in the protection on each occurrence.
"We'll spend time on it, I promise you," Miles added.
According to Jones, Miles often during practices works with the special teams units. And the junior kicker said the head coach made sure to uplift him during the game at Texas, as errors popped up.
"I think my job as the kicker is to flush that out," Jones said of the blocked kicks. "I trust every single guy on that line, 100%. And I know that we'll all get it right and get it fixed. And I know that the field goal unit is an important part of the game, too. I'm not worried about that."
Another problem for Jones at Texas came on kickoffs. He booted three of those out of bounds — first on the game's opening kickoff and then twice more in the fourth quarter. Coincidence or not, UT scored a TD on each of the ensuing drives, all of which opened on the home team's own 35-yard line.
On the year, Jones, who is 6-for-10 on field goals and 18-for-21 on extra points, has 12 touchbacks on 33 kickoffs. He has sent only three kicks out of bounds, with all of them coming at UT.
Jones has handled KU kickoffs since his freshman year, in 2017. He had 17 touchbacks on 48 kickoffs during his first college season and 20 on 49 as a sophomore.
He said there is no leg or foot injury holding him back right now.
"I just couldn't hit the ball the way I wanted to," Jones said.
The third-year KU specialist explained having a "landmark" is an important aspect of his job on kickoffs. Coaches often instruct Jones to land a kick in a spot where the coverage unit can best contain returners.
At Texas, the game plan involved sending kickoffs more toward a sideline, instead of the middle of the field.
"That's the goal, is to drop the ball on the numbers in the back of the end zone. I couldn't do it that night," Jones said. "But I'm just focused on putting the ball where it needs to go this week."
Ekeler often tells KU's kickers it's not their "last kick" but their "next kick" that defines them. Jones said it was that approach that helped him make a career-best 46-yard field goal with Kansas down two scores late in the fourth quarter, even though UT had already blocked two of his kicks.
Similarly, Jones doesn't like to evaluate his kicking performance overall, through seven games.
"That's a pretty unhealthy way for me from what I've learned throughout my kicking career," Jones said. "So I'm going into this game as it's the first game of the season for me, from a mindset standpoint."
Kansas (2-5 overall, 0-4 Big 12) hosts Texas Tech (3-4, 1-3) at 6 p.m. Saturday (FOX Sports 1).