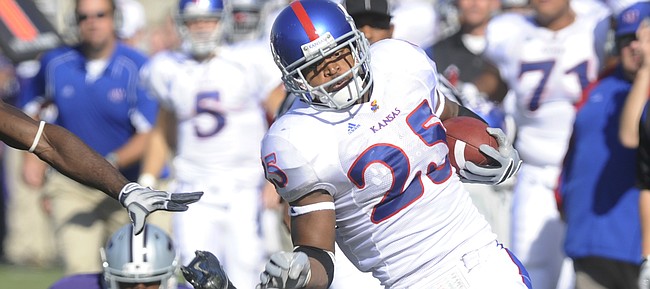 Like most college football players, Darrell Stuckey didn't give much thought when he arrived at the University of Kansas as a freshman about the possibility of seeing his name commemorated inside the stadium where he played.
Stuckey will live out that unforeseen reality on Saturday night at David Booth Kansas Memorial Stadium, when the defensive back from Kansas City, Kan., watches his name get added to the football program's Ring of Honor.
"You kind of look up there and it's this farfetched opportunity, honor," Stuckey said earlier this week, reflecting on what he thought about that hallowed portion of the old venue during his playing days.
Stuckey, who starred at safety for then head coach Mark Mangino's KU teams from 2006-09, watched in person the past few years as his former Orange Bowl-winning teammates Aqib Talib, Todd Reesing, Chris Harris Jr. and Anthony Collins were added to the Ring of Honor.
Now Stuckey said it will be "remarkable" and "surreal" to join the exclusive club of KU greats.
When he learned a few months back of his upcoming honor, Stuckey said he couldn't believe he would be one of the chosen members from that successful era of KU football, which he associates with fond memories and team camaraderie.
"All I could think about was the guys that helped put me there," Stuckey said. "The sacrifices made for players, the blocks that my linebackers at the time, Joe Mortensen, Mike Rivera and James Holt, took on so I could make a tackle, so I could be free. Or the lanes that they were in so a quarterback had to loft it a little bit higher so I had a chance to intercept it."
A first-team All-Big 12 defensive back in 2008, Stuckey finished his college career with 295 total tackles — second all-time among KU defensive backs, behind LeRoy Irvin's 347 in the late 1970s. Stuckey's eight career interceptions rank him 10th all-time in KU's record book.
After becoming a fourth-round pick of the San Diego Chargers in 2010, Stuckey played seven seasons in the NFL and was a special teams captain with the organization for five years. He made the Pro Bowl in 2014.
Stuckey now regularly serves in a mentorship role for KU players, according to Les Miles, who likened Stuckey to a chaplain for the current Jayhawks.