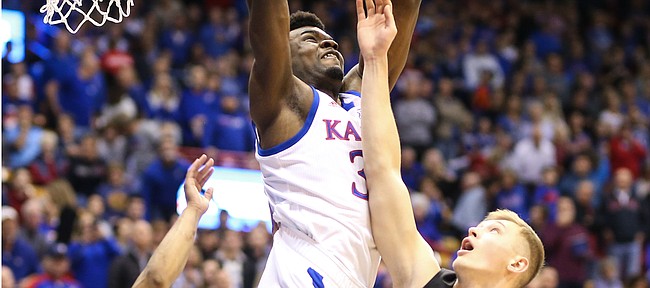 Udoka Azubuike hadn't played a real basketball game in nearly 10 months. And he won't officially play one until Kansas takes on Duke in Madison Square Garden on Nov. 5.
The No. 3 Jayhawks at least took their senior center out for a test drive Thursday night at Allen Fieldhouse.
Unfortunately for anyone who came to watch Azubuike tyrannize around the rim, they picked the wrong night.
If only they could have asked the big man beforehand. Bill Self didn't pose that question exactly, but said afterward he did ask his senior center if he'd rather face an SEC opponent or play one of KU's annual exhibitions.
"SEC every day," Self shared of Azubuike's reply, "because they're going to play two bigs."
Fort Hays State used smaller frontcourt players than most SEC and Big 12 programs have to underneath, and there were no angles to get the largest man in the fieldhouse the ball.
The 7-foot, 270-ish pound center didn't figure to truly be tested by Fort Hays' frontcourt, unless it was on the defensive end, by taking Azubuike out of his comfort zone and making him defend the perimeter against a smaller player.
Photo Gallery
Kansas basketball v. Fort Hays State (exhibition)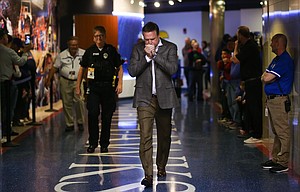 View a gallery from Thursday's exhibition between the Kansas Jayhawks and Fort Hays State Tigers at Allen Fieldhouse.
Yet in his first four minutes of action, he barely got a touch, and saw too late FHSU 5-9 guard Aaron Nicholson sneaking in from the weak side to swipe the ball out of his hands before Azubuike could turn and score.
The preseason tuneup, an 86-56 KU win, proved more complicated for the center than many other than Self and Azubuike would have guessed, with the Tigers packing the paint and throwing double teams at KU's bigs, trying to keep Azubuike, Silvio De Sousa and David McCormack from destroying them inside.
Azubuike adapted in the first half by passing the ball instead of forcing the issue. Long before he ever put the ball through the hoop himself, he set up De Sousa for a layup and kicked the ball out to an open Marcus Garrett for a 3-pointer.
Yet Azubuike didn't register a field goal attempt or even a single point in 10 first-half minutes (which included 5 rebounds and 2 blocks). It might have been easier for KU to get him going had starting point guard Devon Dotson not sat out with an ankle injury. Still, it seemed the center was easing into his return, not necessarily playing timid.
The biggest man on the court came to life for the first time, oddly enough, on a defensive switch up top, not only contesting but also erasing a would-be Perry Carroll 3-pointer.
Not 20 seconds later Azubuike caught an entry pass from freshman Christian Braun and got to the foul line — not his favorite place on earth — where he missed two free throws (three if you count the lane violation attempt that was wiped from the scorebook).
The career 39% free-throw shooter missed his next two cracks at replacing that 0 in his scoring column at the foul line early in the second half.
Watch him run out of the tunnel or go through pregame warmups and it looks like the man known in Lawrence as Dok is in the best shape of his life. His unofficial 2019-20 debut, though, didn't do much to hammer home that fact, what with the absence of overpowering post touches and slams for KU's typically dominating center.
Azubuike spent much of the second half on the bench, with a towel draped over his neck. When he checked back in at the 8:54 mark, it would still take a handful of possessions and trips up and down the floor for him to finally score his first basket. For at least one possession, Azubuike returned to his rim-wrecking ways of old, thanks to a lob from Braun.
That invigorated the big man enough to get to the paint for an and-one layup off the bounce a couple of minutes later.
Perturbed that his night hadn't lived up to his standards, he shook his head while running back on defense after making a free throw.
"The thing that he's got to improve on obviously — it's very apparent to I think anybody who saw the game — is his energy level's certainly affected by how he didn't get much done on the offensive end because of the way they played," Self said. "That can't happen. You can't go down to the other bench and say, 'Would you please play this way?'"
The Jayhawks' potentially devastating center still will have to prove he can defend ball screens outside without KU getting burned by a 3-pointer as a result. And to completely unlock him as a high-percentage scorer in the paint, Self may have to play more four-guard lineups around him. On this night at least, that wasn't much of an option, with both Dotson and graduate transfer Isaiah Moss out with injuries.
This — 5 points, 8 rebounds, 2 blocks in 17 minutes — wasn't peak Azubuike. But when the Jayhawks are healthy and Self has time to tinker and determine the absolute best group to play around the preseason Big 12 Player of the Year, we'll see those force of nature finishes once again.
"The reality of it is," Self said, "most games they're not going to play like that and dare you to shoot the ball like Fort Hays. That was a smart way to play us."