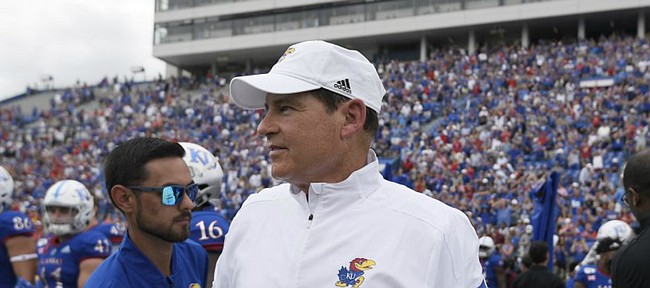 The second season of the Les Miles era at the University of Kansas will jump into Big 12 action in a hurry.
The Jayhawks won't open the 2020 schedule with three straight nonconference foes, as they usually do. The Big 12 announced next season's football calendars for all 10 teams on Tuesday, and the dates include a Week 2 matchup between KU and Baylor, in Waco, Texas.
It will mark the first time Kansas plays a league game before completing its nonconference schedule since 2012, when KU played host to TCU in Week 3.
The Jayhawks haven't faced a Big 12 opponent in the first two weeks since 2002, when they played their season opener at Iowa State in Week 1 of Mark Mangino's debut year in charge.
KU will open the 2020 season in Lawrence against FCS opponent New Hampshire. Its other two nonconference games are rematches of games from this season, with Boston College headed to KU in Week 3 and the Jayhawks wrapping up their nonconference schedule at Coastal Carolina, in Conway, S.C., on Sept. 26.
Big 12 play will resume for Kansas on Oct. 3, when Iowa State visits David Booth Kansas Memorial Stadium. KU's other home conference games come against Oklahoma State (Oct. 17), Texas (Nov. 7) and TCU (Nov. 28).
The Jayhawks will play five league games on the road: at Baylor, Kansas State (Oct. 10), West Virginia (Oct. 24), Texas Tech (Nov. 14) and Oklahoma (Nov. 21).
KU will play eight games in a row to open the season before a Halloween bye date.
According to the Big 12, dates are subject to change as adjustments could be made to accommodate television broadcasts. Decisions regarding TV and game times for the first three weeks of the season, as well as special dates (such as playing on a Thursday or Friday) will be announced in June.
2020 KU football schedule
Sept. 5 - New Hampshire
Sept. 12 - at Baylor
Sept. 19 - Boston College
Sept. 26 - at Coastal Carolina
Oct. 3 - Iowa State
Oct. 10 - at Kansas State
Oct. 17 - Oklahoma State
Oct. 24 - at West Virginia
Oct. 31 - bye week
Nov. 7 - Texas
Nov. 14 - at Texas Tech
Nov. 21 - at Oklahoma
Nov. 28 - TCU
More like this story on KUsports.com