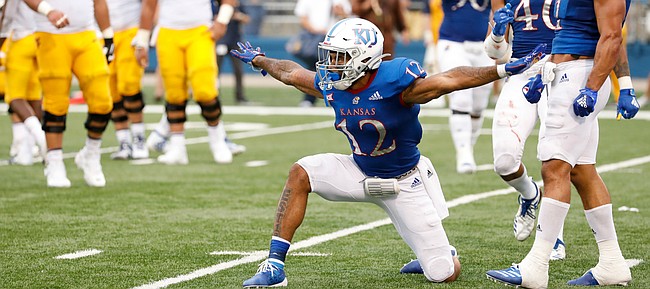 The Kansas football team's defense will be without another starter when the Jayhawks face Texas Tech for homecoming on Saturday.
Head coach Les Miles said during his Monday press conference that safety Jeremiah McCullough will miss the matchup with the Red Raiders due to injury.
McCullough, who started six of KU's first seven games, got hurt while making an open field tackle against Texas quarterback Sam Ehlinger late in the third quarter this past weekend in Austin, Texas.
A 6-foot, 190-pound senior safety from Baltimore, McCullough had to be helped off the field after appearing to hurt his left knee.
"He won't be with us this weekend," Miles said, when asked for an update on the defensive back's status. "We'll have to see. That's significant."
Statistically, McCullough has contributed 21 total tackles, one interception and four pass breakups to date for the KU defense.
Redshirt sophomore safety Davon Ferguson is a possible replacement for McCullough in the starting lineup. Ferguson has played in all seven games, contributing 22 total tackles and one tackle for loss.
Still no word on Prox
The setback for McCullough came four weeks after Kansas lost starting inside linebacker Dru Prox to what looked like a shoulder injury against West Virginia in the Big 12 opener.
Prox, who still ranks second on the team in total tackles (39), behind leader Bryce Torneden (51), hasn't played since.
Asked whether Prox, a junior who already used a redshirt year, might miss the remainder of the season — and if a medical redshirt might be possible for him — Miles claimed to not know.
"Haven't done the research on it," Miles said. "I promise you that that research will be done before he goes on to the field again. But we'd love to have him for another year, should that be the case."
Does Miles think Prox will play again in 2019?
"You know, I'm going to have to check on that," he said. "It would be a late call, I promise you."
Freshman Gavin Potter has started in Prox's place each of the past three games. At Texas, Potter led KU with nine total tackles, as well as 1.5 sacks and 2.5 tackles for loss. He also was credited with a quarterback hurry.
LG Malik Clark OK
Although starting left guard Malik Clark had to leave the field a few times Saturday night at Texas after being checked out by KU trainers, Miles said the offensive lineman from New Orleans didn't suffer any type of serious injury.
"I think Malik Clark will be fine," Miles said of the 6-4, 315-pound junior. "He had cramps, and then he had, really a couple little nicks. But I think he'll be fine. I would expect him to play in this game (versus Texas Tech)."
Sunflower Showdown set
KU's annual rivalry game against Kansas State, the Big 12 announced on Monday, will have a mid-afternoon kickoff of 2:30 p.m.
The Nov. 2 matchup at David Booth Kansas Memorial Stadium will air on FOX Sports 1.