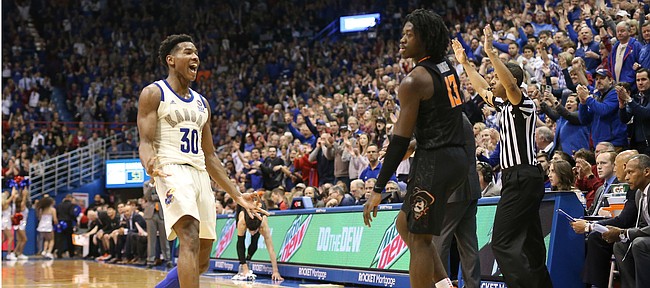 Bill Self's Kansas basketball team will open the regular season ranked No. 3 in The Associated Press poll.
The preseason poll, released Monday morning, features four of the biggest names in college basketball in the top five, with Michigan State on top, followed by Kentucky, Kansas and Duke. Louisville sits in the fifth spot, and the rest of the top 10 includes perennial winners Florida, Maryland, Gonzaga, North Carolina and Villanova.
Michigan State received 60 of the 65 available first-place votes, with KU getting three and Kentucky getting the other two.
Kansas is one of three Big 12 teams ranked in the AP's first Top 25 of the 2019-20 season, with Texas Tech (No. 13) and Baylor (No. 16) also cracking the top 20. No other Big 12 programs received votes in the opening poll of the year.
This season marks the seventh in a row that KU entered the season ranked in the AP's top 5.
The Jayhawks also have been ranked in the AP poll for 201 consecutive weeks, a stretch that is the longest active streak in all of college basketball.
KU's landing in the AP's top 7 marks the 14th time in Self's 17 years leading the program that Kansas has entered a season ranked seventh or better. It's also the 22nd time since the 1992-93 season that a Kansas team has been ranked in the top 7.
Plenty of national pundits believe the Jayhawks have the firepower, depth and experience to stay there all season, but, for Self, it comes down to how quickly the team becomes a complete product in the weeks and months ahead.
"You can get teased a couple of practices when you make shots," said Self, noting that one of this team's biggest question marks is outside shooting. "Making shots basically camouflages all the things you don't do behind that. But I do like our guys. I think we have potential."
With graduate transfer Isaiah Moss, sophomores Devon Dotson and Ochai Agbaji and freshmen Jalen Wilson and Christian Braun, the Jayhawks have players who are willing to rise up and take outside shots.
But it's consistency that Self wants.
"We've shown flashes where we've shot it pretty good," he said. "And we've shown flashes where we better be the best darn offensive rebounding team in America, too."
Kansas, which opens exhibition play at 7 p.m. Thursday against Fort Hays State at Allen Fieldhouse, will potentially play seven regular-season games against teams ranked in the AP preseason poll: No. 1 Michigan State (potential Maui Invitational title game), No. 4 Duke, No. 10 Villanova, No. 11 Texas Tech (twice) and No. 16 Baylor (twice).
KU's exhibition games can both be seen on Big 12 NOW via ESPN+.
Subtle bragging
The Twitter account for the Champions Classic quickly jumped on board after the AP poll came out to brag about this year's slate.
Kicking off the 2019-20 college basketball season on Nov. 5 in New York City will be the top four teams in this year's preseason poll.
No. 3 Kansas and No. 4 Duke will face off at Madison Square Garden in the early game. And No. 1 Michigan State and No. 2 Kentucky will close out the ninth edition of the event in the nightcap.
"What other event has the top four teams in the country taking on each other the first week of the season," the social media account, @championclassic, boasted. "This is why The Season Starts Here."
KU, which has won three Champions Classic games in a row (over Duke in 2016, Kentucky in 2017 and Michigan State in 2018), is 4-4 all-time in the event.
Brown-Ferguson down to 3
Class of 2021 big man Javonte Brown-Ferguson has trimmed his list of finalists to Kansas, UConn and Texas A & M, according to a report from Adam Zagoria of Zagsblog.com.
The 6-foot-10, 240-pound 16-year-old, who is expected to reclassify into the 2020 class, has made official visits to his three finalists this fall and has no plans to take more.
"I closed my recruiting," Brown-Ferguson told Zagoria.
Brown-Ferguson currently attends Thornlea Secondary School in Ontario, Canada, and plays AAU ball with Under Armour's Canada Elite program.
He visited KU the weekend of Late Night back on Oct. 4, was at Texas A & M two weeks before that and traveled to UConn's "First Night" event last weekend.
Although no announcement date has been set, Brown-Ferguson told Zagoria that he was planning to pick a school "soon" and he reiterated his plans to reclassify up and enroll in college next year.
KU assistant Norm Roberts is listed by 247 Sports as KU's lead recruiter for Brown-Ferguson.