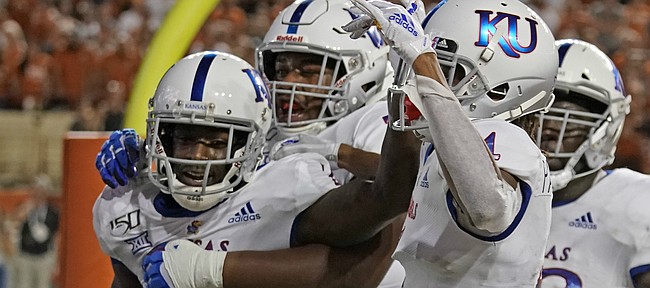 Austin, Texas — In the exhilarating moment, the Kansas Jayhawks were convinced they had done it.
They arrived at Darrell K Royal-Texas Memorial Stadium on Saturday convinced they could knock off No. 15 Texas. And when KU quarterback Carter Stanley found receiver Daylon Charlot in the back of the burnt orange south end zone for a 2-point conversion late in the fourth quarter, the underdogs felt justified in their confidence.
The only problem, of course, was that Texas still had 1:11 with which to work, and the Longhorns used every last second of it to survive, 50-48.
Whatever shock the Jayhawks' gutsy decision to go for 2 points and a lead, instead of an extra point and a tie, had on UT didn't last. Sophomore kicker Cameron Dicker one-upped the visitors in the drama department, with a clutch 33-yard field goal with no time remaining.
While Stanley obviously left the stadium perturbed about the defeat, the decision to go for a high-pressure 2-point play inspired him.
"It was incredible," Stanley said, after passing for 310 yards and four touchdowns, with no interceptions in the narrow road loss. "I'm really happy that they decided to do it, our coaches. Just kind of shows us the confidence they have in us this early in the system."
Indeed, it had only been 13 days since KU head coach Les Miles handed the offense over to new coordinator Brent Dearmon. Yet KU (2-5 overall, 0-4 Big 12) looked more than ready for the modern college football battle that played out.
Stanley, following KU's six-touchdown, 569-yard night at UT, credited both Dearmon and Miles for opting for 2 points upon talking it over on the sideline.
"Coach Miles was all in for it," Stanley said of the vibe leading up to the play, when KU called a timeout following the QB's 22-yard TD pass to Stephon Robinson Jr. "So there was a lot of confidence we received when we went to the sideline. And we executed our play."
After netting 190 rushing yards and a pair of touchdowns on his 25 carries, sophomore running back Pooka Williams Jr., like many of his teammates, figured KU landed the final and decisive blow with Charlot's 2-point reception.
"In that moment, it's like we (have an) automatic W — won," Williams said. "Well, I thought it's game, we're going for 2 and the lead."
UT junior quarterback Sam Ehlinger and his teammates obviously didn't see it that way. The Longhorns (5-2, 3-1) covered 60 yards on 10 plays in the 71 seconds KU left them.
Kansas junior safety Mike Lee said the defense failed to deliver the stop it needed for a Jayhawks victory.
"It's real pressure," Lee said of UT's final drive, "because they have a great kicker."
Ehlinger passed on all but one of the plays, connecting on six of his eight throws, setting Dicker up for the game-winner.
After defensive breakdowns put UT in field goal range, both Lee and cornerback Hasan Defense said all they could do at that point was pray Dicker missed.
"It's hard to wrap our fingers around," Williams said of the wild night in Austin. "We fought till the very end of a tough loss. But we showed everybody in the country we can compete with anybody."
KU's offensive players (6.6 yards per play, 27 first downs) seemed invigorated by the showing, if only in terms of what it could mean for the final five games of the season.
After UT took a 47-40 lead with only 2:47 remaining on the fourth quarter clock, Stanley said he let his teammates know they had another TD drive in them.
"We're going to get the ball here, we're going to go for 2 and we're going to win this game," Stanley related of his message, ahead of an eight-play, 75-yard drive that would put KU ahead, 48-47.
"And we went down the field and we did that — and in the end we came up a little bit short," Stanley said. "I'm just proud of our guys and kind of the debut of this system, just kind of goes to show you how good we can be. And we definitely left some stuff out there today."
Defense said he couldn't even process all that transpired in the loss until he sat in a chair after the game, going over the stat sheet in his hands repeatedly, and thinking about what could have been.
"We knew it was going to be one of those type of games, where things weren't always going to go our way," Defense said. "But we knew we could make plays. We knew we had the athletes and the playmakers to put things on our side to where things were going our way, so we just continued to fight, continued to play hard and never gave up."
Miles, too, opened his postgame press conference by speaking of gratification, before later admitting KU's defense allowed UT too many yards (638).
"I'm proud to be associated with those men," Miles said. "I thought they did everything that we asked them to do and succeeded. And if we would have played a little more defense in the back end of that, we win the game. So I can't imagine that there was anything that I could have done differently that would have allowed them to win."
KU will look to snap its four-game losing streak when it returns to Lawrence next weekend to host Texas Tech (3-4, 1-3).
SCORING SUMMARY
FIRST QUARTER
12:56 — Roschon Johnson 14 run. Cameron Dicker kick. Six-play drive for 65 yards, in 2:04. (UT 7, KU 0)
6:31 — Jake Smith 10 pass from Sam Ehlinger. Dicker kick. Ten-play drive for 72 yards, in 3:25. (UT 14, KU 0)
4:01 — Liam Jones 23 field goal. Six-play drive for 74 yards, in 2:25. (UT 14, KU 3)
SECOND QUARTER
13:24 — Pooka Williams Jr. 7 run. Jones kick. Nine-play drive for 50 yards, in 3:17. (UT 14, KU 10)
8:38 — Takulve Williams 7 pass from Carter Stanley. Jones kick. Four-play drive for 60 yards, in 1:47. (KU 17, UT 14)
2:19 — Brennan Eagles 5 pass from Ehlinger. Dicker kick. Ten-play drive for 84 yards, in 2:51. (UT 21, KU 17)
THIRD QUARTER
9:48 — Stephon Robinson Jr. 9 pass from Stanley. Jones kick. Fourteen-play drive for 75 yards, in 5:12. (KU 24, UT 21)
6:59 — Dicker 39 field goal. Nine-play drive for 54 yards, in 2:49. (KU 24, UT 24)
FOURTH QUARTER
14:01 — Devin Duvernay 14 pass from Ehlinger. Dicker kick. Twelve-play drive for 79 yards, in 4:41. (UT 31, KU 24)
10:06 — Pooka Williams Jr. 16 run. Jones kick blocked. One-play drive for 16 yards, in 0:08. (UT 31, KU 30)
10:06 — D'Shawn Jamison 98 blocked kick return. (UT 33, KU 30)
8:32 — Duvernay 43 pass from Ehlinger. Dicker kick. Four-play drive for 65 yards, in 1:34. (UT 40, KU 30)
6:56 — Jones 46 field goal. Seven-play drive for 47 yards, in 1:29. (UT 40, KU 33)
4:25 — Andrew Parchment 11 pass from Stanley. Jones kick. Six-play drive for 36 yards, in 1:54. (UT 40, KU 40)
02:47 — Keaontay Ingram 3 rush. Dicker kick good. Five-play drive for 65 yards, in 1:38. (UT 47, KU 40)
1:11 — Robinson 22 pass from Stanley. Two-point pass from Stanley to Daylon Charlot GOOD. Eight-play drive for 75 yards, in 1:36. (KU 48, UT 47)
0:00 — Dicker 33 field goal. Ten-play drive for 60 yards, in 1:11. (UT 50, Kansas 48)