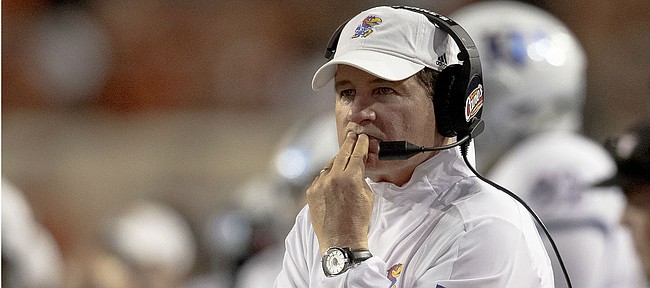 Austin, Texas — Although still listed on the game day roster as a quarterback, Kansas football freshman Torry Locklin took all of his pregame reps with the Jayhawks' running backs.
That didn't mean, however, the 6-foot-2, 210-pound athlete from Rockdale, Texas, Locklin was making a position change. Locklin's first snap of the season came at QB on KU's first drive of the night.
Carter Stanley started at QB as usual in what proved to be a 50-48 loss to Texas, but on the Jayhawks' sixth offensive play of their opening series, new offensive coordinator Brent Dearmon turned to Locklin. In KU's version of the Wildcat, the Jayhawk, the true freshman kept the ball out of the shotgun for a short gain.
Locklin came in again early in the second quarter, with the Jayhawks 8 yards away from the end zone. Again, he kept the ball for a run — and once again UT stopped him for a minimal gain.
When — or if — KU uses Locklin at running back this season, a change wouldn't be considered anything permanent. Locklin won the Texas 3A state title with Rockdale in 2017, when the dual-threat QB was named the Texas Sports Writers Association 3A Offensive Player of the Year.
KU can use Locklin as needed this year as a reserve rushing option behind starter Pooka Williams Jr. and No. 2 back Velton Gardner if the coaches want to, or have to out of necessity. But it appears Dearmon will use Locklin in some packages at QB moving forward.
Locklin was one of five running backs working with position coach Tony Hull before the game, along with Pooka Williams, Gardner, Dom Williams and Rob Fiorentino.
KU not abandoning fullbacks
For only the second time this season, the KU offense didn't open the game with a fullback on the field.
The Jayhawks opted instead for a three-receiver set, and a more spread-out look in Dearmon's opener.
However, KU's new OC proved he doesn't mind having an extra blocker in at fullback at times, either. Before the first series concluded, Ben Miles, who has started five games at fullback this season, was on the field.
Dearmon also showed he's willing to put two running backs on the field at once, doing so with Pooka Williams and Gardner.
Big 12 road losing streak lives on
The KU football program's long-standing conference road losing streak endured for another week with the Jayhawks' loss at No. 15 Texas.
Kansas hasn't won a Big 12 game on the road since a victorious trip to Iowa State, on Oct. 4, 2008.
Although KU won at Boston College this year and at Central Michigan in 2018, its conference-specific losing streak in true road games now stands at 47.
MacVittie's pregame target
Junior Kansas quarterback Thomas MacVittie spotted a familiar face in the bleachers before the game at Texas and decided to sling a pass that way.
MacVittie, who connected with his father, Tom, on the throw, and KU's other QBs were on the field early to get loose when the younger MacVittie greeted his father with the pass.
A backup quarterback who hasn't played this season, MacVittie also gifted his father with a white KU T-shirt he had worn on the field while throwing.
Jayhawks have XFL opportunities
With the XFL slated to return in 2020, the long defunct league had a draft this week to fill the rosters of its eight franchises, and four Jayhawks were selected.
During the defensive front seven portion of the draft, the New York Guardians took former KU linebacker Ben Heeney, while the Seattle Dragons chose another linebacker from Kansas, Steven Johnson.
In the open phase of the draft that followed the position-specific rounds, the St. Louis Battle Hawks selected former KU long snapper John Wirtel and Seattle added another Jayhawk in tight end Ben Johnson.
Texas remembers title team
UT football paid tribute to its 1969 national championship team in a couple of ways on Saturday.
The current Longhorns wore special throwback uniforms, reminiscent of the ones worn 50 years ago.
Additionally, members of UT's undefeated, unanimous national championship team were recognized on the field at halftime.
Texas has won the national title four times: in 1963, 1969, 1970 and 2005.