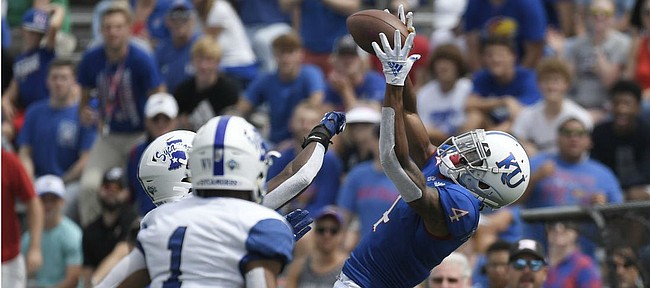 — Kansas (2-4 overall, 0-3 Big 12) at No. 15 Texas (4-2, 2-1) • 6 p.m. kickoff, Darrell K Royal-Texas Memorial Stadium • Game-time forecast: 88 degrees, mostly sunny, 0% chance of rain • TV: Longhorn Network • Radio: KLWN, FM 101.7 / AM 1320
— Log on to KUsports.com for our live coverage and follow our team on Twitter: @KUSports, @BentonASmith, @mctait and @SJacksonLJW
Keys for Kansas
1. In with the new, out with the old
No, the Jayhawks aren't completely overhauling their offense in the middle of the season. But head coach Les Miles decided to fire offensive coordinator Les Koenning and replace him with Brent Dearmon, so changes should be expected as KU returns from a week off to play at No. 15 Texas.
If the reports from KU's closed practices since Dearmon took over as OC are any indication, the in-game play-calling and overall offensive strategy should look different immediately.
Senior quarterback Carter Stanley is most comfortable when running the RPO plays Dearmon was known for during his stint as a head coach at Bethel University (NAIA) and OC at Arkansas Tech (Div. II). And Stanley said the KU offense had some "great" 11-on-11 periods as well as a mini scrimmage during the bye week, as the players got acclimated to Dearmon, formerly a KU senior offensive consultant.
"Coach Dearmon isn't reading off a script," Stanley said. "He's truly going off of what he would call in a game. That was really good, I would say, for coaches and players. Our guys reacted well."
Podcast episode
On this week's KU Sports Hour we discuss the return of Benton Smith, Brent Dearmon's debut as O.C. at Kansas and senior center Udoka Azubuike standing out above all Big 12 basketball players. Follow the KU Sports Hour on: iTune/Apple Podcasts | Spotify | Google Play | ...
KU's offensive players also said Dearmon has emphasized tempo at practices, meaning they play with pace between snaps and move quicker than usual when they're running away from or toward the sideline.
Said junior receiver Andrew Parchment: "I definitely love the new edge that we have on the offensive end, with us just sprinting onto the field. I know a lot of teams don't do that, so it's probably going to catch a lot of teams off guard, and just shows that we're ready to play football."
In KU's first six games, Parchment and sophomore running back Pooka Williams Jr. proved to be the most productive skill players. Asked how the switch to Dearmon might help showcase them even more, Parchment looked at it from another angle.
"I feel like it's going to help everybody involved in the offense," Parchment said. "Daylon Charlot's going to get a lot of opportunities. Kwamie Lassiter (II), Stephon Robinson (Jr.) and Velton Gardner as well. I feel like it's going to help everybody through all facets of the game."
2. Make the most of your situation
The restructured KU offense might be catching the Texas defense at an ideal time. Head coach Tom Herman has seen a number of the Longhorns' defenders suffer injuries in the past few weeks, impacting UT's depth on that side of the ball.
Although Herman told reporters in Austin, Texas, this week that linebacker Juwan Mitchell is expected to play against KU, linebacker Jeffrey McCulloch is out and safety Chris Brown might not be back until late November.
Earlier this year, Texas also lost three other starters due to injuries: cornerback Jalen Green, safety Caden Sterns and nickelback Josh Thompson. None are expected to play versus KU.
What's more, senior defensive end Malcolm Roach will have to sit out the first half against the Jayhawks after getting ejected for targeting against Oklahoma this past weekend.
The Longhorns enter the weekend ranked 54th in rushing defense (143.3 yards allowed per game), 126th in passing defense (310 yards per game) and 112th in total defense (453.3 yards per game).
If Dearmon and KU's offense can keep a banged-up UT defense out of sorts, the Jayhawks should be able to keep the game competitive.
3. Pooka in space
It has been obvious all season that KU's star offensive player, Williams, needed to get the ball outside on the edge to maximize his playmaking. And now that Dearmon is the OC, it seems like those types of calls will be the norm.
Williams got plenty of touches when Koenning was overseeing the offense. But too often the 5-foot-10, 170-pound sophomore from Louisiana was asked to rush between the tackles into a loaded defensive box.
Dearmon told Williams on the day he was introduced as the new OC that he was going to get the running back the ball on the edge.
"I mean, we had plays in space," Williams said, "but that triggered me a lot more, knowing he's trying to get me in space and not really running through the middle all day."
Dearmon, who worked as an analyst at Auburn for Gus Malzahn from 2013-14, wants to use Williams the way Auburn used backs Tre Mason and Kerryon Johnson.
Williams (89 rushing yards per game, 4.9 yards per carry, one touchdown) considered that a good sign, and said Dearmon expects him to make big plays for the offense in the weeks ahead, playing off the strengths and threats of KU's passing game.
"I told him I'm ready for the challenge," Williams said.
Mega Matchup
KU defense vs. UT QB Sam Ehlinger
He may not be a Heisman Trophy candidate like Oklahoma's Jalen Hurts, the last quarterback Kansas faced, but Texas junior Sam Ehlinger is one of the more productive QBs in college football.
With only two interceptions on 211 passes so far this season, Ehlinger (6-foot-3, 230 pounds) is completing 69.2% of his throws. He ranks in the top 10 among all FBS QBs with 17 passing touchdowns (sixth) and 314.2 total offensive yards per game (10th), as well as in the top 20 with 276.3 passing yards per game (13th) and a 159.9 passing efficiency rating (19th).
Ehlinger has proven himself as a runner as well, averaging 37.8 rushing yards per game, with five rushing TDs this season.
So how does KU stop a dual threat QB?
"I think we're going to see that week in, week out, playing in the Big 12," senior safety Bryce Torneden said. "Obviously his level of resume and how great a player he is brings a different level of preparation that we're going to have to have."
Miles said Ehlinger reminds him of former Florida All-American Tim Tebow, even if, according to the former LSU head coach, Tebow was "maybe a little faster, maybe a better runner," but not by much.
"Sam is a big, strong, full-grown quarterback. He handles the short-yardage plays. He's a great wildcat at times," Miles said. "He's a focal point for the Texas offense and very good. Very good player."
While Ehlinger has thrown TD passes to eight different teammates, senior receiver Devin Duvernay has proven to be his favorite target. Duvernay's 53 receptions easily lead the team, with Jake Smith coming in second at 16 catches.
If the KU secondary can take away Duvernay and coordinator D.J. Eliot's group as a whole can find a way to make Ehlinger one-dimensional, it will significantly improve the Jayhawks' upset chances.
Jayhawk Pulse
The midseason promotion of Dearmon could be the chicken soup an ailing group of Jayhawks needed. Parchment likened the switch at offensive coordinator to having a new cook in the kitchen.
"There's a couple things that taste different. Just the energy's out there," Parchment said. "Coach Dearmon's a very high energy guy, so he's definitely going to get in your face when you mess up, and then at the same time love you up when you do good."
The move might even benefit KU's defense, too, even if to a lesser extent. Torneden praised the offense's energy since the switch and explained how that actually boosted players on the other side of the ball.
"It just gives us more confidence," Torneden said, "knowing that the offense is 110% confident in their game plan and they have that energy collectively over there."
It seems everyone in KU's football facility is feeling upbeat heading into the second half of the schedule, and Miles has Dearmon to thank for a large part of that.
Tale of the Tape
KU ….. UT
KU run D vs. UT run game √
KU pass D vs. UT pass game √
KU run game vs. UT run D √
√ KU pass game vs. UT pass D
√ Special teams
Prediction
Texas 41, Kansas 27