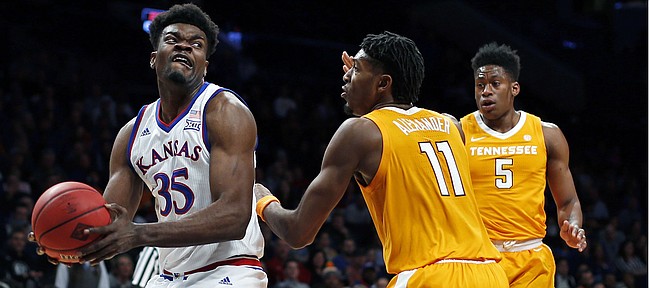 Plagued by injuries throughout his first three seasons with the program, Kansas senior Udoka Azubuike enters his senior season as the cream of the crop in the Big 12 Conference.
Azubuike on Wednesday was named the Big 12's Preseason Player of the Year.
He becomes the ninth Jayhawk of all time to claim the distinction and is the second in the past three seasons, following Devonte' Graham in 2017.
Prior to that, the last time a Jayhawk was named preseason player of the year was in 2009, when Cole Aldrich and Sherron Collins shared the honor.
"It's great to be recognized as the preseason player of the year," Azubuike said Wednesday evening, 30 minutes before the team hosted the 10th annual Ladies Night Out at Allen Fieldhouse. "I mean, it's really nothing. I've just got to go out there and prove it and work hard with my team."
One of the toughest one-on-one match-ups for opponents in all of college basketball throughout his time at KU, the 7-foot Azubuike played in just nine games a season ago before a second significant wrist injury — on his opposite arm — derailed yet another season. He averaged 13.4 points and 6.8 rebounds per game during those nine games while shooting 71% from the floor.
Kansas coach Bill Self said Wednesday that his hopes were as high as ever for his 7-foot senior.
"I expect him to be the best big man in the country," Self said.

As a sophomore, Azubuike led the nation with a 77% field goal clip, which ranked as the second best single-season mark in NCAA history. He averaged 13 points and seven rebounds per game that year while helping lead Kansas to the 2018 Final Four.
"I think he deserves that," Self said of Azubuike's honor. "And I think he needs to play to an All-American status for us. He's going to get opportunities, but his opportunities will be in large part determined by how well we shoot the ball from the perimeter. Because if we don't, everybody will put two guys on him. But I do think this will excite him, which is good. Especially when you've been in a situation where you haven't played two of the three years you've been here."
Although Azubuike conceded that any individual honors are nice, Azubuike recently said the good of the team trumps all.
"I think we have a really good team this year," Azubuike said at KU's annual media day last week. "I am looking forward to it. Obviously, every team wants to win the (NCAA) Championship, they want to go to the Final Four. This team is aiming for that too. But right now we are just taking it one game at a time. Hopefully we achieve our goals."
As for his own personal goals, Azubuike said staying healthy was at the top of that list.
"It's really important for me," he said. "I've been struggling with injuries and this year I'm just praying for a different outcome. Every time I step on the floor, I always try to bring my best, play my best, and this year won't be any different."
Joining Azubuike on the Preseason All-Big 12 Team is fellow Jayhawk Devon Dotson along with Tristan Clark (Baylor), Tyrese Haliburton (Iowa State) and Desmond Bane (TCU).
Dotson, a 6-foot-2, 185-pound sophomore, started every game of his freshman season for Kansas in 2018-19 and ranked 12th in the Big 12 in scoring at 12.3 points per game. A native of Charlotte, N.C., Dotson was a member of the 2019 All-Big 12 Third Team and the league's all-freshman team.
Earlier this month, he was named one of 20 candidates for the Bob Cousy Point Guard of the Year Award.
Dotson, like Azubuike, said the honors should be kept in perspective.
"I mean, that's preseason," Dotson said. "We haven't touched the court this season, so, yeah, it doesn't matter."
As for Azubuike's recognition, Dotson called it big for the program as a whole.
"It only brings more excitement and hype to the season," Dotson said. "We're excited to get things going."
Also on Wednesday morning, Texas Tech's Chris Clarke, a transfer from Virginia Tech, and West Virginia's Oscar Tshiebwe were named Preseason Newcomer and Freshman of the Year.
The honors were voted on by the Big 12 coaches, who were not allowed to vote for their own players. The preseason coaches poll is scheduled to be released Thursday.
2019-20 Preseason All-Big 12 Team
Tristan Clark (Baylor, F, 6-9, 240, Jr.)
Tyrese Haliburton (Iowa State, G, 6-5, 172, So.)
Udoka Azubuike (Kansas, C, 7-0, 270, Sr.)
Devon Dotson (Kansas, G, 6-2, 185, So.)
Desmond Bane (TCU, G, 6-6, 215, Sr.)
Honorable Mention: Xavier Sneed (K-State), Kristian Doolittle (Oklahoma), Yor Anei (Oklahoma State), Matt Coleman (Texas), Chris Clarke (Texas Tech), Davide Moretti (Texas Tech), Jahmi'us Ramsey (Texas Tech), Derek Culver (West Virginia)
All-Time Kansas Preseason Big 12 Players of the Year
2019-20 – Udoka Azubuike
2017-18 – Devonte' Graham
2009-10 – Cole Aldrich and Sherron Collins
2006-07 – Brandon Rush and Julian Wright
2004-05 – Wayne Simien
1997-98 – Raef LaFrentz
1996-97 – Jacque Vaughn